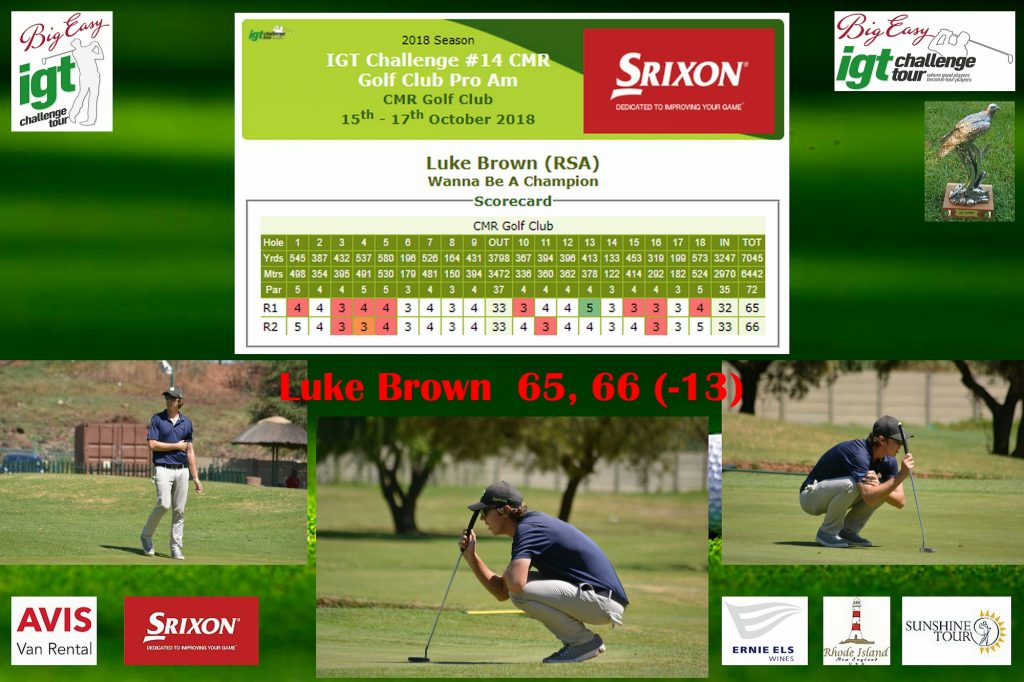 16th October 2018 | IGT Challenge Tour
Korb and Brown stake claims at IGT CMR
Korb and Brown stake claims at IGT CMR
(PHOTO – Ruan Korb and Luke Brown; credit CJ du Plooy)
MARAISBURG, 16 October 2018 – Overnight leader Ruan Korb and Pretoria rookie Luke Brown will lead the way in what is like to be an almighty battle for the IGT #14 CMR Golf Club Pro-Am in Wednesday's final round.
The leading pair share a one-shot advantage on 13-under-par 131 after an enthralling moving day in Roodepoort. Korb followed an opening 64 with a second round 67, while Brown took route 66 to grab a share of the lead.
Rookie Jason Rossiter made a strong case for a maiden win on the country's premier golf development circuit with the low round of the day. The Krugersdorp rookie fired eight birdies for a seven-under 65 that boosted him to third on 12-under.
Eric Nel also returned a 66 to finish three shots off the pace, with Jason Roets and amateur Johan Buitendag a further four shots adrift.
After four months on the bench due a back injury, life-threatening septicaemia and a gall-bladder operation, Sunshine Ladies Tour campaigner Ivanna Samu made a great return to competitive golf. The Roodepoort golfer carded rounds of 74 and 72 to tie for 36th on two over with Catherine Lau, who made the cut in her pro debut with successive rounds of 73.
Korb and Brown are both targeting a second IGT Challenge Tour title after breaking through last year.
Korb went wire-to-wire in Benoni to win the Ebotse Challenge in September. Brown was still an amateur when he also won in start to finish fashion in fourth Race to Q-School at Germiston Golf Club in November.
Korb opened with a 64 and started the second round one shot clear of Brown. He made four birdies around the turn and offset a lone bogey at the par three sixth with further gains at four and nine.
"I started with seven straight pars," said the 24-year-old Silver Lakes golfer. "I struggled a little to find rhythm with the putter. I hit them all on line, but had a few lip-outs and left the others short.
"At the course 17th – my eighth hole – I hit a pitching-wedge five feet right and holed the putt to open the tap. My drive at 18 ran through the fairway into the trees, but I was able to work a low 8-iron under the branches to the green. I lagged a 40-footer from the back of the green close and made the birdie putt to turn two-under.
"At the first, I hit a 6-iron into the greenside bunker. I hit the trap-shot seven foot short of the pin and holed the birdie putt. At the second, I hit 5-iron off the tee and had a lob-wedge from 70 metres into the green. It pitched next to the pin and spun back to three feet, but I holed that one, as well."
Korb hit driver down the middle at the par five 4th and went with a 7-iron into the wind to the island green. "It's a tricky hole, so I went for the middle of the green," he said. "I left it just short of the green, chipped it to three feet and boxed the birdie putt.
"I dropped a shot at six, but made up for it with a birdie finish at nine. I'm still coming to grips with the borrowed Srixon clubs, but I am driving it well and that little birdie run gave me a lot of confidence to take into the final round."
Wanna Be A Champion Academy golfer Brown was two under through the turn after birdies at 11 and 17, but played his way into joint pole position with a birdie-eagle-birdie combination on his back nine.
"I was a little disappointed with two birdies on my front nine, because I felt better than my score suggested," said the 20-year-old Country Club Johannesburg golfer. "I knew going into the back nine that there were a few birdie holes. I hit it to tap-in for the eagle at the par five and two solid birdies either side at three and five put me in a good position.
"I've had a good rookie season. It started off a little slow, but I've definitely improved in the last two months. I'm pleased that I've played my way into contention again and hopefully I can get the putter warmed up in the final round, too."
Second Round Scores
All competitors RSA unless otherwise specified and amateurs are indicated as AMA:
131 – Ruan Korb 64 67, Luke Brown 65 66
132 – Jason Rossiter 67 65
134 – Eric Nel 68 66
138 – Jason Roets 66 72, Johan Buitendag AMA 70 68
139 – Stephan Erasmus 70 69
140 – Karl Lehmacher 70 70, Andrew Carlsson 69 71, Leon Vorster 71 69
141 – WM Coetzee AMA 68 73, Ruan Groenewald 71 70, Luke Kelly 72 69, Jancarel Rossouw AMA 73 68, Liam Labuschagne AMA 73 68
142 – Harry Konig (ENG) 71 71, Jason Diab 69 73, Michael-James Steyn 74 68, Blain Sansom 72 70
143 – Donovan Liddicoat AMA 75 68, Peetie van der Merwe 71 72, Divan Marais 70 73, Bryce Myburgh 77 66, Chandler Shaw AMA 72 71, Ruhan van Dijk 73 70
144 – Thabiso Ngcobo 72 72, Paulo Serrao (POR) 74 70, Matthew Hands AMA 73 71, Henning du Plooy AMA 72 72, John McClean (NIR) 71 73, Mitchell Lightfoot 73 71
145 – Tanaka Mhere AMA (ZIM) 70 75, Dwayne Basson 76 69, Gareth Sargent AMA 74 71, Leon van der Walt AMA 70 75
146 – Keelan van Wyk AMA 77 69, Ivanna Samu 74 72, Clinton Grobler 74 72, Patrick Thompson 78 68, Catherine Lau 73 73
147 – Warric Dyers 74 73, Darin De Smidt AMA 69 78, Lincon Cele 70 77, Vickus Fleischman AMA 71 76
148 – Mpho Mafishe 75 73, Jan-Louis Nel AMA 76 72, Michael Kok 73 75, Tristan Topka AMA 76 72
Missed the cut:-
150 – Landon Ferguson 74 76, Terence Mogapi 74 76
151 – Marcel Steyn Scholtz AMA 74 77
152 – Adam Baker 73 79, Llewellyn Grobbelaar AMA 76 76, Daren Malan AMA 73 79, Gerhard Henning AMA 77 75
153 – Francesca Cuturi 76 77, Mark Bright 76 77
155 – Jordan Parsons AMA 83 72
156 – Heino Havenga 77 79, Robert Tilbury 76 80
158 – Cole Dodgen AMA 81 77, Christian MacGregor AMA 82 76
161 – Neo Mokgatle AMA 83 78
164 – Donald Makhafola AMA 83 81
165 – Leslie Grandet (MDG) 80 85, Tristan Malan AMA 83 82, Arno Van Heerden 87 78, Songezo Sonamzi 85 80
167 – Kyle Grove AMA 84 83
WDN – Michael Dreyer 75 WDN
Written and released by Lali Stander on behalf of the IGT Challenge Tour.
Latest IGT Challenge Tour News