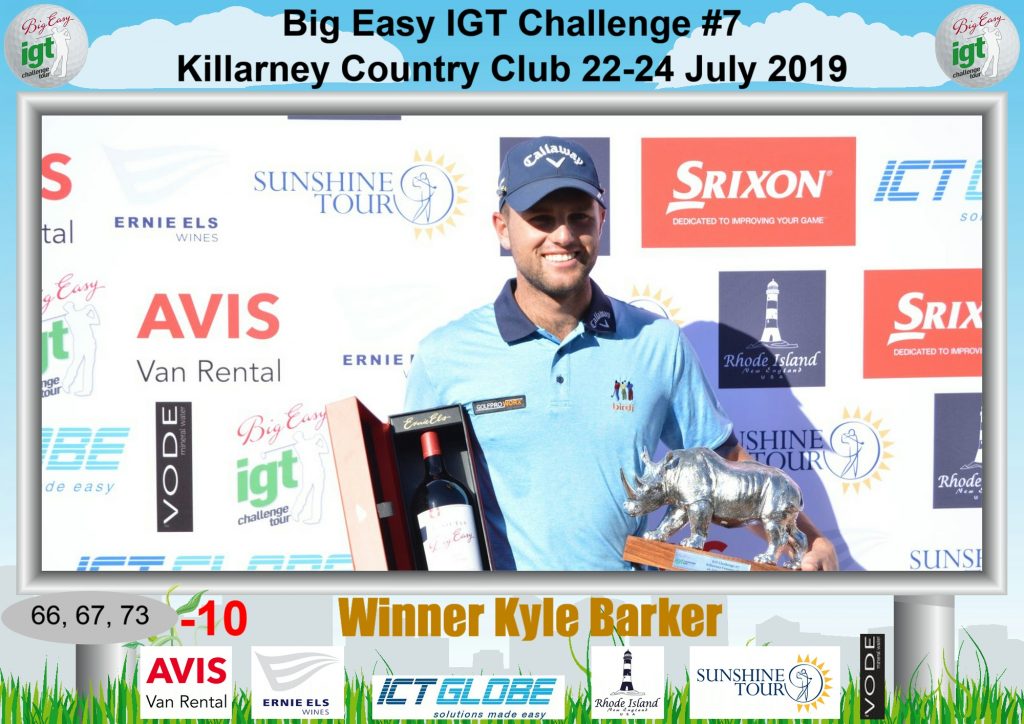 24th July 2019 | IGT Challenge Tour
Barker banks maiden Big Easy IGT title at Killarney
Barker banks maiden Big Easy IGT title at Killarney
(Photo: Kyle Barker; credit CJ du Plooy)
JOHANNESBURG, 24 July 2019 – Kyle Barker pipped Jason Smith in a play-off to lift his maiden Big Easy IGT Challenge Tour title in the seventh event of the series at Killarney Country Club on Wednesday.
Barker from Randpark Golf Club held a two-stroke lead after 36 holes, but it was Smith who set the clubhouse target on four-under 206 with a final round one-under-par 69. When Barker missed his chance to close out victory at the last hole, the pair returned to the 18th tee box, but the Sunshine Tour rookie was not to be denied for a second time, and he sealed his fifth professional victory with a bogey at the first extra hole.
"I'm so pleased that I got it done, but I made that really tough on myself," said the delighted Barker. "It was tough out there, today. Everyone had a couple of bad holes, especially on the front nine. I really wanted this win, and patience won out in the end."
Barker made a solid start with back-to-back pars, but he opened the door for his pursuers with a double bogey at the par four third.
"I snap-hooked my heavenly wood (7-wood) out of bounds and then I short-sided myself on the tough par three (six) and dropped another shot," said Barker. "I got two shots back, though, before the turn. I lagged it to six feet at the eighth and boxed a three-footer for birdie at nine. But the door was open."
Smith, Jason Rossiter and Matthew Spacey all made a run at the leader.
Rossiter's charge inflated with four birdies on the back nine, but when Barker let another one slip on 13, Smith and Spacey pounced with birdies at the par five 15th. Spacey joined the leader with a birdie at 16 and Smith made it a three-way tie on five-under with a birdie at the par three 17th.
All three golfers had a chance to take the title, but Spacey spoiled his run with a double-bogey finish, while Smith also missed out on a second Big Easy IGT Challenge Tour title with a bogey finish.
"I knew par would win it when I saw the leaderboard on the 18th tee, but wouldn't you know it, I snap-hooked my tee-shot into the bush," Barker said. "I punched out to 90 metres flag, but I hit it too long and two-putted for bogey. I put myself in a better position on the second trip down 18 and after Jason made a double, I just had to knock in an eight-footer for par. I couldn't believe when that putt horse-shoed out and you can bet I took my time over that one-foot putt for the win."
Barker, who netted his first pro win on the Mena Tour in the Middle East, won three times on the IGT Challenge Tour before he graduated to the Sunshine Tour in March. "Adding a Big Easy IGT trophy to my tally was one of my goals for the season, so I'm really pleased that I've ticked that box," said Barker, who ranks 28th on the Sunshine Tour Order of Merit after six starts.
"If there is one thing I've learned since I joined the pro ranks, it's that you have to set realistic goals; you can't run before you walk, so take baby-steps. It's all part of the learning curve. My next goal is to gain more consistency on the Sunshine Tour and to start getting myself into contention. And to stay patient until that first Sunshine Tour trophy comes my way."
Meanwhile Spacey and Smith came away with some consolation.
The top six players in the Road to Sunshine Tour at the end of the season earn full playing privileges on the Sunshine Tour for next season. Spacey moved to first in the rankings, and the runner-up finish boosted Smith to third behind Malcolm Mitchell from KwaZulu-Natal.
Final Result
All competitors RSA unless otherwise specified and amateurs indicated at AMA
206 – Kyle Barker 66 67 73 (won on 1st play-off hole)
206 – Jason Smith 66 71 69
207 – Matthew Spacey 68 68 71
208 – Nicholaus Frade 71 67 70, Desne van den Bergh 64 72 72
209 – Jason Rossiter 67 70 72
210 – Aubrey Beckley 67 68 75
211 – Slade Pickering AMA 71 71 69, Jaco van der Merwe 73 67 71, Stuart Smith (BOT) 70 67 74
213 – Jason Roets 74 67 72, Jason Froneman 70 70 73, Ruan Botha 68 72 73, Hendrikus Stoop 70 68 75
214 – Jeff Inglis (ENG) 71 71 72, Malcolm Mitchell 69 72 73
215 – Brandon Gildenhuys AMA 71 72 72, Hennie O'Kennedy 70 70 75
216 – Allister de Kock 69 74 73
217 – Clayton Mansfield 71 72 74, Basil Wright 71 71 75, Makhetha Mazibuko 72 69 76
218 – Gideon van der Vyver 72 70 76, Thabiso Ngcobo 69 70 79
219 – Hayden Griffiths 71 70 78
220 – Gerard du Plooy 71 72 77, Ruan Huysamen (NAM) 69 73 78, Ruan de Smidt 70 71 79, Keelan van Wyk 69 72 79
221 – Darin de Smidt 71 71 79
223 – Arno Pretorius 74 67 82
227 – Jade Buitendag 70 70 87
228 – Sipho Bujela 72 70 86
230 – Karl Ochse 68 75 87
WDN – Luke Brown 68 75 WDN
Written and released by Lali Stander on behalf of the Big Easy IGT Challenge Tour.
Latest IGT Challenge Tour News