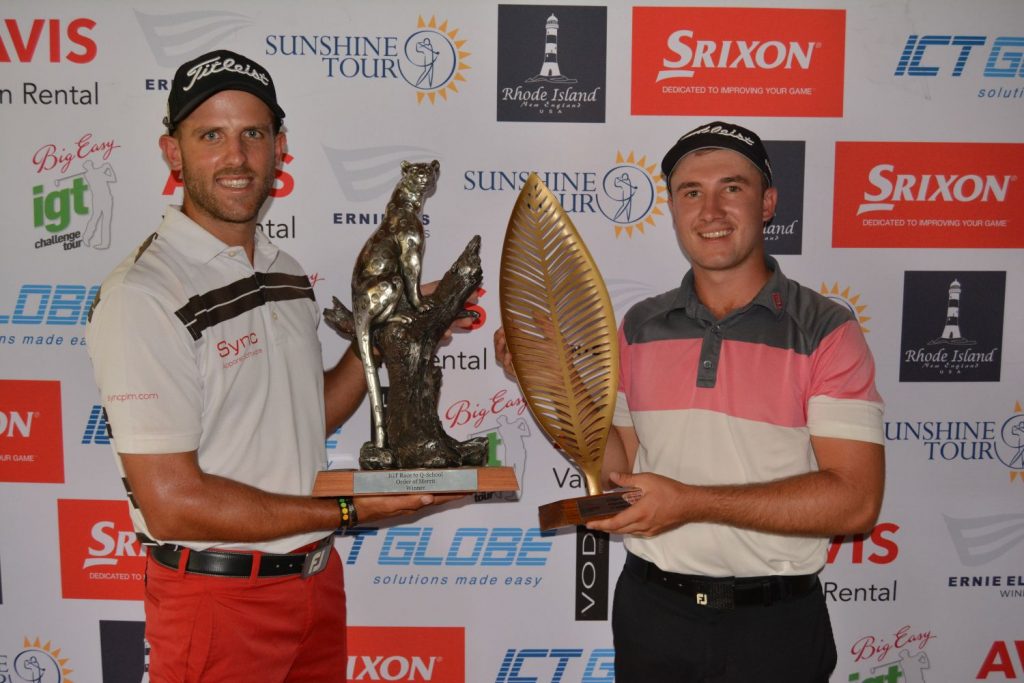 19th February 2020 | IGT Challenge Tour
Collected Coetzee nails playoff win at Krugersdorp
Collected Coetzee nails playoff win at Krugersdorp
(PHOTO – KwaZulu-Natal duo Byron Coetzee and Clayton Mansfield; credit CJ du Plooy)
KRUGERSDORP, 19 February 2020 – Byron Coetzee beat Tristen Strydom on the third playoff hole to win the IGT Race to Q-School #6 at Krugersdorp Golf Club, while fellow KwaZulu-Natal professional and travel companion Clayton Mansfield took the end of season IGT Race to Q-School Order of Merit honours.
Coetzee carded a flawless seven-under 65 to finish on 12-under. Playing in the final group, Strydom bogeyed his final hole for a one-under 71, finishing on the same score as Coetzee.
The pair marched down 17 and 18 again, both making pars each time to send the sudden death clash to a third hole. It was on the third playoff hole that Coetzee struck the killer blow with a log wedge from 65 metres on the par four 17th to inside 10-feet. Strydom missed his lengthy birdie attempt, and Coetzee did not need a second invitation as he rifled home the putt for the win.
In Coetzee's mind, he had already thrown away the tournament in regulation play – and that helped him make best use of the second bite of the cherry in the playoff.
"I had a six foot putt on 18 to get to 13-under which I thought was going to get into a playoff, but then I found out that Tristen had made bogey," said the 20-year-old Kloof Country Club member. "I know 18 is a pretty simple hole and I thought that putt on 18 probably cost me the tournament."
Neal Woernhard from Switzerland was third on 11-under, with Quintin Wilsnach alone on nine-under in fourth. Sharing fifth place were Ruan Korb and Coert Groenewald.
It was a second win this season for Coetzee after he won the Race to Q-School #1 at Centurion Country Club last month.
His stellar play has meant he finished inside the top-15 on the IGT Race to Q-School Top 15 Ranking and that's straight passage to the final stage of the Sunshine Tour's 2020/2021 Qualifying School.
"When I win I do get a lot of confidence going forward for the coming tournaments. My next tournament is Q-School next month where I'm now into the final stage at Houghton Golf Club, so I've just got so much more confidence heading into that now."
"This win means me and my coach Shaun Coetzee are working on the right things. The mental side of the game has been good. I've just got a lot of confidence, it's really a good feeling."
It seems having Shaun Coetzee as a mentor is indeed a good omen, as IGT Race to Q-school Order of Merit winner Clayton Mansfield is also coached by him. In fact, Byron Coetzee and Mansfield who are good mates were paired together in the final round – meaning the winners of the tournament and the Order of Merit came from the same group.
"Playing with my friend who I practice with – Clayton- made it very relaxed and easy to play today."
Mansfield, meanwhile, was still trying to let it sink in that he was the dominant player on the IGT Race to Q-school Order of Merit.
"It feels unreal. It's nice to see that the hard work is paying off with the two wins is amazing. I'd like to dedicate this to my coach [Shaun Coetzee] – he's going through a bit of a rough time at the moment," said Mansfield. "This one is for him. This is a nice way to somewhat pay him back. This is what we want to achieve as golfers."
Winning the Order of Merit was a credit to the consistency of the 25-year-old Mansfield who tasted victory twice during the season.
"I definitely see myself as a season golfer now. I like to try and be consistent over a full season, not just one event. I take it tournament by tournament, but if you're consistent – one or two bad events it's not the end of the world."
Making that top-16 could make all the difference according to Mansfield.
"It makes a world of difference. To play two stages is quite daunting. If you can miss one, it just helps so much. It just means you can concentrate and prepare for one tournament instead of two. They're just gruelling. You want to get onto the Sunshine Tour, that's just the ultimate."
Royal Johannesburg and Kensington's Keaton Slatter finished at the summit of the IGT Race to Q-School Top 15 Ranking with topped the with R7 082, followed by Jack Duthie from Southern Cape.
The rest of the players who earned their spots for Final Stage are – ranked from third to 15th – amateur Simon du Plooy, Swiss golfer Neal Woernhard, amateur Xander Basson, Teagan Moore, amateur Armand van Dyk, Christian Basson, Llewellyn Booysen, Michael Pfeifer, Luan Boshoff, Paulo Serrao from Portugal, Zabastian de Jager, Jaco van der Merwe and amateur Jancarel Rossouw, who edged professional Michael Kok for the final spot.
Final Result
204 Byron Coetzee 70 69 65 (play-off win; 3rd hole)
204 Tristen Strydom 65 68 71
205 Neal Woernhard (SUI) 71 67 67
207 Quintin Wilsnach 70 67 70
208 Ruan Korb 68 70 70; Coert Groenewald 68 69 71
210 Adriel Poonan 70 72 68; DK Kim (KOR) 73 67 70; Marcel Scholtz 67 70 73
211 Keelan van Wyk 68 69 74
212 Werner Deyzel AMA 77 67 68; Teagan Moore 72 71 69; Richard O'Donovan (IRE) 72 73 67; Romano Saincic 71 70 71; Kyran Hawkins AMA 71 74 67; Xander Basson AMA 73 67 72
213 Llewellyn Booysen 71 71 71; Clayton Mansfield 70 69 74; Reinhardt Blaauw 65 74 74; Matt Saulez 72 67 74
214 Jancarel Rossouw AMA 71 72 71; Jason Froneman 73 67 74
215 Simon du Plooy AMA 72 71 72; Dylan O'Leary 74 72 69
216 Theunis Bezuidenhout 70 73 73; Jason Rossiter 77 68 71; Leon van der Walt AMA 67 74 75; Ian Ansett 71 68 77
217 Phumlani Maluka 72 72 73; Darin de Smidt 71 73 73; Luke Trocado 71 70 76
218 Armand van Dyk AMA 67 75 76; Liam Labuschagne 75 70 73; Michael Pfeifer 78 68 72; Gareth Sargent 73 74 71
219 Marthin Scheepers 70 75 74
220 Elmo Barnard AMA 70 75 75; Jack Duthie 72 74 74; Duan Nagel 72 75 73; Wynand Potgieter 70 78 72
221 Charles Spencer-White (WAL) 73 74 74; Michael Kok 74 73 74
222 Keaton Slatter 74 71 77; Jaco van der Merwe 75 73 74
223 Richard Kruger 72 75 76; Clinton Grobler 73 75 75
225 Zabastian de Jager 74 74 77
226 Angus Ellis-Cole 68 77 81
228 Jay Fourie 73 73 82; Xander Prinsloo AMA 75 73 80
233 Keanu Pestana 74 74 8
Written and released by Michael Sherman and Lali Stander on behalf of the Big Easy IGT Challenge Tour.
Latest IGT Challenge Tour News