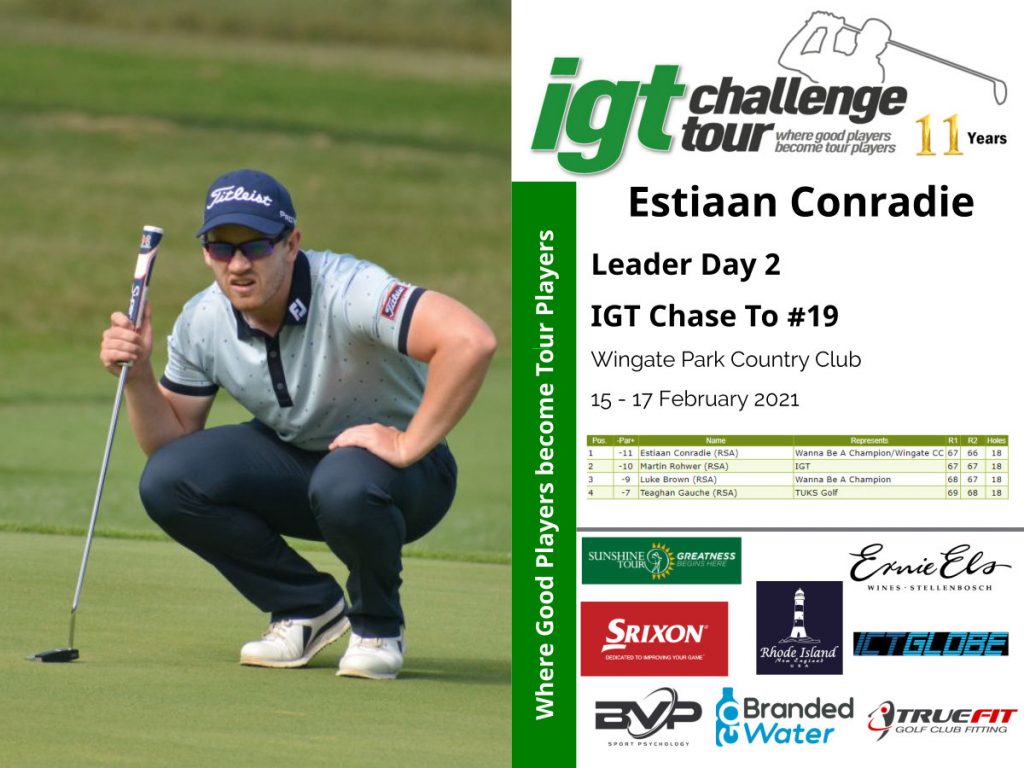 16th February 2021 | IGT Challenge Tour
A Conradie affair as Estiaan takes solo lead at Wingate Park
PRETORIA, February 16 – Estiaan Conradie will go into the final round of the IGT Chase To #19 Wingate as solo leader thanks to his dominant six-under-66 round two which took his total to 11-under for a one-shot leader over Martin Rohwer.
Estiaan, his brother Ruan and Rohwer were co-leaders after day one, and with strong winds threatening to be the enemy of skill on day two, it was always going to take something special from any player to come out unperturbed.
Just as he had done in the previous round, Estiaan, who is the younger of the Conradies birdied his first two holes but unlike Monday's effort which saw him go five-under-par on the front nine, a bogey on the fourth hole halted his progress. He was cautious not to add any more big numbers to his card from there, and after four straight pars, another birdie got onto his card for a front nine of 33.
"I just tried to start off quickly today, like yesterday," said the 24-year-old, explaining his thinking process on those first couple of holes at a place he is so familiar with. "I usually like to play those first few holes aggressively but it was tough today with the wind blowing pretty hard. So, I just had to make those first two birdies and move on. I was happy to start the way I did and keep the momentum and stay out of trouble."
In a twist of fortunes for the Conradies, Ruan was clinical on the homeward stretch on Monday; targeting the three par-fives there for an aggressive approach in search of more birdie-opportunities while Estiaan made most of his gains on the front.
On Tuesday, however, it was Estiaan whose knowledge of the course shone brightest, especially on the back nine where he struggled to avoid bogeys in the opening round. Of the three par-five holes there, he birdied two and made further gains on the par-four 11th and the par-three 16th holes.
"The scoring on the back, I flipped it around there," Estiaan says of how he and his brother have scored this week, "I tried to play aggressively on the back nine today. I saw Ruan said he played a bit aggressively there yesterday and I just tried to go the same route. Thankfully, it worked and I didn't hit too many bad shots there."
Another solid round tomorrow and provided none of the chasing players produces a jaw-dropping score to unseat him from the top spot, Estiaan could match his brother's tally of eight IGT Tour titles and render the family bragging rights even again.
"It's something to think about," he joked, "but it's just for bragging rights Winning here will take us level on the IGT titles but I must try to win a Sunshine Tour title as well because he has won one."
First, he will have to fend off Rohwer's challenge as the Durban player keeps piling up the pressure. A second successive 67 ensured that Rohwer takes solo second at 10-under while Luke Brown's blemish-free 67 on moving day catapulted him to solo third at nine-under. Teaghan Gauche moves to fourth at eight-under while the other Conradie, Ruan, has slipped to a share of fifth with Ruan Korb, Heinrich Bruiners and Ryan Tipping at six-under.
Latest IGT Challenge Tour News