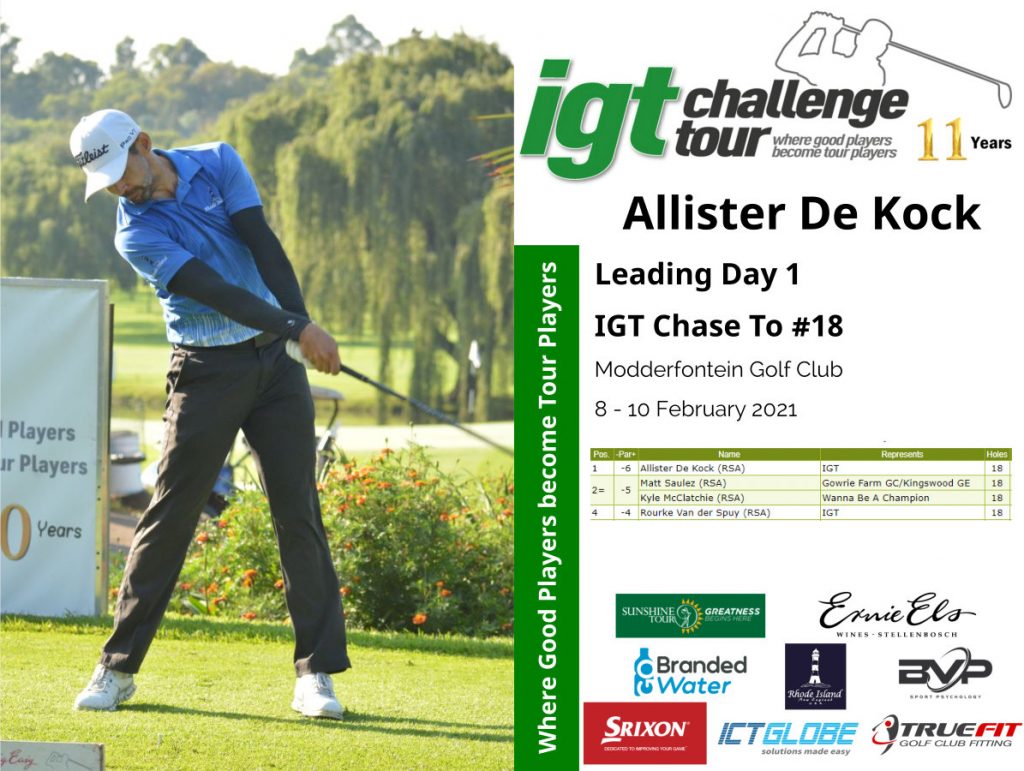 8th February 2021 | IGT Challenge Tour
A fast start for De Kock at familiar Modderfontein
MODDERFONTEIN, February 2 – Sunshine Tour veteran Allister De Kock put his well-rounded knowledge of the Modderfontein Golf Club to effective use when he raced to a six-under-par 66 opening round of this week's IGT Tour Chase To #18 Modderfontein.
The Uitenhage native is a shot clear of Kyle McClatchie and last week's winner, Matt Saulez, who both signed for rounds of 67 on Monday.
"I think the fact that it's Modderfontein made the difference," said De Kock. "I know this track well because I have played many Vusi Ngubeni tournaments here. Today I actually used a yardage book I used during the SA Open pre-qualifiers in December last year and it gave me a little edge over the other guys; just seeing how far the bunkers are here and how big the greens are and other little details."
De Kock was three-under and bogey-free around the front nine thanks to gains he made on the first, seventh and ninth holes. He didn't relent on his way home, birdieing the 10th, the 13th and the 15th before his momentum was momentarily derailed by the drop he made on the par-five 17th. The surrendered shot didn't upset him one bit as he bounced back with a birdie on the last.
"It's really nice to play good golf again," said De Kock, noting a tough season which sees him languishing in a low 119th on the Sunshine Tour Order of Merit thanks to a string of poor results, "so, to come here and shoot a low round is definitely a positive for me. I'm definitely in a better space now and after the whole lockdown situation, it's just really nice to get competitive tournaments going."
His round one at Moddeformetin notwithstanding, De Kock's season on the Sunshine Tour – until the December holidays and the lockdown happened – was not going as well as he would have liked. One cut made in nine starts since the resumption of golf in August last year was the only highlight and a bright start such as the one he enjoyed at Modderfontein could be what he needs to salvage a disappointment-stricken season.
"I'm just stoked to be in the race for things," said the 38-year old De Kock, "as you can see, it's a star-studded field. A lot of Sunshine Tour players competing this week but I'm trying not to get ahead of myself and just do what I have to do."
A shot back of the duo of McClatchie and Saulez, Rourke Van Der Spuy's good form from last week carried over; with the Durban Country Club man firing in a four-under 68 round to take solo fourth while Alpheus Kelapile, England's Harry Konig, veteran Ryan Tipping and Jason Froneman share fifth at three-under-par.
Latest IGT Challenge Tour News