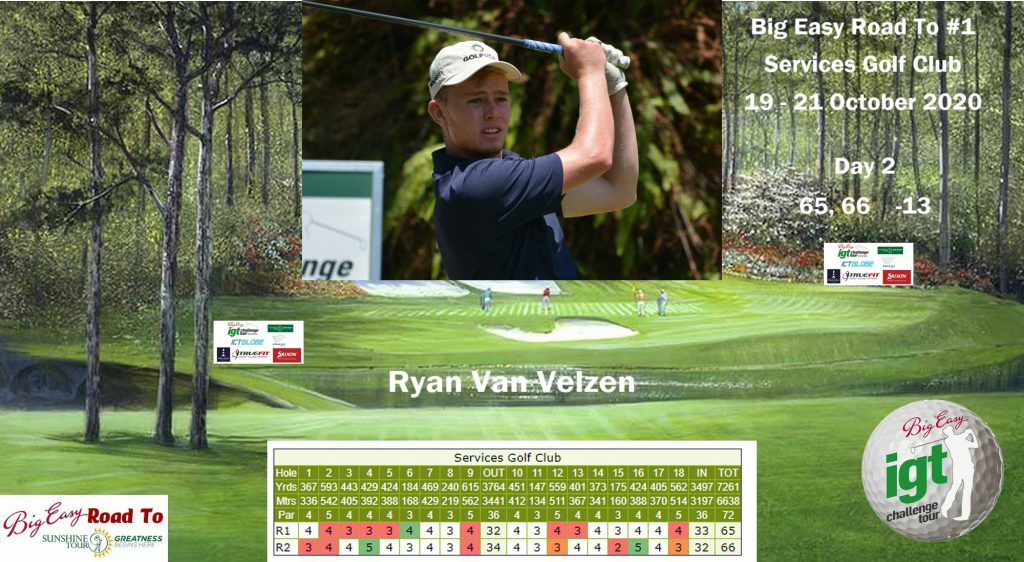 20th October 2020 | IGT Challenge Tour
Aggressive Van Velzen rises to the top on day two at Services
ZWARTKOP, October 20 – Golf RSA squad member Ryan Van Velzen carded a second-round six-under 66 in the Big Easy Road to #1 Services Golf Club, to back up his opening round of 65 and catapult himself to the summit at 13-under-par with a one-shot lead on Tuesday.
"I am really happy the way I've played the last couple of days," said Van Velzen, "I've been hitting the ball really well and I've been making most of my short putts which I'm really pleased about. To be honest with you, I'm just trying to make as many birdies and eagles as I can. I've been hitting tons of drivers where others are probably hitting irons off tees which is a huge advantage leaving me pitches in."
Van Velzen entering the second round of this first tournament of the new Big Easy Tour season trailing by a single shot. Birdies on his first two holes of the round settled him down and even after the bogey he made on the fourth, he was still able to steady his round and make another birdie on nine to turn in 34.
Coming home, Van Velzen was ever so solid, making eagles on both the par-five holes (12 and 18) a birdie on the par-three 15th, and a bogey on 16.
"The course is really starting to green up and is scorable," he noted. "The greens are a bit on the slow side but are pretty true making it perfect for aggressive putting."
The new season of the Big Easy Tour has now introduced a major change that will allow for the amateurs to compete for the six Sunshine Tour cards available for the 2022 season. Players will now receive points on the Order of Merit and Van Velzen is in a great position to challenge for a win tomorrow and earn himself some valuable points on the Order of Merit.
"I'm just going to go out there tomorrow and just try to have fun and make as many birdies and eagles as I can and that's all you can do," he said, "but the thing I'm looking forward to the most tomorrow, is stepping into the ring and battling it out until the final round."
The final round is going to be a battle without a doubt. Lurking just a shot off Van Velzen's lead at 13-under-par, Vaughn Van Deventer isn't letting up and will feel he has an opportunity to add the Big Easy Tour title to his cabinet.
A further two shots back lie the quartet of Karabo Mokoena, Therion Nel, Kyle McClatchie and overnight leader, Dylan Kok, who are all at 10-under-par for the tournament.
131 – Ryan Van Velzen (AM) (RSA) 65 66
132 – Vaughn Van Deventer (RSA) 65 67
134 – Therion Nel (RSA) 69 65, Dylan Kok (RSA) 64 70, Karabo Mokoena (AM) (RSA) 67 67, Kyle McClatchie (RSA) 68 66
135 – Warwick Purchase (AM) (RSA) 69 66
136 – Christiaan Maas (AM) (RSA) 66 70, Tristan Leonard (AM) (RSA) 68 68
137 – Keelan Van Wyk (RSA) 73 64, Rigardt Albertse (RSA) 72 65
138 – Gregory Mckay (RSA) 70 68, Danie Van Niekerk (RSA) 69 69, Leon Vorster (RSA) 70 68, Nash De Klerk (AM) (RSA) 68 70, Bradley Diggeden (RSA) 68 70, Llewellyn Booysen (RSA) 68 70, Keanu Pestana (RSA) 66 72
139 – Caylum Boon (RSA) 66 73, Morne Buys (RSA) 69 70, Gregg Gilson (AM) (RSA) 71 68, Henning Du Plooy (RSA) 66 73
140 – Franklin Manchest (RSA) 72 68, Werner Deyzel (AM) (RSA) 72 68, Ruan Groenewald (RSA) 73 67, Michael Kok (RSA) 66 74, Reinhardt Blaauw (RSA) 69 71, Theunis Bezuidenhout (RSA) 68 72, Adriel Poonan (RSA) 68 72, Alpheus Kelapile (RSA) 68 72, Gerard Du Plooy (RSA) 71 69
Latest IGT Challenge Tour News