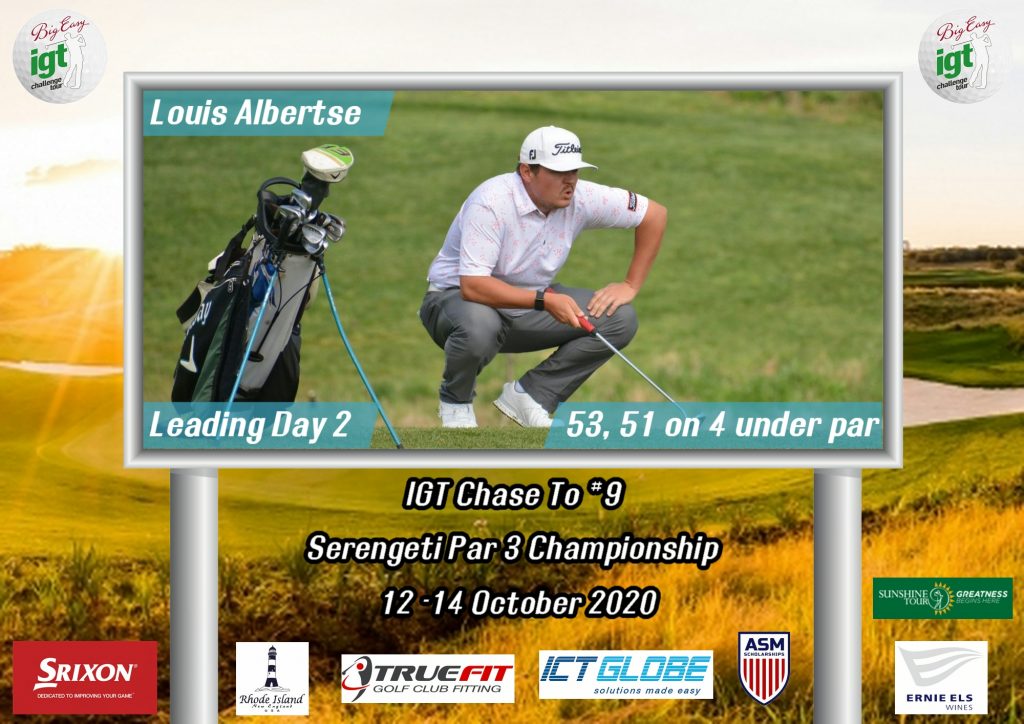 13th October 2020 | IGT Challenge Tour
Albertse surges to Serengeti lead
KEMPTON PARK, September 13 – Louis Albertse shot to the summit of the leaderboard after he cared a second-round three-under 51 in the IGT Chase #9 Serengeti Par-3 Championship which got him to a tournament total of four-under while taking a one-shot lead ahead of the final round.
"Today's round was pretty good," Albertse noted, "my ball-striking has been very good; for both the first and second rounds, actually. The difference is that the putts just seemed to find the bottom of the hole today, which was great and I took all of them with a smile because a course like this is not easy."
Birdies on the first, third, fifth and eighth holes – accompanied by the bogey he made on the ninth hole – defined his front nine while a lonesome birdie on the back nine, on the 12th, was cancelled out by the bogey he made immediately on the next hole. That round was solid enough to catapult the Natal-born player to the top ahead of what promises to be an exciting finish to this par-three contest.
With four IGT Tour titles to his name, the 24-year old Albertse is relishing the possibility to add a fifth title and get his confidence up again. He is no stranger to leading a tournament as well and leading by a single shot going into the final round excites him.
"If you're leading, even by one, going into the final round means you have played well for two days," he explains, "so, I like this position because it gives me confidence; the fact that I was able to play well for two days. It means I just have to go on and do it for one more day and I'm excited for tomorrow.
"The par-three championship is something new to most of us because there are not a lot of golf course available for it. It's a wonderful innovation because it's so different from other formats. I think it's a wonderful tournament to improve your iron-play, honestly, and with no par-fours and par-fives, it demands an entirely different mindset."
Albertse will have his work cut out for him, though, because Ryan Tipping is lurking dangerously just a shot off the pace while Ireland's Richard O'Donovan and overnight leader Kyle McClatchie aren't too far off either, at four-under and just two back. At one-over for the week, Herman Loubser will feel that in a contest designed as the par-three competition is – where there will be little room for mistakes, especially on the part of the leaders – a solid final round could throw him right into contention tomorrow.
Either way, Albertse has it all to do tomorrow and Tipping will hope to end a winless run that dates back a long while.
104 – Louis Albertse (RSA) 53 51
105 – Ryan Tipping (RSA) 52 53
106 – Richard O'Donovan (IRE) 54 52, Kyle McClatchie (RSA) 50 56
109 – Herman Loubser (RSA) 55 54
111 – Kyle Barker (RSA) 59 52, Luke Brown (RSA) 55 56, Fredrik From (SWE) 54 57, Rigardt Albertse (RSA) 54 57, Callum Mowat (RSA) 55 56
113 – Erhard Lambrechts (RSA) 57 56, Casey Jarvis (AM) (RSA) 57 56, Tara Griebenow (RSA) 56 57, Werner Deyzel (AM) (RSA) 60 53, Leon Vorster (RSA) 56 57, Keanu Pestana (RSA) 52 61
114 – Ruan Groenewald (RSA) 60 54, Christiaan Burke (AM) (RSA) 60 54, Ryan Van Velzen (AM) (RSA) 55 59, Dylan Mostert (RSA) 55 59, Adriel Poonan (RSA) 57 57, Lwazi Gqira (RSA) 58 56
115 – Warwick Purchase (AM) (RSA) 58 57, Karabo Mokoena (AM) (RSA) 59 56, Sam Mc Kenzie (AM) (RSA) 56 59
116 – Michael Kok (RSA) 61 55, Derick Petersen (RSA) 60 56, Drikus Joubert (AM) (RSA) 54 62, Irvin Mazibuko (RSA) 60 56
117 – Marthin Scheepers (RSA) 58 59, John-William Blomerus (AM) (RSA) 59 58, Ruben Van Der Berg (AM) (RSA) 61 56, Shalan Govender (RSA) 59 58, Bradley Diggeden (RSA) 60 57, Jason Froneman (RSA) 59 58, Leon Scheepers (RSA) 57 60
118 – Leon Visser (RSA) 63 55, Tyron Taylor (AM) (RSA) 62 56
119 – Daniel Lee (AM) (RSA) 55 64, Letsoso Letsai (AM) (RSA) 62 57
120 – Conner Mackenzie (AM) (RSA) – Cut 60 60
121 – Divan De Villiers (RSA) – Cut 60 61, Jason Hale (RSA) – Cut 55 66, Travis Ladner (AM) (RSA) – Cut 59 62, Francois Blaauw (AM) (RSA) – Cut 59 62
122 – Johan Kriek (AM) (RSA) – Cut 62 60, Andrej Skrbinsek (AM) (RSA) – Cut 61 61, Ernest Ludick (AM) (RSA) – Cut 61 61
123 – Luke Barblan (AM) (SUI) – Cut 61 62, Thabang Simon (RSA) – Cut 62 61
124 – Tiaan De Jager (AM) (RSA) – Cut 61 63
125 – Xander Prinsloo (AM) (RSA) – Cut 59 66
126 – Clinton Duncan (AM) (RSA) – Cut 63 63
127 – Johan Milho (RSA) – Cut 61 66, Keyan Loubser (AM) (RSA) – Cut 66 61, Darren Neyt (AM) (RSA) – Cut 64 63
128 – Kelsey Nicholas (RSA) – Cut 62 66, Phumlani Maluka (RSA) – Cut 62 66
129 – Lora Assad (RSA) – Cut 62 67
130 – Warrick Greentree (RSA) – Cut 64 66
132 – Brandon Moodley (RSA) – Cut 64 68
133 – Tyron Warne (AM) (RSA) – Cut 68 65
DSQ – Matthew Mortimer (AM) (RSA) – Cut DSQ DSQ
Latest IGT Challenge Tour News