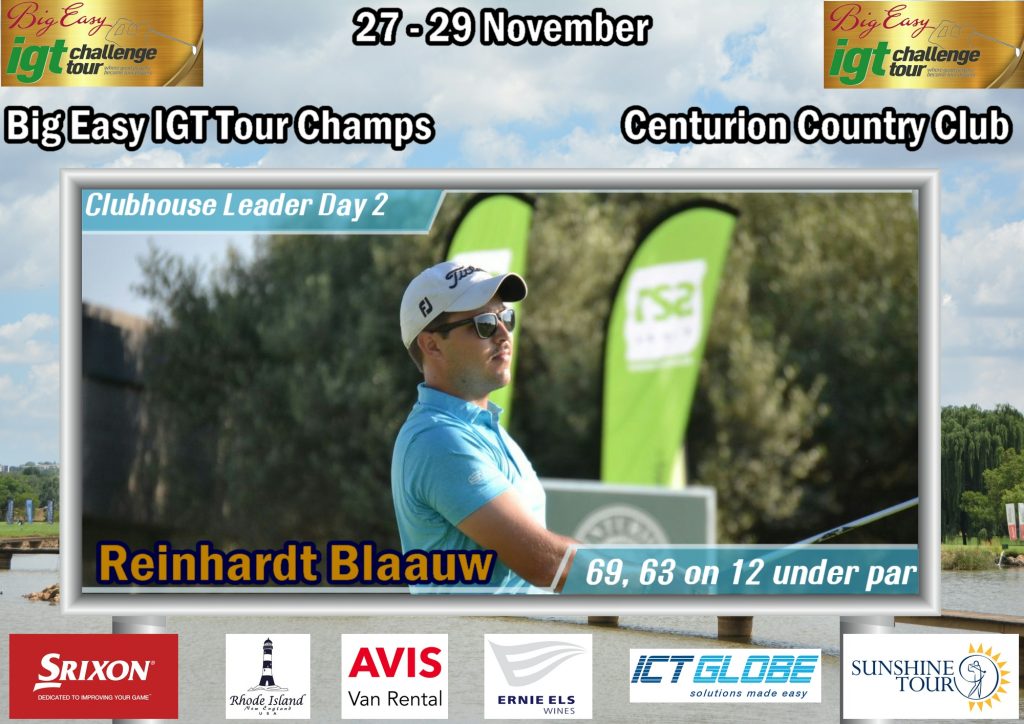 28th November 2019 | IGT Challenge Tour
All to play for as Mitchell eyes the big prize
All to play for as Mitchell eyes the big prize
(PHOTO – Malcolm Mitchell; credit CJ du Plooy)
PRETORIA, 28 November 2019 – A thrilling final day is on the cards in the Big Easy IGT Challenge Tour Championship after Race to Sunshine Tour leader Malcolm Mitchell made a major move at Centurion Country Club on Thursday.
The 23-year-old Kloof Country Club member fired a flawless 10-under-par 62 and his well-timed low round of the season moved Mitchell to 11-under 133.
The KwaZulu-Natal rookie is just a shot behind leader Reinhardt Blaauw and 18 holes away of winning the season-long Order of Merit that comes with a Sunshine Tour card for the 2020/2021 season.
"If you are good off the tee around this course, the scoring opportunities are there," Mitchell said.
"My ball-striking has been really good in the last few months and I drove it really well today and the putter was on song. I took two or three putts too many on the front nine, but they started to drop and kept on dropping coming home.
"This season on the Big Easy IGT Challenge Tour has prepared me well. This was undoubtedly the best round I've produced this season and it puts me in a strong position to win the Road to Sunshine Tour. It would be really great to tick that box."
Meanwhile Blaauw also made the most of the perfect conditions to card an equally impressive 63 to set the 36-hole target on 12-under.
After an eagle start at his home course, the 27-year-old had a lone bogey on the second hole but rallied with three birdies to turn four under. He picked up five more shots on the back nine, including four birdies on the bounce from the par three 11th.
"I hit a really great drive down the fairway on the first and parked a 6-iron approach four feet from the hole," Blaauw said.
"I made a couple of saves, too. I can think of at least two instances where I kept the momentum going with some great shots. I chipped in for birdie on the 11th and after I hit my second into the water on the 15th, I made a great up-and-down from 65 metres.
Blaauw, who is 23rd on the Road to Sunshine Tour, has earned just over R16 000 this season.
If he can replicate his second round performance to win on Friday, a R32 680 pay-day would catapult him into the top six on the Order of Merit.
"I focussed on what clubs and shots to hit throughout the round and never once worried about the score and that strategy worked really well for me. And I putted really well," he said.
"The top six at the end of tomorrow will earn cards for the Sunshine Tour next season and obviously it's in the back of my mind. I don't want to get side-tracked thinking about the cards in the final round. I'm going to try to stick to the same strategy tomorrow to put the best round possible together and hopefully it will be enough to get a top six finish."
Overnight leader Theunis Bezuidenhout clung to the top three with a two-under 70, and level with the Sunshine Tour professional was Centurion golfer Hendrikus Stoop, who shot a seven-birdie 67 to move to nine-under.
Big-hitting Boland rookie Hennie O-Kennedy, who won the Big Easy IGT #14 at CRM Golf Club, made five birdies in a row from the fifth on his way to a 66 and a share of fifth with Kuils River
While Basson already secured his Sunshine Tour card for 2020/2021 last week with his runner-up finish on the Transformation Road to Sunshine Tour, Stoop and O'Kennedy are in the same boat as Blaauw.
So are the six players tied for seventh on six-under, including Marthin Scheepers – the man with the biggest target on his back this week.
Scheepers currently sits in sixth in the rankings. Eyeing a return to the Sunshine Tour after losing his card at the end of last season, the 28-year-old opened with an even-par 72, but a sizzling second round 66 rocketed Scheepers into the top 10. He will need to produce another round on Friday to hang on to the coveted sixth spot and that final Sunshine Tour card.
Second Round Scores
All competitors RSA unless otherwise specified.
132 Reinhardt Blaauw 69 63
133 Malcolm Mitchell 71 62
135 Hendrikus Stoop 68 67; Theunis Bezuidenhout 65 70
137 Hennie O'Kennedy 71 66; Dwayne Basson 70 67
138 Marthin Scheepers 72 66; Quintin Wilsnach 71 67; Matthew Spacey 70 68; Eric Nel 69 69; Byron Coetzee 68 70; Clayton Mansfield 67 71
140 Matt Saulez 71 69; Allister de Kock 71 69; Thabiso Ngcobo 71 69; Desne van den Bergh 69 71
141 Albert Venter 75 66; Neal Woernhard (SUI) 72 69; Jason Smith 68 73
142 Gideon van der Vyver 71 71
143 Jason Roets 73 70; Jeff Inglis (ENG) 71 72; Jason Rossiter 71 72
144 Michael-James Steyn 73 71; Jason Froneman 72 72
145 Luan Boshoff 71 74
146 Richard Joubert 73 73; Karl Ochse 72 74
149 Leon Vorster 77 72; Coert Groenewald 76 73
Written and released by Lali Stander on behalf of the Big Easy IGT Challenge Tour.
Latest IGT Challenge Tour News