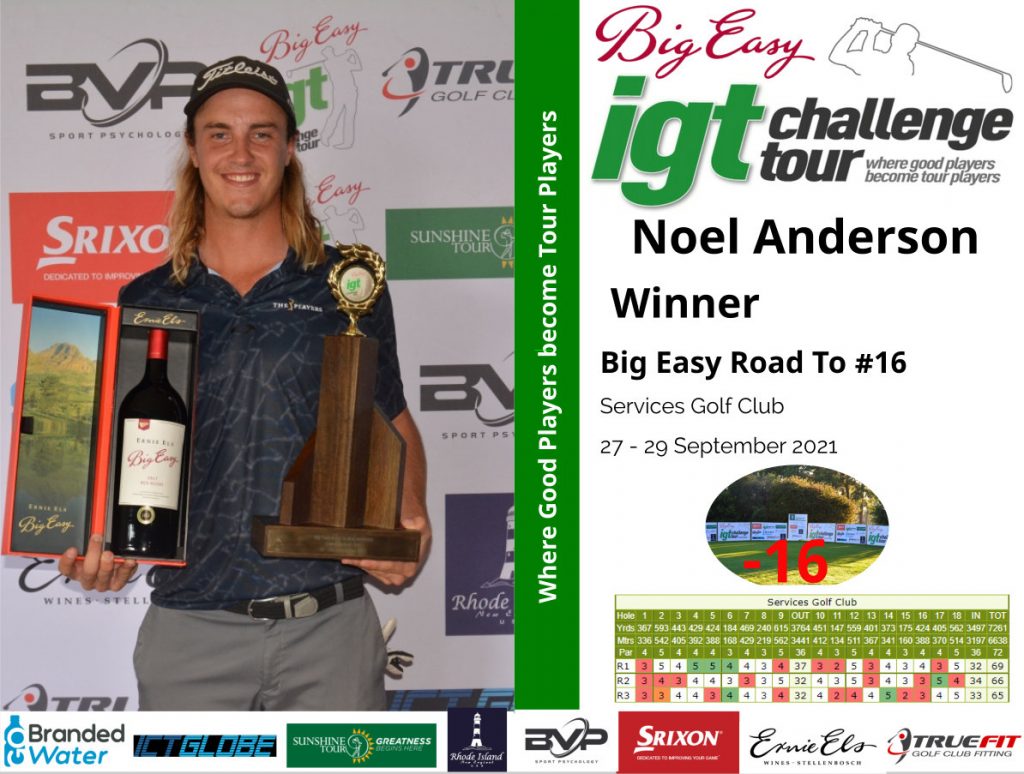 3rd October 2021 | IGT Challenge Tour
Anderson blows by Services field with closing 65 for victory
Amateur Noel Anderson carded a closing round of seven-under-par 65 on Wednesday to run out a two-stroke winner in the Big Easy IGT Challenge Tour's Road to the Sunshine Tour #15 at Services Golf Club.
Anderson, who spent four years at a Division II college in the United States, Flagler in Florida, but only resumed competitive golf with any kind of commitment about six months ago, made an eagle, seven birdies and two bogeys to head off the challenge of Therion Nel, Vaughn van Deventer and overnight leader Erhard Lambrechts by two shots.
"I was actually quite calm about everything, considering I've never been in this kind of position before," said Anderson. "I mean, my hands weren't shaking, or anything. I really pretty much kept concentrating on what I was doing, and then, when I got to the last hole, I saw that I had a two-shot lead, and that made me feel pretty good."
He got off to a flyer in the final round, with a birdie on the first and an eagle on the second. He followed his next gain for the day with his first bogey on the sixth, but he was back on track with another birdie on nine to turn in four-under. Two more birdie-putts dropped on 11 and 12. A bogey on 14 could have made him nervous, but, instead, he followed it with birdies on 15 and 16 to get two shots ahead, which was where he stayed.
"I put a new putter in play," said Anderson, "and that made a big difference. I've missed quite a few cuts recently, and it's only by grinding and grinding and grinding that I've been able to put myself in a position when I can think of trying to win my Sunshine Tour card."
That's his immediate goal, and, with two more tournaments in the series, he's heading closer to the top 30 who will contest the three-tournament play-off series. The top six players from their will win the Sunshine Tour playing privileges.
He brings a maturity to this chase, and an acceptance that there is no substitute for hard work, and then trying and trying again. "This win is great," he said. "It puts me in a better position to try and win my card, and it has shown me that I'm able to handle the pressure."
He can afford to feel that way. With the quality of the opposition he left in his wake – the three runners-up, as well as the likes of Herman Loubser in sixth and Ian Snyman in ninth – he can be sure he's doing something right.
Latest IGT Challenge Tour News