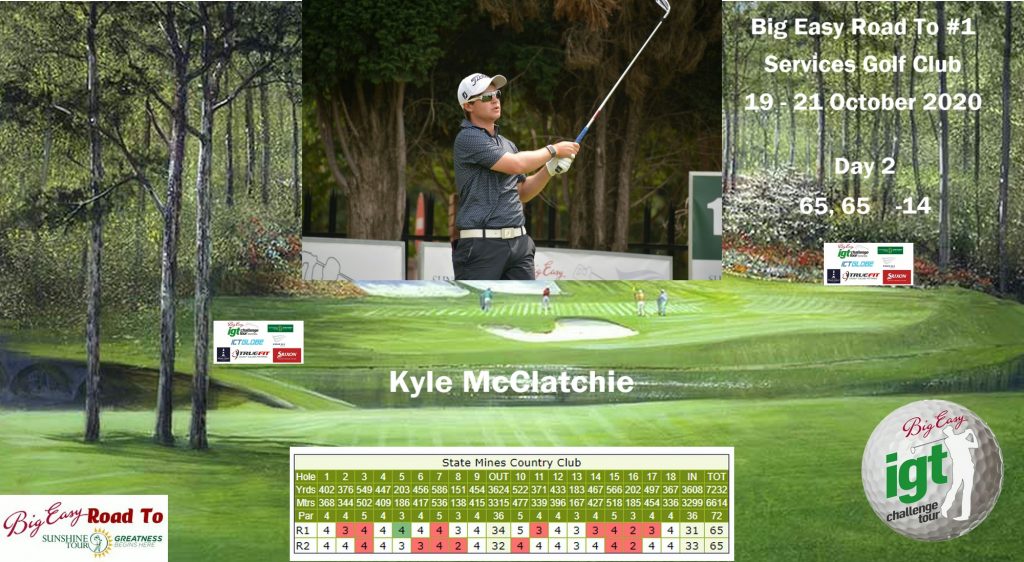 27th October 2020 | IGT Challenge Tour
Another 65 as McClatchie takes Big Easy lead at State Mines
BRAKPAN, October 27 – Kyle McClatchie backed up his opening-round of seven-under-par 65 with a second successive 65 on day two of the Sunshine Big Easy Tour Road To #2 and holds a slim one-shot lead ahead of the final round at State Mines Country Club.
McClatchie came into the second round trailing Vaughn Van Deventer by two shots and played some solid golf from the onset, and which saw him go four-under and bogey-free on the front nine as he mounted his challenge for the top spot on the leaderboard. Three more birdies on the homeward stretch followed and those, too, were not to be tainted by any bogey.
"I played nicely in both today and yesterday's round," said McClatchie, "and today the best thing today was keeping the bogeys off the card. I felt like I played really well today, probably more so than yesterday, even though I played well yesterday too. It's nice to shoot low scores and I enjoyed being out there.
"The course isn't the toughest we have played but the scores are good out there because the competition is so tough. You have to play well to score well in any tournament out here otherwise you get left behind."
McClatchie knows the pressure is piling from the chasing pack, led by overnight leader Van Deventer, who carded a 68 on day two to trail McClatchie by a solitary shot.
"It's good to be in contention," said McClatchie looking forward to the final round. "That's why we play; to put yourself under pressure and know you have a chance to win. There's a lot of golf to be played still but I have put myself in a good position now and I will try to give myself chances tomorrow and down the last nine. But the aim is to put the paddle down and see how many birdies we can make."
Also popping up with a four-under 68 in round two was Darin De Smidt who sits third on the leaderboard at 11-under-par for the tournament while Michael James-Steyn, following a 68 of his own in round two, occupies fourth at 10-under.
Herman Loubser and Keaton Slatter share the fifth spot at nine-under ahead of the final round.
130 – Kyle McClatchie (RSA) 65 65
131 – Vaughn Van Deventer (RSA) 63 68
133 – Darin De Smidt (RSA) 65 68
134 – Michael-James Steyn (RSA) 66 68
135 – Herman Loubser (RSA) 70 65, Keaton Slatter (RSA) 69 66
136 – Conner Mackenzie (AM) (RSA) 68 68, Bradley Diggeden (RSA) 66 70, Gregory Mckay (RSA) 68 68, Ruan Groenewald (RSA) 67 69, Caylum Boon (RSA) 69 67
137 – Harry Konig (ENG) 66 71
138 – Zabastian De Jager (RSA) 71 67, Drikus Joubert (AM) (RSA) 66 72, Ricky Hendler (RSA) 73 65, Carlo Heunis (RSA) 67 71
139 – Casey Jarvis (AM) (RSA) 72 67, Llewellyn Booysen (RSA) 68 71, Jordan Duminy (AM) (RSA) 70 69, Michael Pfeifer (RSA) 72 67, Therion Nel (RSA) 71 68, Ryan Tipping (RSA) 69 70
140 – Rigardt Albertse (RSA) 70 70, Marco De Beer (RSA) 67 73, Michael Kok (RSA) 69 71, Matthew Rushton (RSA) 70 70, Warwick Purchase (AM) (RSA) 69 71, Erhard Lambrechts (RSA) 71 69, Dylan Kok (RSA) 68 72, Leon Vorster (RSA) 67 73
141 – Christiaan Burke (AM) (RSA) 69 72, Angus Ellis-Cole (RSA) 70 71, Charlie Dell (AM) (ENG) 71 70, Nikhil Gopal (AM) (RSA) 70 71, DK Kim (KOR) 70 71, Ryan Van Velzen (AM) (RSA) 69 72, Neal Woernhard (SUI) 69 72, Slenda Sithebe (RSA) 70 71
142 – Gerhard Pepler (RSA) 72 70, Jonathan Waschefort (RSA) 70 72, Gregg Gilson (AM) (RSA) 71 71, Wynand Potgieter (RSA) 73 69, Fritz Orren (RSA) 68 74, Morne Buys (RSA) 67 75, Reinhardt Blaauw (RSA) 71 71, Mohammed Darsot (AM) (RSA) 70 72
Latest IGT Challenge Tour News