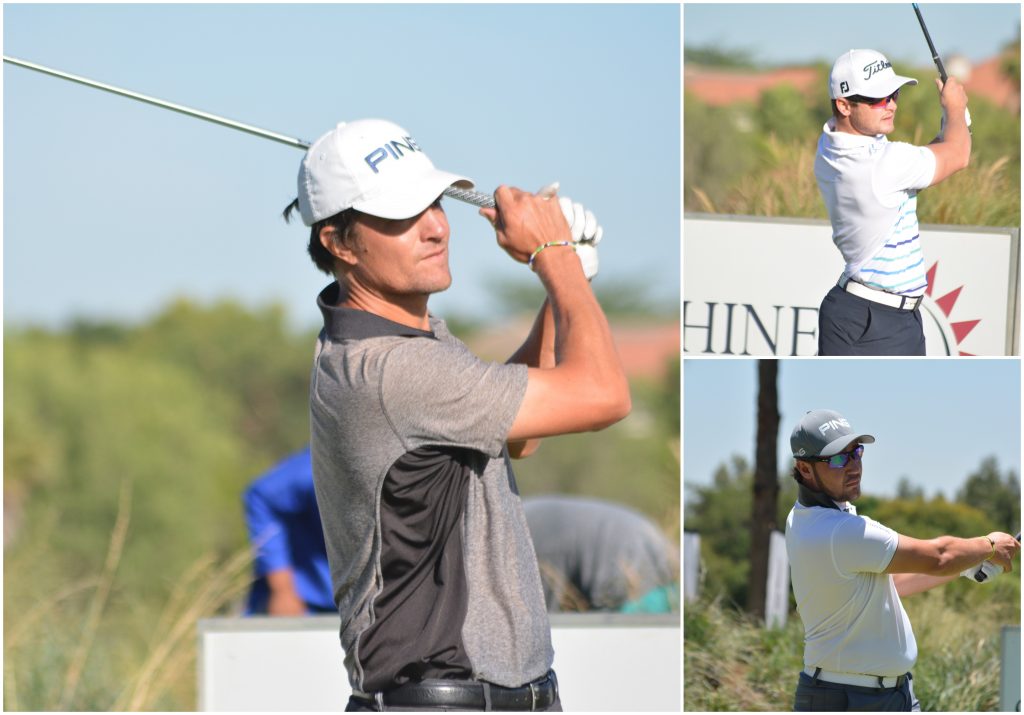 21st January 2019 | IGT Challenge Tour
Appel in touch at IGT Silver Lakes
Appel in touch at IGT Silver Lakes
PRETORIA, 21 January 2019 – A gentle rebuke from Canadian Oliver Tubb guided Durban-born Christof Appel to play himself into contention in the IGT Challenge Tour Race to Q-School #2 at Silver Lakes Golf Estate on Monday.
"Oliver and I have been competing together in Canada for years and he is always telling me that I will get more consistent if I play less aggressively," said Appel, whose six-under-par 66 left him trailing round one pacesetters Ruan Conradie and Thriston Lawrence by one.
"Oliver finally got his way at this course, because you have to think your way this layout. There must be 1,000 trees out there. I think they set it up a little shorter than I think it can play, but you had to hit it in the right spots.
"You can hit driver off every tee, but if you miss a fairways, you'll get punished. Ping sent me a new 3-iron and a hybrid at the start of the season. I've never really played with a hybrid before, but I have to say, both clubs served me really well today. I took a lot of 2-irons and 3-irons of the tees and wedges in, and that definitely helped me score well. The greens are also really good. The putts hold their line incredibly well. If you read them right, the putts dropped."
Appel got off to a birdie start, but paid the price of missing the fairway at six with a bogey.
A brace of birdies at seven and nine took him through the turn on two-under, and he picked up three more shots on the field with a birdie at 10 and eagle at the par five 14th.
"I hit 3-iron off the tee at 14, took the hybrid for my second and hit it to six feet," Appel said. "Like I said, those two clubs really worked in my favour and the wedges did the rest."
A final birdie at 17 will see Appel start the second round alongside Sunshine Tour winner JC Ritchie, who like 2018 IGT Challenge Tour Money List leader Conradie and Sunshine Tour Q-School winner Lawrence also graduated from the IGT Challenge Tour.
Appel, who owns a marketing and consulting company specialising in product development, hopes to follow in their footsteps.
"I missed out at First Stage, so my only hope is to finish in the top 15 in the Race to Q-School Order of Merit so I can qualify for the Final Stage in March," he said.
"I have been splitting my time between South Africa and the Mackenzie Tour in Canada for the 10 years. My wife is Canadian and I have family in both countries, so the first prize would be to play the Sunshine Tour circuit for the first four or five months of the year, then compete in Canada over the summer and come back to South Africa for the end of season events."
Appel travelled to South Africa with two fellow Mackenzie Tour players in pursuit of Sunshine Tour cards.
"It's great to have Oliver and Cody (White) out here with me," he said. "We are definitely keeping each other inspired. Like me, they are equally keen to pursue membership on both Tours. South Africa's got the weather, the courses and some great tournaments in the summer, so what's not to like."
Silver Lakes local Albert Venter from Pretoria, who won the first Race to Q-School last week at Centurion, opened with a five-under 67.
He shared third with yet another IGT Challenge Tour graduate, CJ du Plessis, and Kyle Barker, who secured his spot into the Final Stage of Q-School with a top 20 finish in the Big Easy IGT Challenge Tour's Race to Sunshine Tour at the end of last year.
First Round Scores
All competitors RSA unless otherwise specified; amateurs indicated as AMA
65 – Ruan Conradie, Thriston Lawrence
66 – Christof Appel, JC Ritchie
67 – CJ du Plessis, Albert Venter, Kyle Barker
68 – Wynand Dingle, Zabastian de Jager, Teaghan Gauche, Theunis Bezuidenhout, Louis Albertse
69 – Jade Buitendag, Zander Gous AMA, Michiel Bothma, Bradley Diggeden AMA
70 – Richard Joubert, Jabulane Mabilane, Toto Thimba Jnr, Jaco Prinsloo, Divan Marais, Heinrich Bruiners
71 – Gideon van der Vyver, Paulo Serrao (POR), Emilio Pera AMA, Jonathan Waschefort, Clinton Grobler, Donovan Liddicoat AMA, Fredrik From (SWE)
72 – Tyron Taylor AMA, Altaaf Bux, Conner Mackenzie AMA, Michael-James Steyn, Irvin Mazibuko, Breyten Meyer
73 – Tristen Strydom, Clayton Mansfield AMA, Oliver Tubb (CAN), Matthew Hands AMA, Christian Basson AMA, Paul Rodrigues AMA, Darin de Smidt AMA, David Rebelo, Keanu Pestana AMA, James Mack (ENG)
74 – Jason Rossiter, Quintin Crause, Kyle McClatchie, Wayne Stroebel, Andrew Carlsson, Louis Calitz, Hanlo Jacobs, Andrew Plint AMA, Allan Jirek AMA (CZE), Jaco van der Merwe AMA, Gareth Sargent AMA, Omar Sandys, Deon Bredenkamp, Jason Diab, Richard Spagnolo AMA
75 – WM Coetzee AMA, Angus Ellis-Cole AMA, Ruan Korb, Jack Duthie, Idrees Saban AMA, Stephan Erasmus, Jan-Louis Nel AMA, Jay Dean Fourie, Christopher Scheppel AMA, Makhetha Mazibuko, Thabang Simon, Thabo Moraba, Andi Dill, Marthin Scheepers, Christopher van der Merwe AMA
76 – Jancarel Rossouw AMA, Patric Dowling AMA, Cody White (CAN), Hanish Nagrani (ZIM), Ruhan Van Dijk
77 – Derick Petersen, Louis Botha, Allister de Kock, Maritz Wessels, Neal Woernhard (SUI), Ruan Groenewald, Ricardo Towell, Alwyn Smith
78 – Gary Daoust (BEL), Kevin Berger (GER), Reinhardt Blaauw AMA, Henning du Plooy AMA, Michael Saunders (ENG), Warric Dyers
79 – Xander Prinsloo AMA, Duane Keun, Alex Pienaar AMA, Elmo Barnard AMA, Werner Deyzel AMA, Nicol Kromhout AMA
80 – Lance Ellerbeck AMA, Ray Janse van Rensburg AMA, Dwayne Basson, MJ Viljoen, Byron Fichardt AMA, Kelsey Nicholas, Igor Milicic (SRB), Duan Nagel AMA
81 – Blain Sansom, Dwayne Mitchell AMA
82 – Marnus Barnard AMA, Divan De Villiers
83 – Carlo Heunis AMA
84 – Francois Nel AMA, Marcus Smal AMA
85 – Chiara Contomathios, Luke Kelly
86 – Dean Du Plessis AMA
88 – Hermanus Prinsloo AMA, Phumlani Maluka
91 – Hanro Booysen
PHOTO – Christof Appel; credit CJ du Plooy.
Written and released by Lali Stander on behalf of the IGT Challenge Tour.
Latest IGT Challenge Tour News