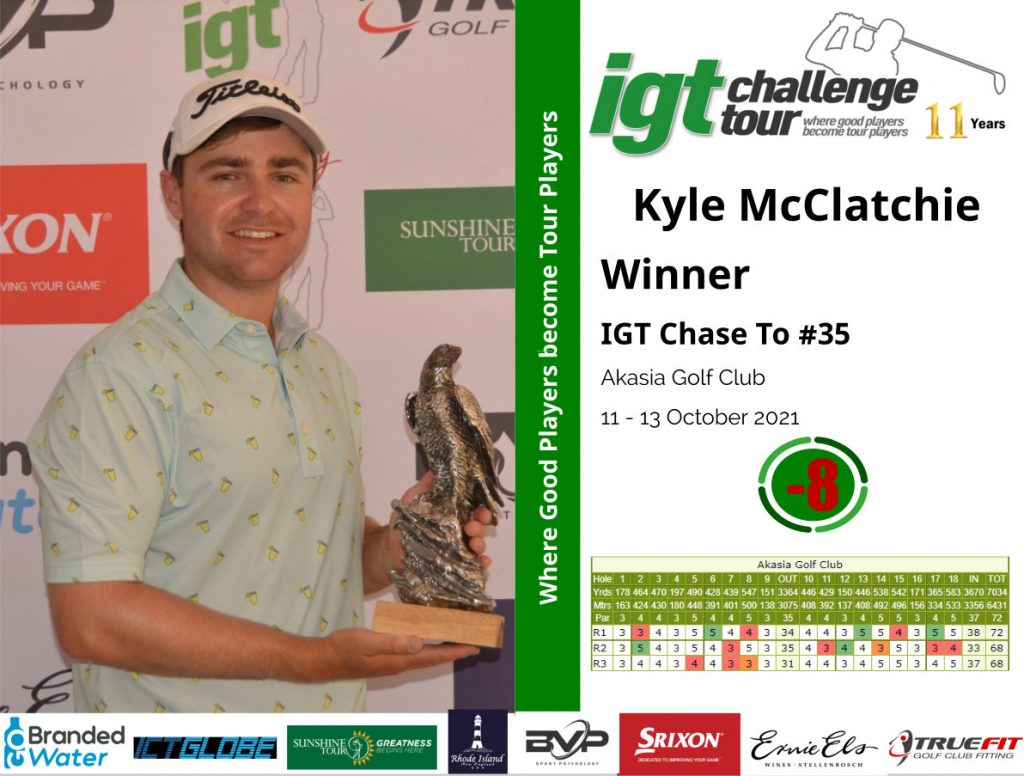 16th October 2021 | Big Easy IGT Golf
McClatchie wins again with victory at Akasia
Kyle McClatchie eagled the eighth hole on Wednesday which put the seal on his victory in the Big Easy IGT Challenge Tour's Chase to the Sunshine Tour #35 at Akasia Golf Club.
McClatchie carded a four-under-par 68 to go to eight-under for the tournament. That gave him a one-stroke victory over Herman Loubser, Ryan Tipping and Franklin Manchest. Sentanio Minnie and Michael Kok were in a share of fifth place, one shot further back on four-under for the 54-hole tournament.
"I chipped it in from just short of the green," said McClatchie of the eagle which took him to eight-under and the lead which he never relinquished. "It was a good thing, because I wasn't putting too well, so it took the putter out of the equation."
He had chances to go further ahead on his homeward nine, but he was unable to make any birdies. "It was difficult with the putter no co-operating," McClatchie said, "and I was disappointed to not make birdies on the three par-fives on the second nine. But I was pleased to get the job done with all those guys chasing me."
It was McClatchie's fourth victory of the year, and his fifth of the season since he won his first back in October last year at State Mines. It's also his second inside the last month after he won at ERPM on September 13. "It's good to have all the hard work paying off towards the end of the season," he said. "It almost feels as if it counts more, and, of course, having form ahead of the Chase to the Sunshine Tour Final at Irene on November 22 is very valuable."
McClatchie heads the rankings on the Chase to the Sunshine Tour, ahead of Kok in second and Leon Vorster in third. The top three players after the final will earn their Sunshine Tour cards.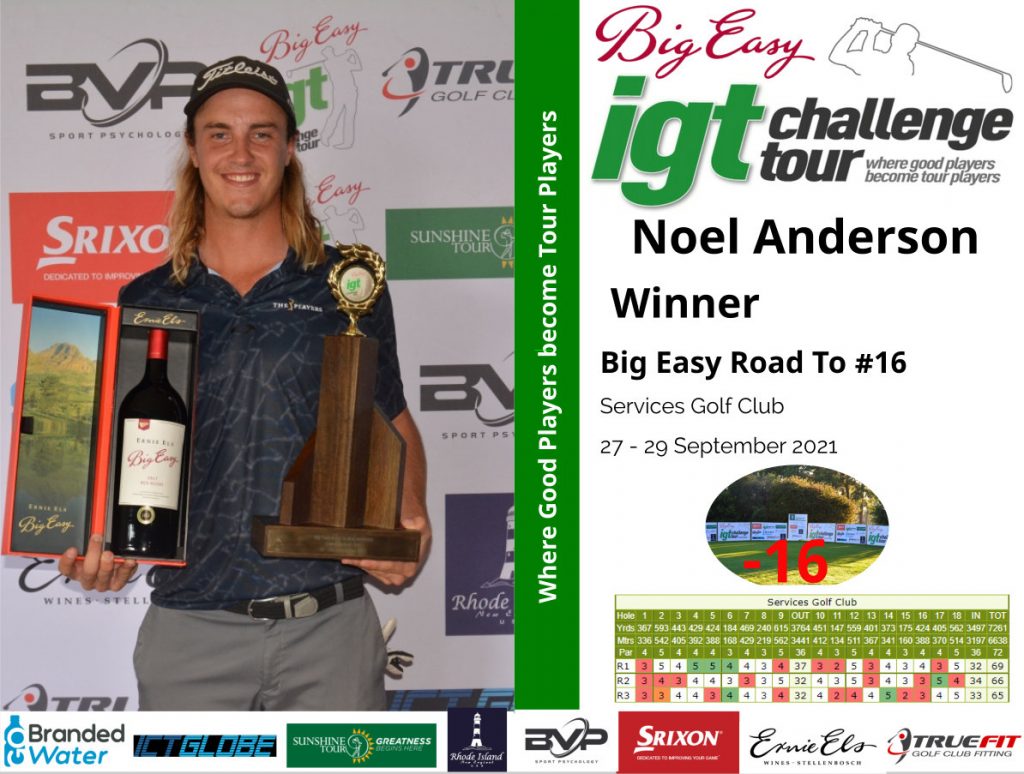 3rd October 2021 | Big Easy IGT Golf
Anderson blows by Services field with closing 65 for victory
Amateur Noel Anderson carded a closing round of seven-under-par 65 on Wednesday to run out a two-stroke winner in the Big Easy IGT Challenge Tour's Road to the Sunshine Tour #15 at Services Golf Club.
Anderson, who spent four years at a Division II college in the United States, Flagler in Florida, but only resumed competitive golf with any kind of commitment about six months ago, made an eagle, seven birdies and two bogeys to head off the challenge of Therion Nel, Vaughn van Deventer and overnight leader Erhard Lambrechts by two shots.
"I was actually quite calm about everything, considering I've never been in this kind of position before," said Anderson. "I mean, my hands weren't shaking, or anything. I really pretty much kept concentrating on what I was doing, and then, when I got to the last hole, I saw that I had a two-shot lead, and that made me feel pretty good."
He got off to a flyer in the final round, with a birdie on the first and an eagle on the second. He followed his next gain for the day with his first bogey on the sixth, but he was back on track with another birdie on nine to turn in four-under. Two more birdie-putts dropped on 11 and 12. A bogey on 14 could have made him nervous, but, instead, he followed it with birdies on 15 and 16 to get two shots ahead, which was where he stayed.
"I put a new putter in play," said Anderson, "and that made a big difference. I've missed quite a few cuts recently, and it's only by grinding and grinding and grinding that I've been able to put myself in a position when I can think of trying to win my Sunshine Tour card."
That's his immediate goal, and, with two more tournaments in the series, he's heading closer to the top 30 who will contest the three-tournament play-off series. The top six players from their will win the Sunshine Tour playing privileges.
He brings a maturity to this chase, and an acceptance that there is no substitute for hard work, and then trying and trying again. "This win is great," he said. "It puts me in a better position to try and win my card, and it has shown me that I'm able to handle the pressure."
He can afford to feel that way. With the quality of the opposition he left in his wake – the three runners-up, as well as the likes of Herman Loubser in sixth and Ian Snyman in ninth – he can be sure he's doing something right.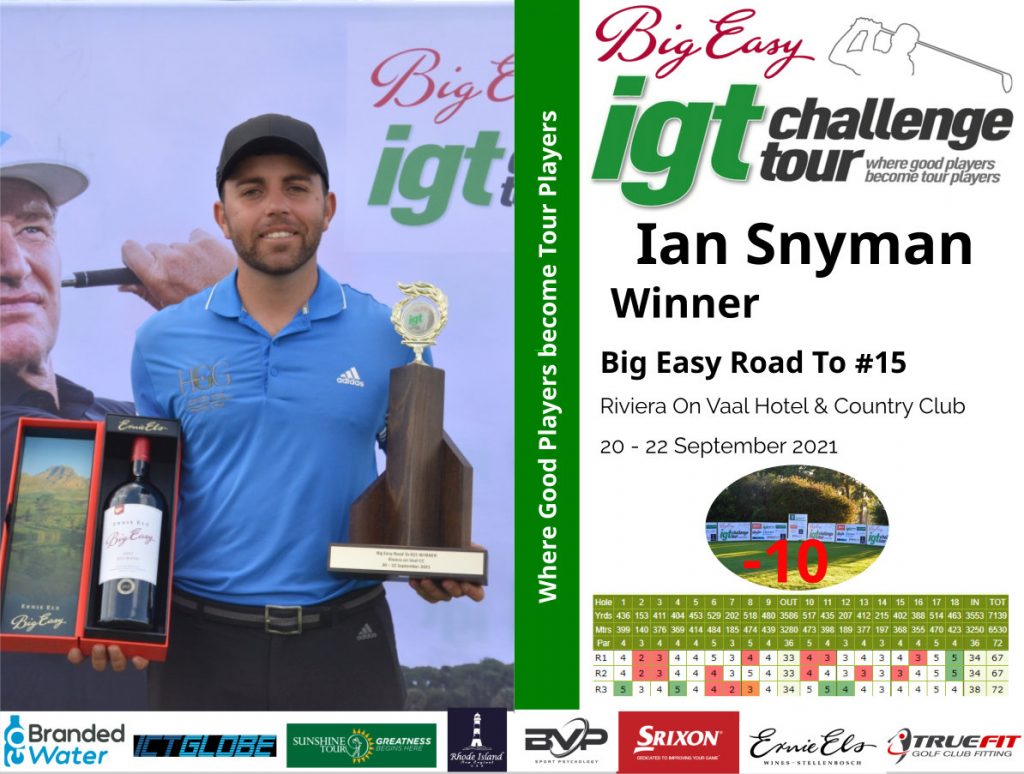 23rd September 2021 | Big Easy IGT Golf
Snyman holds it together for wire-to-wire win at Riviera on Vaal
He was made to work hard for his victory on Wednesday, but eventually Ian Snyman turned out to be a wire-to-wire winner in the Big Easy IGT Challenge Tour's Road to the Sunshine Tour #15 at Riviera on Vaal.
Snyman carded a closing level-par 72 to go with his first two rounds of five-under 67 each, and that gave him a one-stroke edge over Michael Kok, who closed with a four-under 68. Herman Loubser was third after his final-round 67 put him on eight-under for the tournament and two off the lead. Matthew Rushton and Michael-James Steyn rounded out the top five with totals of seven-under.
After he had played so well in the first two rounds, it was a bit of a shock to his system when Snyman made bogeys on one and four in the final round. "I saw some places on the golf course that I hadn't seen before," he laughed. "And in the first two rounds, if I missed any greens, I was never more than a couple of inches off. Today, I had to chip, and with some of the lies I got around the greens, that wasn't easy."
But for all that, Snyman stayed calm as Kok and Loubser, in particular, put the squeeze on him. But with no-one towards the top of the leaderboard able to keep at least one bogey off the card, Snyman was able to put together what turned out to be a winning run of consecutive birdies on six and seven, and, when he followed that with an eagle on eight, he was able to feel that he could win the thing.
"I hit a good drive down the middle of wight," said Snyman, "and I hit a long eight-iron in to the green. I actually hit it about 15 metres longer than usual, probably because of adrenalin, and I had about 13 metres to the hole. I read the line of the putt perfectly, and it went in."
He followed that with two good up-and-downs for par on the next two holes, but he followed those with what he called two soft bogeys. But he kept himself together and made par all the way home, including one on 18, where he had dropped a shot in each of the first two rounds. "I'm glad I got my revenge on 18," he laughed.
But more than that, he will have got the experience of holding together what looked like an increasingly fragile lead while under the gun in the final round of the tournament. That is worth a lot in the context of his career, which may be heading to Asia with the news that that circuit is possibly opening up again in November, and on which he has status.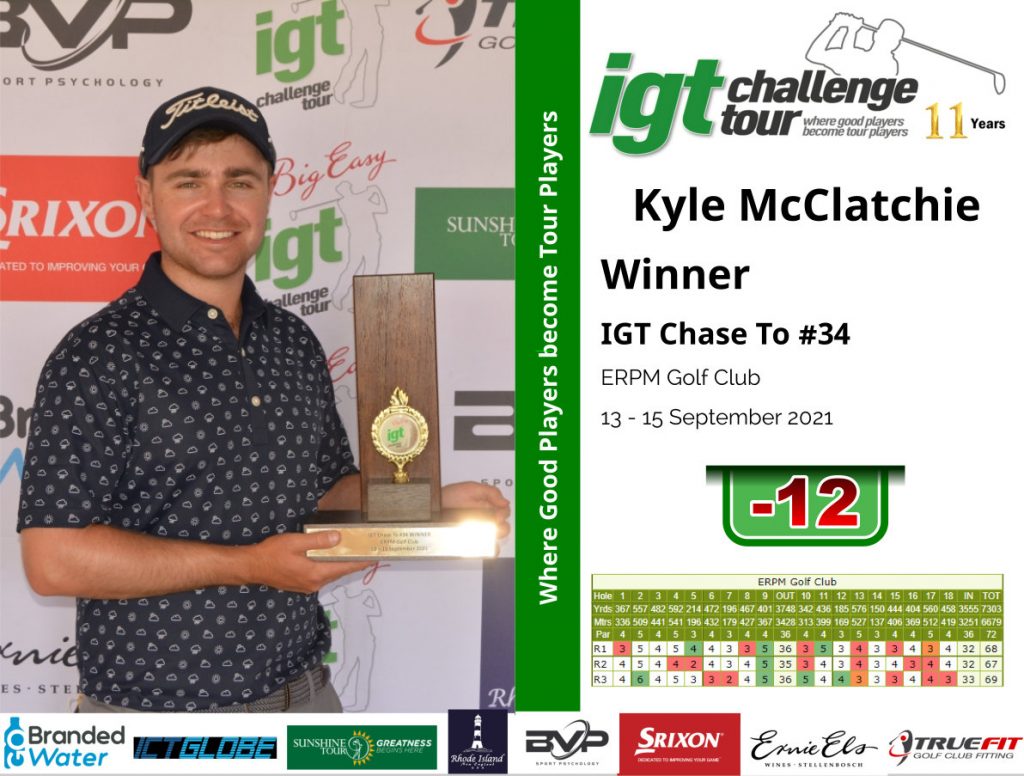 | Big Easy IGT Golf
Win for McClatchie at ERPM brings him 3rd title for 2021
Kyle McClatchie won his third Big Easy IGT Challenge Tour title on Wednesday when he took the Chase to the Sunshine Tour #34 by three shots from his nearest challenger at ERPM Golf Club.
It was a sprint to the finish line that took McClatchie clear, as he eagled the 13th, and made birdies on 15, 17 and 18 to finish off with a three-under-par 69. Runner-up was Leon Vorster after he closed with a one-under 71 to be nine-under for the tournament, and Keelan van Wyk finished third after his closing 69 took him to seven-under, five behind McClatchie.
It was the eagle on 13 which was the turning point for McClatchie, as he'd made two birdies and four bogeys up to that point. "It was a tough day out there up to that point, with swirling wind making things difficult," he said, "and on 13, I finally had the wind behind me. I got my drive out there, and I only had 74 in, so it was a lob wedge to 15 feet and I made the putt.
"It was a good way to break out the crush at the top of the leaderboard, and it was also a good way to finish things off. It was important to hang in while I wasn't playing particularly good golf, but it helped knowing that everyone was struggling in the wind," he added.
The first bogey came early for McClatchie, on the second, and, while he made birdies on six and seven, he dropped another shot on nine. Two more bogeys after the turn on 10 and 12 put the cat firmly among the pigeons, but 13 lay ahead, and with it, the start of his charge for home.
"It's good to have won a third time this year," he said, "and especially good to have got it done at this time of the year, where it counts ahead of the play-offs and the final, and there's so much at stake."
He's currently second on the Chase to the Sunshine Tour Order of Merit, and the top three when all is done and dusted will get their Sunshine Tour cards. McClatchie has had one already, and is very keen to get it back. "I know that I can deal with the challenges," he said, "and I know that staying patient when things aren't going well is part of what needs to be done.
"I'm just pleased that I did exactly that today."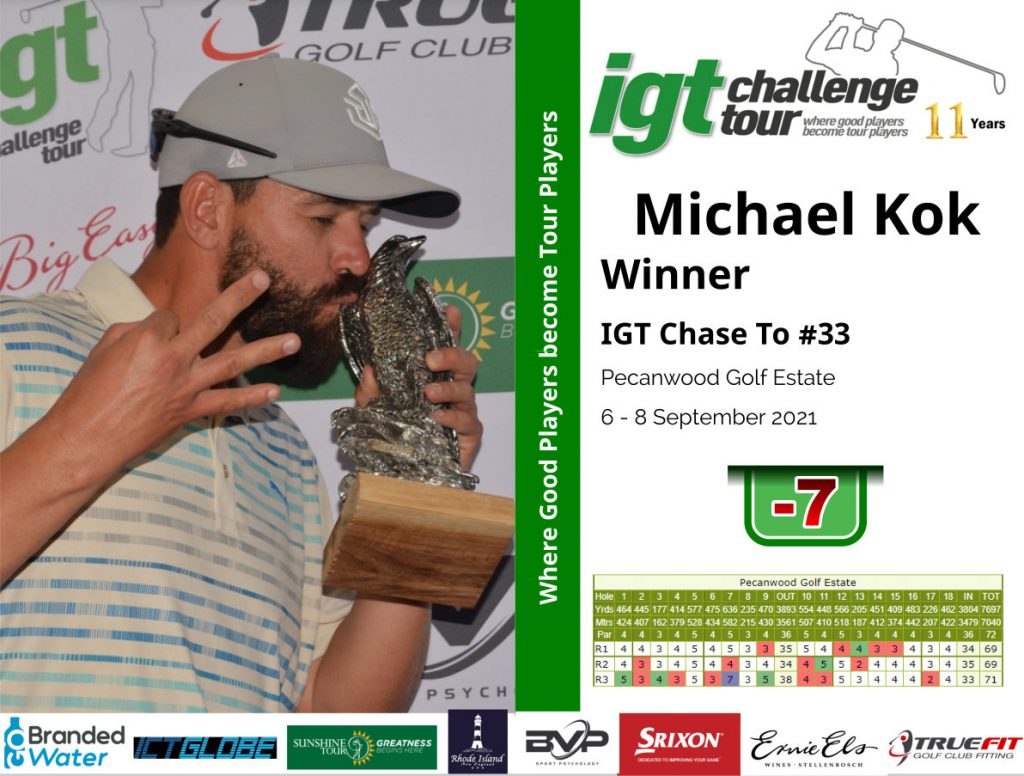 | Big Easy IGT Golf
Kok wins 3rd title with play-off win at Pecanwood
Michael Kok won his third Big Easy IGT Challenge Tour title on Wednesday on the first extra hole in a sudden-death play-off after he and Herman Loubser were all tied up at seven-under-par in regulation play in the Chase to the Sunshine Tour #33 at Pecanwood Golf Estate.
Kok birdied the 17th to draw level with Loubser who had led throughout, after both players had struggled on the front nine, and then, after each made par on the closing hole, they went off down number 18 one more time. This time, Kok made birdie to Loubser's par, and that gave him the win after a long period where his hot early season form seemed to have deserted him.
"Actually, 17 was the turning point for me today," said Kok. "It's a long par-three, about 210 metres, and I saw Herman get it wrong off the tee with a four-iron. So I took a gamble, and hit a two-iron in, trying to use a big cut. And it came off perfectly, with my ball ending up five feet from the pin for me to make birdie and tie things up."
The opening nine gave both players headaches as they pushed each other for the win: Kok made a double-bogey seven on the seventh and bogeys on one, three and nine. Loubser made two doubles, on the par-four sixth and the par-three eighth, as well as a bogey on the first. But Kok made three birdies to Loubser's two, and that gave him the impetus to push for victory down the back nine.
They exchanged birdies on the 10th, and then Kok drew level for the lead with a birdie on 11. It was par for par after that until Loubser hit the front again with a birdie on the par-four 15th. Then came the fateful 17th.
"The course really seemed to be playing difficult today," said Kok. "I couldn't tell you what it was, but thank goodness I was putting well, especially on that back nine."
His was one of only three scores under par in the final round, his one-under 71 one more than the two-under 70 from Ryan Tipping which gave him fourth place on four-under for the tournament. That was one behind Kyle McClatchie in third, who matched Kok's one-under 71 in the closing round.
Kok last won in January, and since then has missed nine cuts. But the win this week has him at the top of the table in the Chase to the Sunshine Tour, and well on his way to earning his Sunshine Tour card.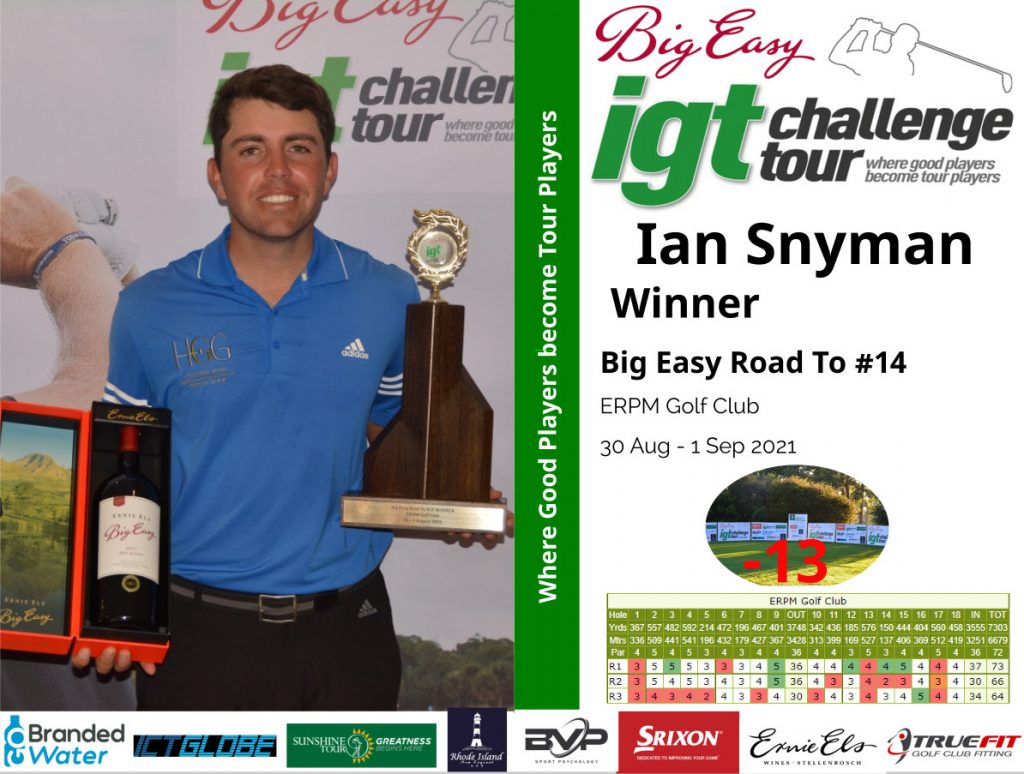 1st September 2021 | Big Easy IGT Golf
Snyman's opening 9 buries opposition on way to ERPM victory
Ian Snyman found that rare zone for any golfer on Wednesday as he blew away the opposition with a final round of eight-under-par 64 to win the Big Easy IGT Challenge Tour's Road to the Sunshine Tour #14 by three shots.
He started the final round two shots off the lead, and he gave notice of his intentions with five consecutive birdies to start the day. Another before the turn which he reached in six-under 30 just about sealed the deal, and two more on 10 and 13 put him almost out of sight. He bogeyed 16, and regained that shot on 17 as he left the fast-finishing Zabastian de Jager too far off the be any better than second.
"It was a lot of fun, that front nine," said Snyman. "Everything just worked. I couldn't miss the fairways, I was judging approaches to the very hard greens perfectly, and the ball was rolling into the middle of the cup off my putter.
"In fact, my putter picked up where I left off in the second round. I closed that out yesterday with a 30, so today felt like more of the same. In the end, I just made sure I went through all the motions properly, and made smart decisions all the way around.
"When I made the birdie on 10, I felt that I had given myself a big enough cushion, and I kept reminding myself to just keep playing smart after that."
Hi 64 was just too much for anyone to chase down. De Jager came closest with his closing nine of six-under 30 for a 66, but it was simply not enough. Thanda Mavundla also chased valiantly, but his 65 left him five shots back in a share of third with Kyle McClatchie and Ryan van Velzen. McClatchie signed for a 69 and Van Velzen carded a five-under 67.
The man who led the tournament for the first two rounds, Makhetha Mazibuko, had to be satisfied with a closing level-par 72 and a share of sixth with Keelan van Wyk who shot a 69.
For Snyman, it's now a question of keeping on playing smart golf in a search for consistency as he chases one of six Sunshine Tour cards that are up for grabs for players in the Road to the Sunshine Tour Series, which has four more regular season events before the play-offs which begin on November 8 and will be held over three tournaments in four weeks.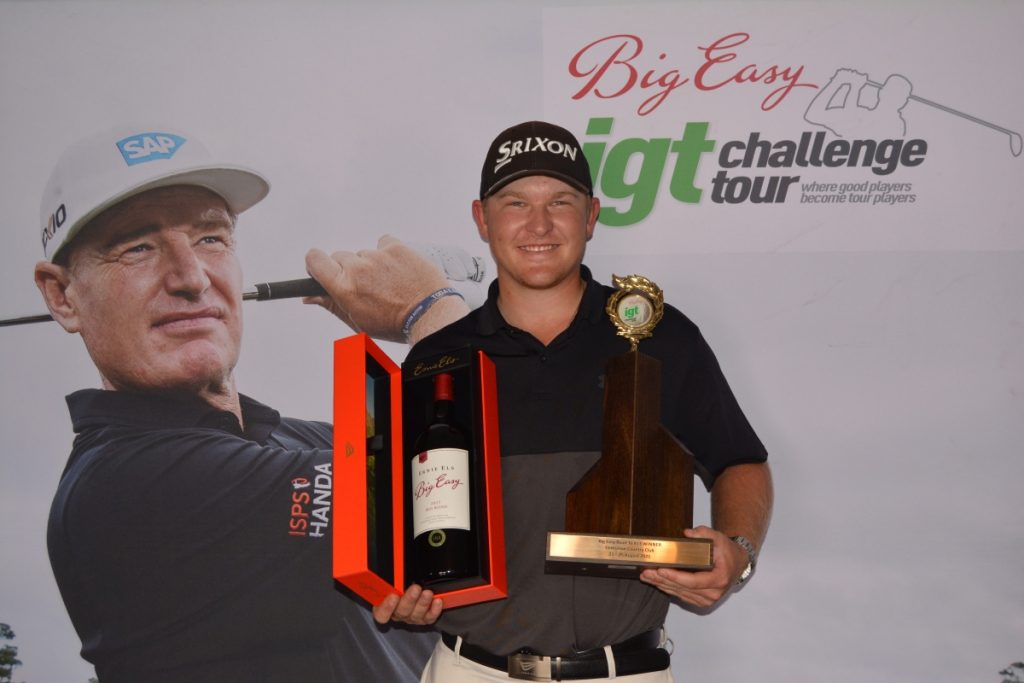 25th August 2021 | Big Easy IGT Golf
Pickering eagle sets him up for comfortable Big Easy win at Centurion
Slade Pickering made an eagle two on the par-four second hole at Centurion Country Club on Wednesday as he cruised his way to a five-under 67 and a two-shot victory in the Big Easy IGT Challenge Tour's Road to the Sunshine Tour #13.
Having opened with a birdie on the first, the eagle gave him the peace of mind that he had the weapons in his armoury to hold off any challenge, and even two bogeys in his opening nine did not put a hold on his march to the win.
"I hit my drive really well down the fairway on two," said Pickering of his eagle. "I had 173 in, and I took my nine-iron to try and keep from going too long. I absolutely flushed it, and it landed about three metres from the hole, hopped twice and trickled in."
With none of the players who were close to him after the second round making any substantial move, he was able to enjoy the rest of the round. "I don't know what happened with the bogey on three," he said, "and, when I dropped that shot on the par-five seventh, I just flushed a four-iron right over the green into the hazard.
"But I made birdie on nine, and I felt things were back on track again. The birdie on 12 felt as if it gave me more space, and, when I looked at a leaderboard on the 15th, I saw I was tied for the lead with Therion Nel. But I knew he was a few holes ahead of me, and so I just tied to make sure I made two birdies in the final two holes to make absolutely sure. And they came on 16 and 17.
"So, by the time I got to 18, I knew exactly what I had to do – hit the fairway and green, two-putt and walk off."
Nel finished up with a 67 too, but it left him on 12-under for the tournament, two back. Jason Froneman carded a closing 69 to take third on 11-under, while Kyle McClatchie and Ian Snyman shared fourth on 10-under after rounds of 67 and 68 respectively.
It was the 22-year-old Pickering's second win on the Road to the Sunshine Tour series, and he also has one on the Chase to the Sunshine Tour series. "I'm playing in the SA Inter-Provincial tournament next month," he said, "and after that, I want to turn professional."
He will bring good experience with him to the paid ranks.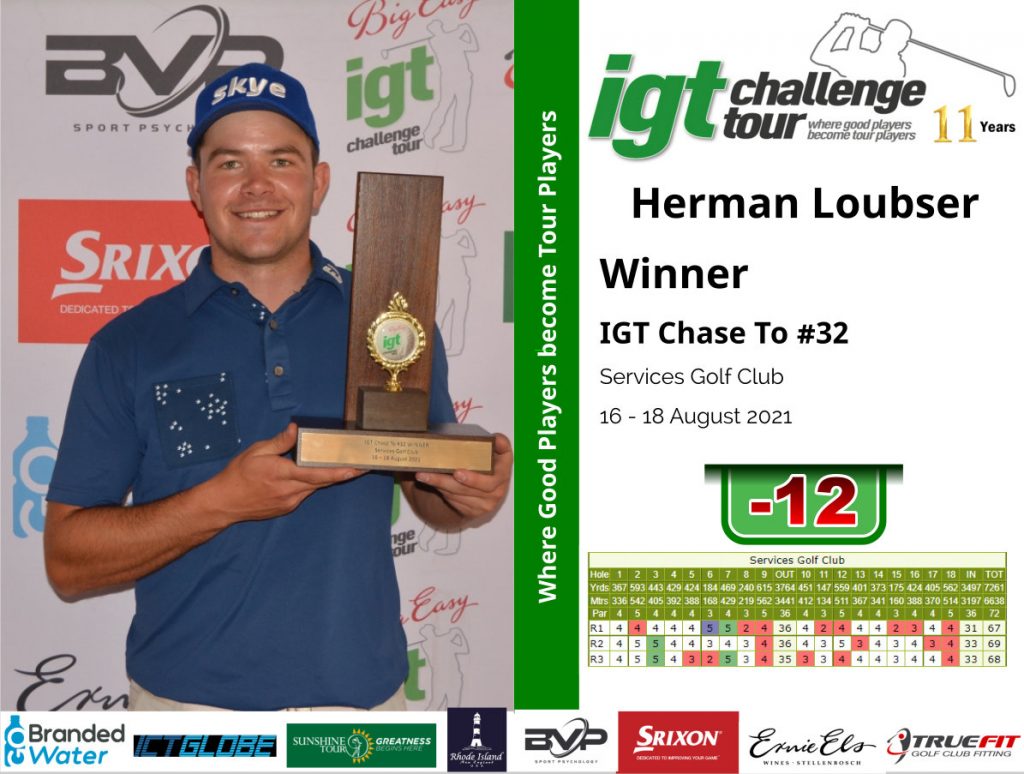 23rd August 2021 | Big Easy IGT Golf
Loubser holds off strong challenge to win at Services
Herman Loubser held off a determined challenge on Wednesday to take a two-shot victory in the Big Easy IGT Challenge Tour's Chase to the Sunshine Tour #32 at Services Golf Club for his second title of the season.
With four holes to play, Leon Vorster, with whom Loubser had shared the 36-hole lead, had drawn level with Loubser again after a run of three successive birdies had put the pair on 11-under-par for the tournament.
But two dropped shots in a row on 15 and 16 put a brake on the challenge Vorster was bringing, and Loubser was able to coast home, even though an eagle on 18 from Vorster might have added some pressure to the situation. Vorster didn't make the 30-footer for eagle, two-putting for birdie instead. Loubser responded with a birdie of his own after missing a 10-footer for eagle on the closing hole, and the two-shot margin was maintained.
"It got a bit tight," conceded Loubser as he looked back on the homeward nine. "I actually missed a shirt birdie putt on 11 when he made bogey, and that could have taken quite a bit of pressure off me.
"But the reality is Leon played really, really well, and when he made those three birdies in a row, I certainly was getting a bit tense. Then he hit his tee shot in the bunker on the par-three 15th, and couldn't get up and down for par, and the wind had no affect on his approach to 16 and he hit it over the back of the green to make bogey there.
"That helped me to make par all the way in, and, even though he was full of eagles yesterday, I was pretty comfortable when he hit his approach to 30 feet on the par-five 18th, and I hit mine to 10. If that has been reversed, then I would have felt a little less comfortable."
Loubser, who won the Sunshine Tour's Qualifying School back in 2017, has lost his card and is in the process of strengthening his game in an attempt to regain his playing privileges. He won on the Road to the Sunshine Tour series back in November 2020, and this win on the Chase to the Sunshine Tour series gives him two possible roads back onto the country's premier professional tour.
"I've done a lot of work on my swing," said Loubser, "and, frankly, I just wanted to feel I was playing well under pressure today. The win was a lovely bonus."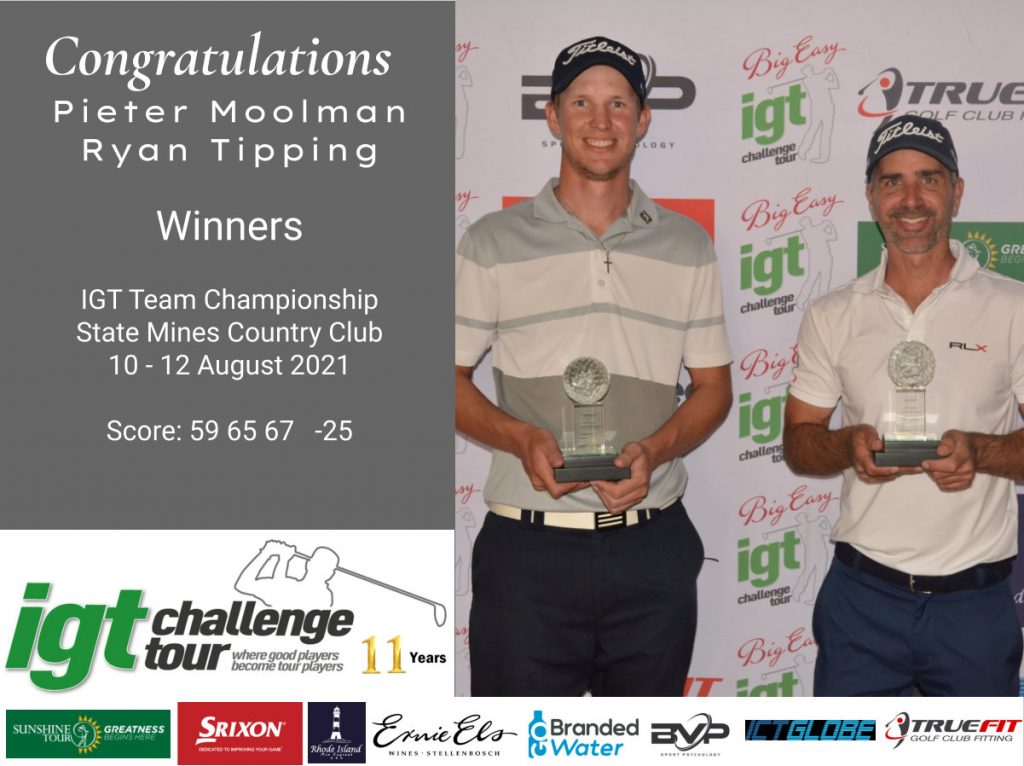 13th August 2021 | Big Easy IGT Golf
Experience pays off as Tipping, Moolman win IGT Team Champ
Experience proved the deciding factor on Thursday as professionals Ryan Tipping and Pieter Moolman won the Big Easy IGT Challenge Tour's Team Championship at State Mines Golf Club on the second play-off hole.
The 40-year-old Tipping, bidding to regain his Sunshine Tour card, and the 30-year-old Moolman, currently 53rd on the Sunshine Tour Order of Merit, made a birdie on the 18th on their third trip up that fairway on the final day to edge out the 18-year-old amateur pair of Casey Jarvis and Yurav Premlall.
Both teams had finished the 54 holes of regulation play at 25-under-par in the betterball scoring format, with Jarvis and Premlall chasing down the more seasoned pros with their closing six-under-par 66.
"Casey and Yurav were just so excited throughout the round," said Tipping. "I said to Pieter that we should just keep our heads down, get the balls up the fairways and try to make our putts, and that kind of pressure together with them trying so hard would eventually work in our favour."
And so it proved, despite the older men both missing par putts on 17 as they let the first bogey onto their card in three rounds. That was in contrast to Jarvis and Premlall, who made bogeys on five and 12 as they pressed for the win.
"We both missed our tee shots left on the 17th," said Tipping, "and then I missed an eight-footer and Pieter just missed a 15-footer.
"And then on 18, Pieter just missed a four-footer for the win. In the play-off, after we all made par on the first hole, Pieter made his birdie putt to get it over with."
Dwayne Basson and Allister de Kock also made a charge for the win in the final round, carding an eight-under-par 64 to finish third on 24-under-par for the tournament.
For Tipping, a second title for the season is pleasing, even if this one is shared. "My game is heading in the right direction," he said. "Now I'm looking for the third win as soon as possible."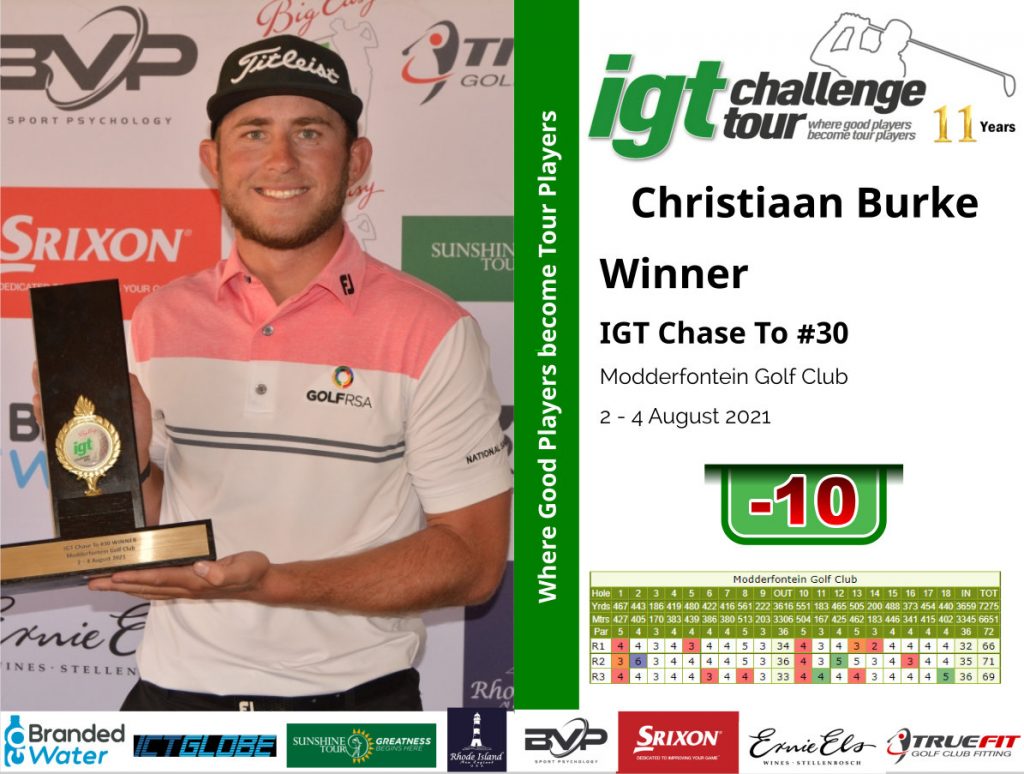 5th August 2021 | Big Easy IGT Golf
Wire-to-wire win for dominant Burke at Modderfontein
Christiaan Burke took his second title in as many weeks on the Big Easy IGT Challenge Tour when he won the Chase to the Sunshine Tour #30 at Modderfontein Golf Club on Wednesday by four strokes with a 54-hole total of 10-under-par.
Burke, who led from start to finish, closed with a three-under-par 69 with five birdies and two bogeys. That gave him the equal best round of the day as fellow-amateur Casey Jarvis also carded a 69 to finish on six-under for the tournament. Jarvis shared second with yet another amateur, Kyle de Beer, who was a third player with a 69.
"I played pretty well today," said Burke. "I looked at a scoreboard early on the front nine, and I saw that someone was on five-under. So I knew I had to keep up the pressure. And when I made my birdies on six and nine, I moved to 10-under and seven clear at that stage, with none to play. I felt pretty safe at that stage."
That someone was yet another amateur, Slade Pickering, who made eagle on the first, and birdies on three and six. But bogeys on eight and nine saw his charge stall, and he made two birdies, a bogey and a double on the homeward nine to finish the third round in one-under 71, and on two-under for the tournament in a share of fourth with Kyle McClatchie.
For Burke, it's a question of riding the wave. "All the work I've put in over the past year is paying off," he said. "I feel confident every time I tee it up, and I feel as if I can score well all the time. My bogeys today came from a bit of bad luck on the 11th, where I got a hard bounce with my tee shot off the back of the green, and then I three-putted the last, which was really just a little careless."
Burke won't be in action in next week's Big Easy IGT Challenge Tour event. "I'm playing in the Southern Cape Open," he said, "but I hope that I can keep up my good form there."
Latest Big Easy IGT Golf News