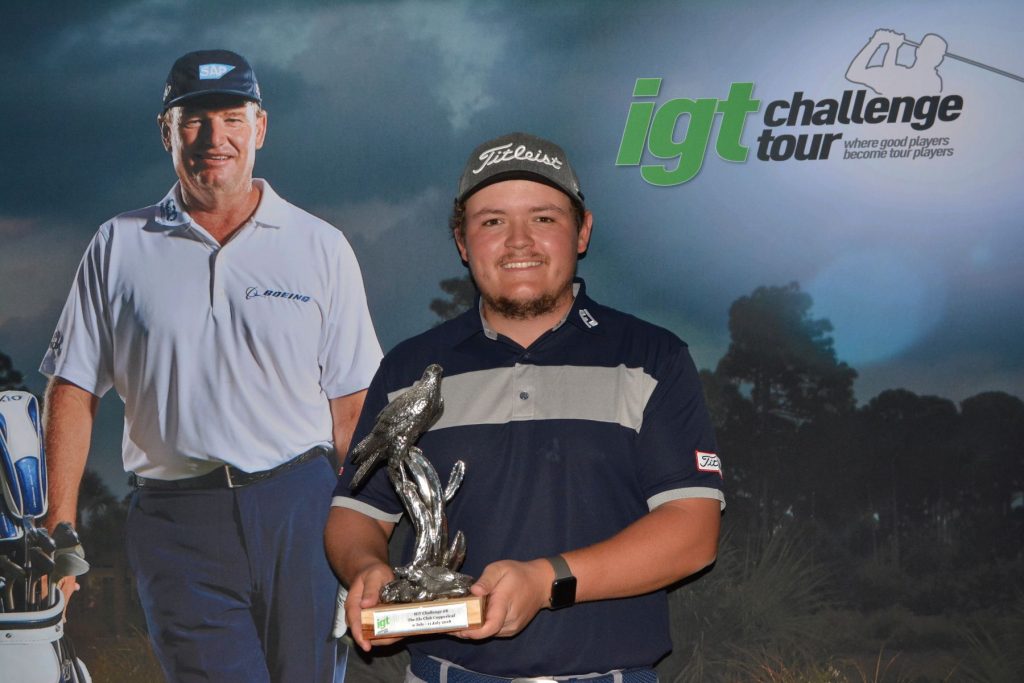 11th July 2018 | IGT Challenge Tour
Awesome Albertse goes back-to-back at IGT Copperleaf
Awesome Albertse goes back-to-back at IGT Copperleaf
(PHOTO – Louis Albertse; credit CJ du Plooy)
TSHWANE, 10 July 2018 – Less than five months after his maiden breakthrough on the IGT Challenge Tour at The Els Club Copperleaf, Sunshine Tour rookie Louis Albertse paid another visit to the winner's circle at the Ernie Els signature course in Tshwane.
The big-hitting Dundee professional carded a two-under 70 in windy conditions on Wednesday to win on 10-under 206.
Albertse headed into the last day with a one-shot overnight advantage after successive rounds of 68 and never relinquished his lead.
A birdie at the par three third moved him well-clear of his nearest challengers Benjamin Follett-Smith and Estiaan Conradie. He birdied the eighth and staved off fellow Sunshine Tour player Wynand Dingle and Blue Valley amateur Otto van Buynder with further gains at eight, 11 and 15 to beat the pair by four shots.
"It was a really nice feeling to play the last hole with four shots in hand," said the 21-year-old. "The last time I won here at Copperleaf, it was a wet and miserable day and I had to dig really deep to win by one shot.
"I holed a nice 20-footer at the third to set the tone for the day and good up-and-downs at eight and 11 for birdies. It was going a bit slow, but 15 turned things around. I was in the bunker against the lip, and I had to punch out with a wedge. I had 164 metres flag downwind and it was the perfect 9-iron distance for me. I hit it 15 foot right and made the putt.
"I had a few close calls, like at 10 where I hit a gap-wedge to six foot and missed the putt. But I think I handled myself really well and winning is a nice pay off for all the hard work my coach and I have put in during the break. This win gives me a nice boost of confidence to take to Kenya when the Sunshine Tour resumes in a couple of weeks."
Albertse graduated the country's premier golf development circuit in March just after his maiden win and clinched his card for the Sunshine Tour with a third place finish in the 90-hole Qualifying School. After making cuts in Zimbabwe and Zambia, he missed three successive pay-days and looked up Llewellyn van Leeuwen at the Tuks HPC Golf Academy to get his game back on track.
"The one thing the Sunshine Tour taught me in a very short time, is that you have to work twice as hard as you did as an amateur and you have to work constantly. Since I joined the Sunshine Tour, I've only taken one break for five days. I wasn't striking the ball well at Sun City, so Lew and I looked at the swing and made some adjustments and it really felt good this week. I hit the ball really nicely and the short game is getting sharper all the time. For me, the win is the justification for all that hard work and I'll be right back at it tomorrow.
"I would like to tell the juniors that they should persevere. If you don't get chosen for teams or if the odds are stacked against you, keep working hard. I've been there myself. My sport psychologist told me that I should never look at the end goal, because then you miss vital steps. Set yourself routines and have a process to fall back on when the going gets tough. It's important to establish a practice routine and to stick to it; to play the small events and work your way up, because this game is all about hard work and taking things one step at a time."
Van Buynder broke through for his maiden IGT Challenge Tour win in the fourth Big Easy IGT Challenge Tour event at Randpark Golf Club in June.
The 19-year-old, who is heading to the United States next month to take up a golf scholarship at Louisiana Munroe University, mounted a spirited challenge with back-to-back birdies at six and seven and an eagle three at the eighth, but his birdie run dried up on the back nine. He made four at the par five 15th on his way to a 69 that netted him a share of second with Dingle, who closed with a 70.
Follett-Smith and Conradie fell out of contention at the first hole. The Zimbabwean started with a bogey and Conradie dropped two shots at the par four opening hole. Both players signed for rounds of 74 to tie for fifth on five under 211.
Final Result
All competitors RSA unless otherwise specified and amateurs are indicated as AMA:
206 – Louis Albertse 68 68 70
210 – Otto van Buynder AMA 72 69 69, Wynand Dingle 69 71 70
211 – Estiaan Conradie 67 70 74, Benjamin Follett-Smith (ZIM) 70 67 74
212 – Thriston Lawrence 74 68 70
213 – Conway Kunneke 76 71 66
214 – Luke Brown 71 72 71, Slade Pickering AMA 70 73 71, Merrick Bremner 74 68 72
215 – Breyten Meyer 70 72 73
216 – Keegan Mclachlan AMA 77 69 70, Jason Diab 74 69 73, Sipho Bujela 72 71 73, Dean Martin AMA 69 74 73, Michael Pfeifer 81 68 67, Toto Thimba Jnr 73 68 75
217 – Keaton Slatter 72 74 71, Stefan Wears-Taylor 72 71 74, Marco de Beer 75 68 74, Jaco Prinsloo 75 67 75, Allister de Kock 70 72 75, Steven le Roux AMA 72 78 67
218 – Derick Petersen 73 71 74, Makhetha Mazibuko 72 74 72, Ruan Conradie 74 70 74, Heinrich Bruiners 72 72 74, Duane Keun 73 70 75, CJ Levey 72 69 77
219 – Jonathan Waschefort 73 71 75, Thabang Simon 73 70 76
220 – Michiel Bothma 72 74 74, Alexander van Wyk AMA 75 75 70
221 – Adam Breen AMA 72 73 76, Musiwalo Nethunzwi 77 70 74
222 – Ruhan van Dijk 77 67 78, Tyran van Lieshout 74 71 77, Jaco van der Merwe AMA 70 74 78
223 – Henning du Plooy AMA 74 75 74, Angus Ellis-Cole AMA 75 74 74, Stephan Erasmus 76 74 73
224 – Caylum Boon AMA 77 70 77
225 – Neville Mitchell AMA 74 73 78, Irvin Mazibuko 77 70 78
227 – Romano Saincic 74 74 79, Altaaf Bux 73 75 79, NJ Arnoldi 75 74 78, Duan Nagel AMA 75 74 78, Matthew Hands AMA 71 79 77
229 – Phumlani Maluka 75 74 80
230 – Aidan Boon AMA 75 75 80, Andrew Plint AMA 76 74 80
231 – Christiaan Pretorius 73 74 84
WDN – Franklin Manchest 78 72 WDN
Written and released by Lali Stander on behalf of the IGT Challenge Tour.
Latest IGT Challenge Tour News