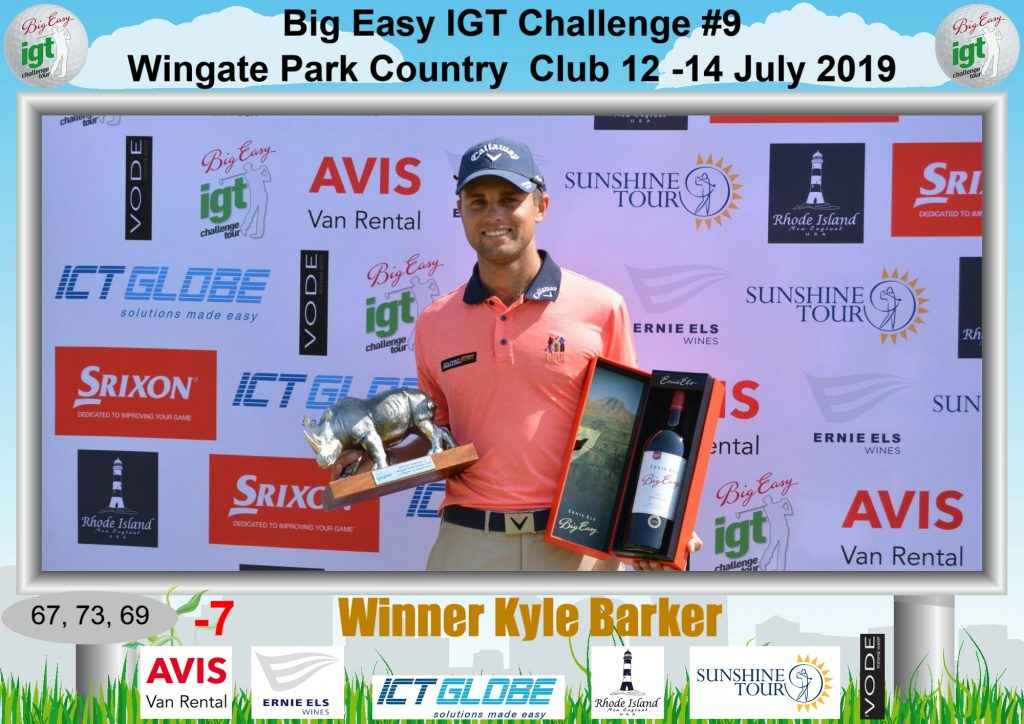 14th August 2019 | IGT Challenge Tour
Back to back Big Easy IGT's for Barker
Back to back Big Easy IGT's for Barker
(Photo: Kyle Barker; credit CJ du Plooy)
JOHANNESBURG, 14 August 2019 – Kyle Barker went two-for-two on the Big Easy IGT Challenge Tour when he claimed his second victory in just his second start on Wednesday.
The Sunshine Tour rookie broke free from the four-way tie for the lead at the final hole with a birdie finish to deny Ruan de Smidt, Clinton Grobler and Gary Player School member Jacquin Hess a turn in the winner's circle in the ninth event at Wingate Park Country Club.
The Randpark golfer, whose maiden win on the golf development series came at Killarney Country Club exactly one month ago, signed for a final round three-under-par 69 to win by one shot on seven-under.
Barker is the first back-to-back winner this season, and the second two-time winner after Matthew Spacey who won first and fourth tournaments.
"Now I'm properly stoked," gushed Barker, who moved to 31st in the Sunshine Tour rankings with a top 25 finish in the Royal Swazi Spa Challenge last month.
"I won on the Mena Tour and three times on the IGT Challenge Tour, so I ticked a big box on my bucket list with the first win on the Big Easy IGT. I only played this week so I could keep the game in shape for the Vodacom Origins in Sishen at the end of August.
"To come away with a win is a huge bonus, especially given the strong field this week and the bunched up leaderboard in the final round. I made it hard on myself over the last couple of holes, but then, none of my previous wins was exactly pretty."
Barker began the final round four shots off the pace.
Overnight leader Theunis Bezuidenhout dropped out of contention with a quadruple bogey start, and Barker, four off the pace at the start of the final round, moved towards the leaders with a birdie at the par five second.
While Spacey and Clinton Grobler had stabs at leading the field, Barker stayed in touch with nine straight pars but he joined the two leaders in front with a birdie at the par-four 12th and took the outright lead with an eagle at the par five 15th.
"That was a great eagle," Barker said.
"The tee was right back, leaving us with a huge dog-log right. I drove my tee-shot right and I had to hook an 8-iron high from 180 metres to out of the trees. It pitched it perfectly, rolled down the slope and stopped three feet from the hole.
"Then I gave the two shots right back. My gap-wedge finished left of the bunker and I gummed it over the green and couldn't up-and-down for bogey. I just shrugged it off, because I was still tied for the lead with Ruan and Clinton with two holes to play."
Hess, meanwhile, clocked in with a round of 69 to set the clubhouse target on six-under.
Barker, De Smidt and Grobler all made pars at the 17th but his opponents failed to take advantage at the par five closing hole to force a play-off.
"I hit my tee shot down the right, and a soft 8-iron from 180 metres into the green," Barker said. "I lagged my first putt, about 40 feet, close and tapped in for birdie. A year ago, it could have gone really wrong after the double at 16, but I've learned to control my emotions and to get past the bad shots.
"I'm a firm believer that things don't happen to you; it happens for you and it's up to you how you use the opportunities, good or bad. I'm just so pleased with how I held it together over the last two holes to pull it off. This builds some confidence."
Final Result
All competitors RSA unless otherwise specified and amateurs indicated at AMA
209 – Kyle Barker 67 73 69
210 – Jacquin Hess 71 70 69, Ruan de Smidt 69 71 70, Clinton Grobler 70 68 72
211 – Dwayne Basson 70 70 71
212 – Aubrey Beckley 75 67 70, Hendrikus Stoop 74 67 71, Teagan Moore 69 71 72, Matthew Spacey 69 68 75
213 – Jason Roets 72 71 70, Makhetha Mazibuko 69 74 70, Malcolm Mitchell 72 69 72, Jeff Inglis (ENG) 71 70 72, Divan Marais 69 68 76
214 – Jason Smith 72 71 71, Leon Visser 70 73 71, Albert Venter 73 70 71, Bradley Diggeden 71 71 72, Jason Froneman 71 71 72, Coert Groenewald 72 70 72, Ruan Groenewald 71 67 76
215 – Matt Bright 70 73 72, Gideon van der Vyver 71 71 73, Dayne Moore (ZAM) 68 72 75, Deon Germishuys 67 70 78
216 – Brandon Gildenhuys AMA 70 73 73, Jaco van der Merwe 73 70 73
217 – Wayne Stroebel 74 69 74, Theunis Bezuidenhout 68 68 81
218 – Peetie van der Merwe 70 72 76
219 – Jade Buitendag 69 73 77
220 – Otto van Buynder AMA 66 77 77
221 – Luke Trocado 68 75 78
Written and released by Lali Stander on behalf of the Big Easy IGT Challenge Tour.
Latest IGT Challenge Tour News