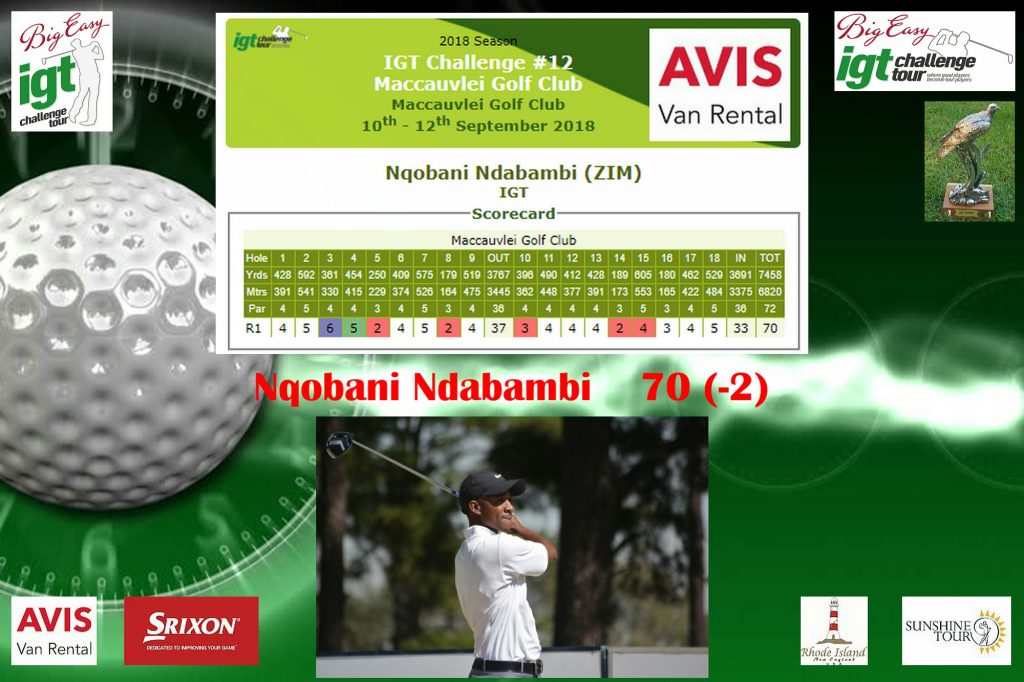 10th September 2018 | IGT Challenge Tour
Bambi nails down lead at IGT Maccauvlei
Bambi nails down lead at IGT Maccauvlei
(PHOTO – Nqobani Ndabambi; credit CJ du Plooy)
VEREENIGING, 10 September 2018 – Nqobani 'Bambi' Ndabambi overcame a stumbling start at Maccauvlei Golf Club to hit the front in the first round of the IGT Challenge #12 on Monday.
The Zimbabwean was one of only three of the starters who broke par on a tough scoring day. He was three-over after four holes, but made a spectacular comeback with five birdies to set the leading score on two-under-par 70.
Ndabambi leads by one shot from former SA Mid-Amateur champion Almero Theron from Heron Banks, who made a memorable pro debut with a one-under 71 to share second with Johannesburg rookie, Keaton Slatter.
Jason Diab, Warric Dyers and amateur pair Byron Sampson and Tristan Topka tied for fourth on even-par, with IGT Challenge Tour #11 winner Garth Wolter in a group of seven players a further shot adrift.
Ndabambi started with two pars, but errant tee shot at the third led to a double bogey.
"That shook me up a bit," said the Royal Harare golfer. "I hit my tee shot right into the trees and I was under some low hanging branches.
"I wanted to hit a low shot and scoot it to the back of the green, but I clipped some branches and the ball dropped in the greenside bunker. I chunked it out, but had a nasty three-putt for a double. Then I dropped another shot from the greenside bunker at four after leaking my tee shot right.
"For a minute there, I panicked that I was going back to the bad habits, but I had a chat to myself and got really positive. I hit it to five foot at the sixth, boxed the putt and all felt right with the world. It just flowed nicely from there."
Ndabambi birdied the next par three (eighth), then the 10th and picked up two more shots at 14 and 15. He said he barely missed a fairway or green after the early drops.
"If I missed, it was barely," he said. "I'm not a very long hitter, but I've always had a really good putting game. I've worked hard with my swing coaches Gavan Levenson and Tyron Twilley on accuracy, and it paid off for me today. I definitely left some out there, but I stuck it close enough to birdie or par every hole coming home. That was really satisfying."
The 26-year-old from Harare joined the pro ranks in August 2016 after graduating Arkansas-Pine Bluff College in the United States
"I had a free ride to college and my four years there was a really amazing experience," he said. "That August I unknowingly injured my back, but I only felt the pain when I came back from Asian Q-School in December.
"The MRI picked up two sprained discs. I was out of commission for almost eight months and it took another couple of months to get competitive again. I went to the Sunshine Tour Q-School in March this year and, after I missed at First Stage, I discovered the IGT Challenge Tour and the Big Easy Tour. It's so great to have these two circuits to compete on. It's helped me a lot already and here I am, leading for the first time. That's part of the learning curve. "
First Round Scores
All competitors RSA unless otherwise specified; amateurs indicated as AMA
70 – Nqobani Ndabambi (ZIM)
71 – Almero Theron, Keaton Slatter
72 – Jason Diab, Byron Sampson AMA, Tristan Topka AMA, Warric Dyers
73 – Leon Vorster, Jaco van der Merwe AMA, Garth Wolter, Tristen Strydom, Aneurin Gounden AMA, Shaun van Tonder, Tumelo Molloyi
74 – Quintin Crause, Lloyd Herbst AMA, John McClean (NIR), Marco de Beer, Lejan Lewthwaite
75 – Luke Mayo AMA, Mitchell Lightfoot, Jonathan Waschefort, Ruan Groenewald, Jack Duthie, Matthew Hands AMA
76 – Andrew Plint AMA, Jonathan George AMA, Patric Dowling AMA, Juran Dreyer, Stephan du Toit, Ricardo Towell
77 – Jihwan Yeom AMA
78 – Karl Lehmacher, Lincon Cele, Blain Sansom, Ruhan van Dijk, Hanish Nagrani (ZIM), Divan de Villiers, Letsoso Letsai AMA, Leslie Grandet (MDG)
79 – Patrick Thompson, Deane Cooper AMA
80 – Bryce Myburgh, Romano Saincic
81 – Stephan Erasmus, Dylan Morton AMA, Cameron Gunning
82 – Divan Marais, Steven le Roux AMA, Stephen Forsyth AMA
83 – Marcel Steyn Scholtz AMA
84 – Jeandre Pretorius AMA
85 – Donovan Pestana AMA, CJ Brits AMA
89 – Michael Kok
92 – Louiz Pereira
Ends
Written and released by Lali Stander on behalf of the IGT Challenge Tour.
Latest IGT Challenge Tour News