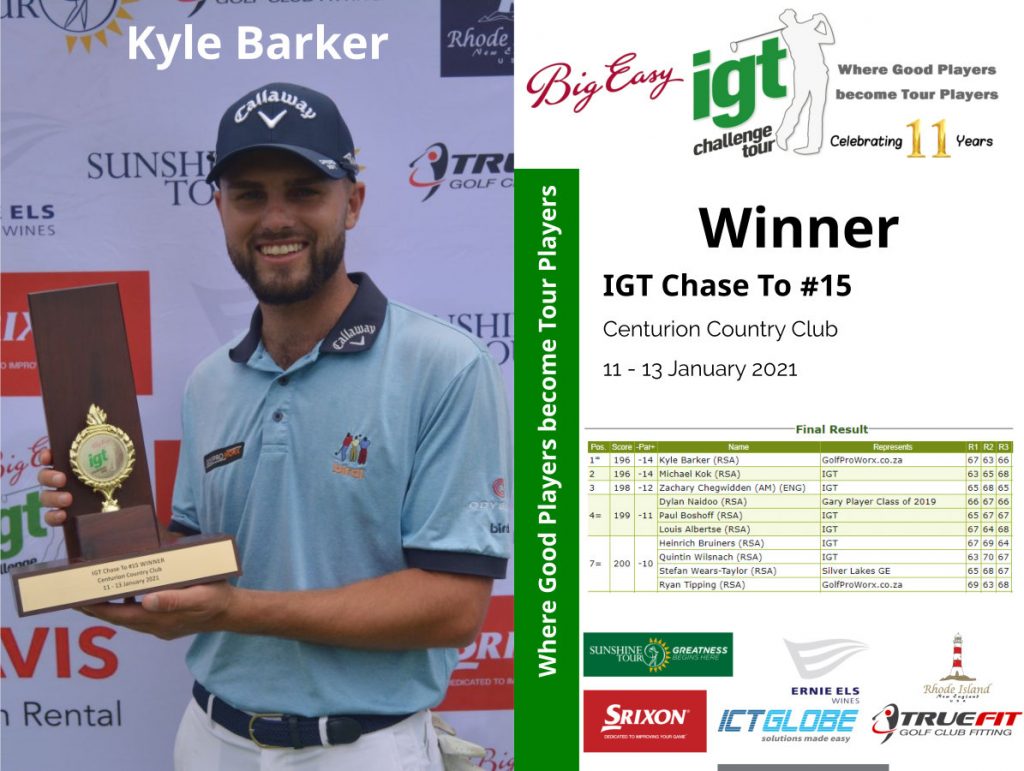 13th January 2021 | IGT Challenge Tour
Barker pips Kok to IGT title in Centurion
CENTURION, January 13 – Kyle Barker overturned a two-shot deficit to claim a come-from-behind playoff win over red the red-hot Michael Kok in the IGT Tour Chase To #15 at Centurion Country Club on Wednesday.
Following a dominant seven-under 63 to get to 10-under after 36 holes and just two shots back of Michael Kok's lead, Barker was always within range of the top spot and if he played well and, somehow, Kok faltered, he knew he was in with a real chance.
And, not at his very best on the day, Kok carded a two-under-par final round – a return which took his total to 14-under. Barker, on the other hand, produced a polished four-under-par 66 to force a sudden-death decider in pristine conditions in centurion.
Kok squandered a chance for eagle in the playoff, pushing his putt thirty feet past the hole after he'd driven the green on the par-four 18th. Barker's tee shot fell on the edge of the green and after initially pitching his ball just a few feet past the hole, he made birdie there while Kok succumbed to defeat once more this season.
"This week was different," Barker said, "I didn't have any expectations of big targets. I only started playing again about a week ago because I'd taken a break over Christmas and New Year. My mind was sharp and it's thanks to Allan Rimmell who is my mental coach as well as Neil Cheetham. I played with a free mind the whole week and I happy with how things turned out."
Developing a reputation as a playoff king, two of Barker's last three wins –including this victory – have come via a sudden-death decider. He has been involved in three playoffs in his budding career and has won them all.
"It's great to know you can hang in there when it gets tough," Barker said, "and now I have Darren Warner on the bag and he helps me too. But it comes down to mental strength because the guys can play out here. You could see today how hungry Michael was for the win, so you have to stay very patient and not get distracted."
Barker has now claimed five IGT Tour titles and one Big Easy/MENA Tour title. He will hope for the same success when the new season of the Sunshine Tour begins.
Latest IGT Challenge Tour News