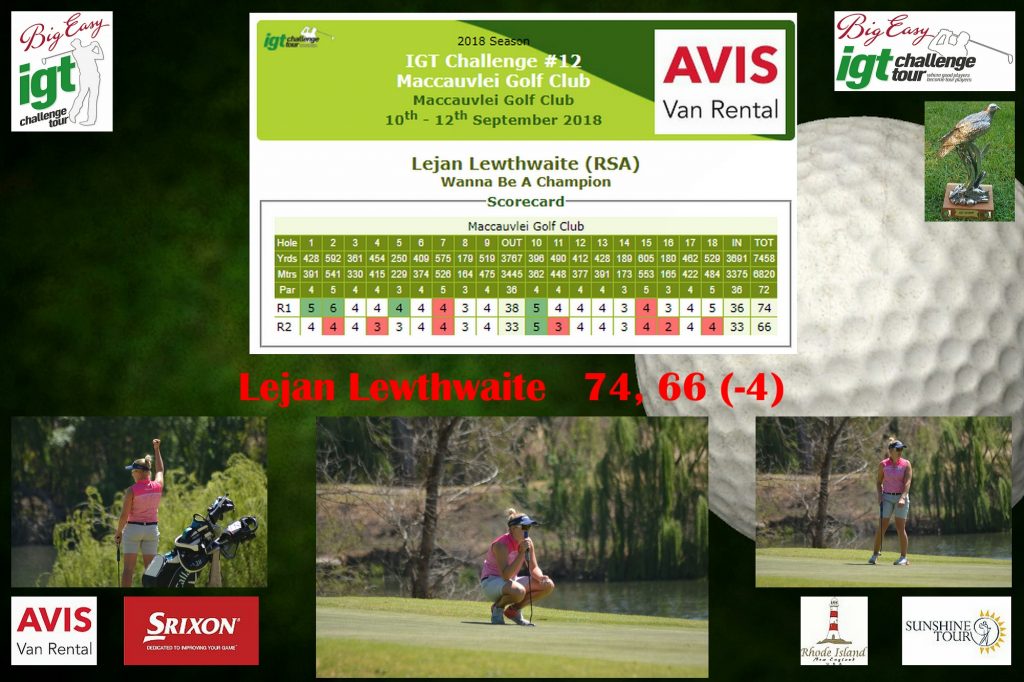 11th September 2018 | IGT Challenge Tour
Beauty ready to tackle the Beasts in IGT Maccauvlei
Beauty ready to tackle the Beasts in IGT Maccauvlei
(PHOTO – Lejan Lewthwaite;
VEREENIGING, 10 September 2018 – Benoni golfer Lejan Lewthwaite and local favourite Garth Wolter will lead the way in what could turn into an almighty battle for the 12th title this season at Maccauvlei Golf Club on Wednesday.
The pair share a one-shot advantage on four-under 140 heading into the final day.
Sunshine Ladies Tour campaigner Lewthwaite fired a six-under-par 66 for the lowest round, while IGT Challenge Tour #11 champion Wolter used him home course advantage to produce a 67 to press into a share of the lead.
Lewthwaite began the round on two-over, four shots behind first round pace-setter Nqobani Ndabambi. She birdied all four par fives and reeled in three more gains at four, 11 and 16 to set the early clubhouse target.
The Serengeti golfer came close to a maiden victory twice on the country's premier golf development circuit during her rookie season in 2016, but she was pipped at the post by Anton Haig at Houghton Golf Club, and again by Tyrone Ferreira at Ebotse.
"The second loss was the worst because I had a four-shot lead with four to play, but I was my own worst enemy that day," said the Farramere resident. "I tensed up and started making stupid mistakes, leaving the door open for Tyrone to take the victory. I won't make that mistake on Wednesday."
Lewthwaite graduated Texas State University in August 2015 and joined the pro ranks after she won the amateur title at the 2016 South African Women's Open. Over the last two years, she has been building experience at home and abroad.
She recently spent three weeks in Europe where she played a pro-am in Portugal and a European Ladies Tour Access Series event in Spain before trying to qualify for Ricoh British Women's Open. It was after the qualifier that Lewthwaite realised she needed help on the mental front.
"I was one-over with two to play and ended up missing the cut," she said.
"My caddie said that I got tense on 16 and that's when I began making mistakes. I made a big number on 18, a straight forward par five with a big green. So in May, I started seeing Mark Fairbank, a sport phycologist affiliated with The Golf School of Excellence.
"We work on process, patience and acceptance. Putting has always been my weak spot. I have been working with Robbie Steward and Mark gave me a very simple tip. Instead of looking at the line on my putter, I now focus on a spot on my ball.
"I didn't think it would work, but I trusted it today. Instead of the usual 30 putts, I only had 23. A small change with big rewards. I even holed a 30-foot big swinging putt at 16, which was huge."
Lewthwaite would love to bank a maiden win on the IGT Challenge Tour before she heads to the Ladies European Tour Qualifying School in December.
"We have a great Sunshine Ladies Tour, but it's only three months of the year, so it's great that the IGT Challenge Tour allows women to compete," she said. "This is the perfect circuit for me to stay competitive, playing against the guys, and to work on my game. I'd love to win on Wednesday, but even a top three finish will be a step in the right direction."
Four players are within three shots of the lead.
Jason Diab from the Gary Player School of 2017/2018 moved into third on his own with a 69, while 2017 South African Mid-Amateur Stroke Play champion Almero Theron returned an even-par 72 to continue a fine pro debut. The Free State rookie will start the final round in fourth on one-under.
IGT Challenge Tour #10 winner Ruan Groenewald from Pretoria and Southern Cape rookie Jack Duthie round out the top five on even-par 144 after both players carded rounds of 69.
Ndabambi returned a 77 to finish on three-over in joint 10th with Leon Vorster and Tristen Strydom.
Second Round Scores
All competitors RSA unless otherwise specified; amateurs indicated as AMA
140 – Lejan Lewthwaite 74 66, Garth Wolter 73 67
141 – Jason Diab 72 69
143 – Almero Theron 71 72
144 – Ruan Groenewald 75 69, Jack Rex Duthie 75 69
146 – Jonathan Waschefort 75 71, Shaun van Tonder 73 73, Jaco van der Merwe AMA 73 73
147 – Nqobani Ndabambi (ZIM) 70 77, Leon Vorster 73 74, Tristen Strydom 73 74
148 – Ruhan van Dijk 78 70, Matthew Hands AMA 75 73, Warric Dyers 72 76, Luke Mayo AMA 75 73
149 – Marco de Beer 74 75, Keaton Slatter 71 78, Aneurin Gounden AMA 73 76
150 – Blain Sansom 78 72, Byron Sampson AMA 72 78
151 – Mitchell Lightfoot 75 76, Hanish Nagrani (ZIM) 78 73, Lincon Cele 78 73, Letsoso Letsai AMA 78 73, John McClean (NIR) 74 77
152 – Romano Saincic 80 72, Jihwan Yeom AMA 77 75
153 – Quintin Crause 74 79, Juran Dreyer 76 77, Stephan du Toit 76 77, Tumelo Molloyi 73 80, Karl Lehmacher 78 75, Patric Dowling AMA 76 77
154 – Ricardo Towell 76 78, Lloyd Herbst AMA 74 80, Tristan Topka AMA 72 82
155 – Divan de Villiers 78 77, Divan Marais 82 73, Stephan Erasmus 81 74, Patrick Thompson 79 76, Jonathan George AMA 76 79
Missed the cut:-
156 – Andrew Plint AMA 76 80, Bryce Myburgh 80 76
160 – Marcel Steyn Scholtz AMA 83 77
161 – Michael Kok 89 72, Leslie Grandet (MDG) 78 83
162 – Cameron Gunning 81 81
163 – Steven le Roux AMA 82 81
164 – Dylan Morton AMA 81 83
165 – Stephen Forsyth AMA 82 83
167 – Deane Cooper AMA 79 88
168 – Jeandre Pretorius AMA 84 84
169 – Donovan Pestana AMA 85 84
189 – Louiz Pereira 92 97
WDN – CJ Brits AMA 85 WDN
Ends
Written and released by Lali Stander on behalf of the IGT Challenge Tour.
Latest IGT Challenge Tour News