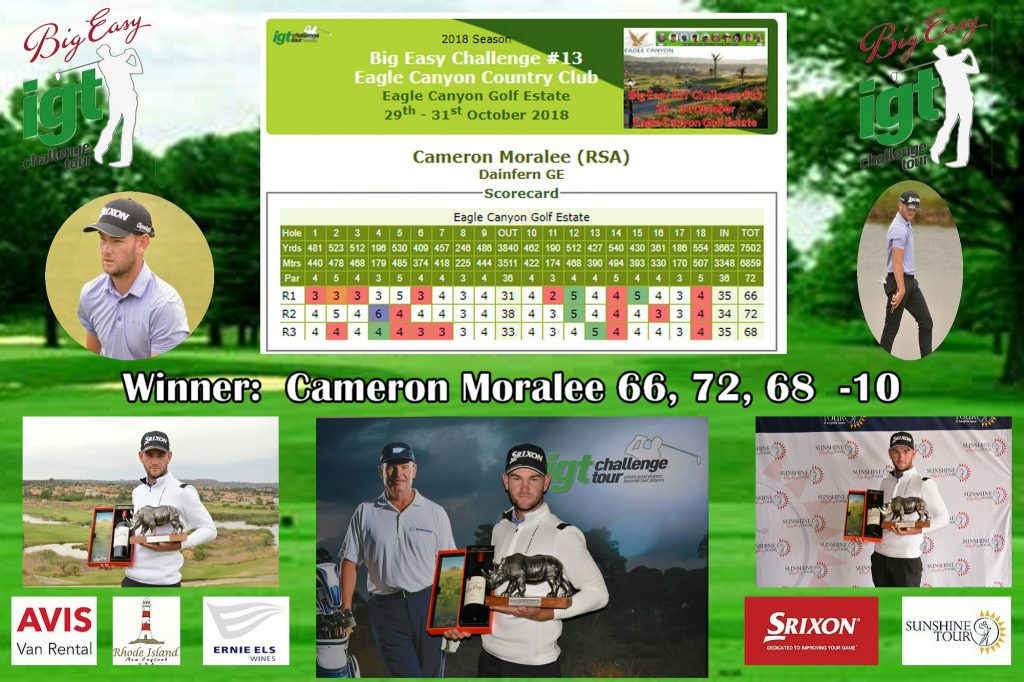 31st October 2018 | IGT Challenge Tour
Big Easy IGT double for fearless Moralee
Big Easy IGT double for fearless Moralee
(PHOTO – Cameron Moralee; credit CJ du Plooy)
ROODEPOORT, 31 October 2018 – Cameron Moralee fired a brilliant closing round of 68 to become the second rookie to win twice on the Big Easy IGT Challenge Tour this season after Dylan Mostert.
The 21-year-old Dainfern golfer triumphed in the 13th event of the season at Eagle Canyon Golf Estate on Wednesday with a two-shot victory on 10-under-par 206.
Moralee headed into the final 18 holes tied for second with Juran Dreyer and Botswana's Stuart Smith. Dreyer enjoyed his maiden breakthrough at the Lake Club Benoni last week, while Smith broke his duck on the golf development circuit at Services Golf Club.
The trio started the last day one shot shy of overnight leader Matthew Spacey, but it took Moralee just seven holes to take the lead for the first time.
A birdie at the par five second kept him within a shot of Spacey, but after he bogeyed the par three fourth, he rallied with three birdies on the bounce and turned 10-under, well clear of the chasing pack.
"I hit a lob-wedge from 82 metres out to three foot at five," said Moralee. "At the sixth I chipped it to eight foot and holed the putt, and at the seventh, I had 89 flag and hit bob-wedge to eight foot and boxed the putt."
Two-time IGT Challenge Tour winner Kyle Barker mounted a challenge when he birdied 10 and made three birdies on the trot from the 12th.
"Kyle holed a monster putt at 12 from about 80 metres for birdie and he drained two more long putts to tie me on nine-under after I had a bogey at 13," said Moralee.
"I hit 5-iron off the tee and 7-iron over the green. I chipped up and raced the first putt about four feet past the hole. Kyle was playing really solid and thought for sure we would be heading for a play-off, but then he hit a low, thin shot in the water at 15th and made seven.
"It was a pity because I was enjoying our tussle. It did mean that I could play the last three holes relatively stress-free. I was really pleased to seal the win with a birdie."
Moralee was still in the amateur ranks when he broke through on the IGT Challenge Tour with a wire-to-wire victory at Ruimsig Country Club during last year's Race to Q-School Series. He turned pro at the start of the Big Easy IGT Challenge Tour in April and tied for second in the first event.
He banked cheques in his two subsequent starts, but a pinched ligament in his shoulder kept him on the bench for six weeks in the middle of the season.
"We are all playing for the top 10 to get those cards for the Sunshine Tour, so I was really frustrated to be off with an injury, but I couldn't swing a club," said the former SA Open Freddie Tait Trophy winner.
"Luckily I didn't miss any tournaments and I was ecstatic when I got my first win in August."
Moralee tied for second after his first win and finished seventh in the 10th event at Services, but unexpectedly missed the cut in Reading.
"I just couldn't sink a putt," he said. "I was frustrated because I was hitting the ball really well. I worked with my coach John Dickson at Copperleaf and I putted much better at Lake Country Club, but I left a lot of putts on the lip.
"This week the putts started dropping, especially from inside five foot. I'm striking the ball really well, my iron play is solid and I've got the putter working again. Now I just have to make the most of my game to keep myself in the top three with three tournaments to go."
Big-hitting Dreyer fired two great shots at 14 and tapped in for eagle before he birdied the closing hole for a final round 70 to seal second on his own on eight-under 208.
Smith finished with a brace of gains for a 71 to take third on seven-under and Barker's par finish for a 70 earned him a share of fourth on six-under with Spacey and Paul Boshoff. Spacey signed for 73, while Boshoff – another rookie winner this season – closed out his tournament with a three-under 69.
Final Result
All competitors RSA unless otherwise specified; amateurs indicated as AMA
206 – Cameron Moralee 66 72 68
208 – Juran Dreyer 65 73 70
209 – Stuart Smith (BOT) 65 73 71
210 – Paul Boshoff 71 70 69, Kyle Barker 66 74 70, Matthew Spacey 70 67 73
211 – Stefan Wears-Taylor 72 70 69, Gianni Pera AMA 70 72 69, Michiel Bothma 71 70 70
212 – Richard Joubert 71 71 70, Harry Konig (ENG) 72 70 70, Andrew Williamson AMA 72 72 68, Tristen Strydom 69 70 73
213 – Matt Bright 69 74 70, Andrew Carlsson 70 72 71, Leon Vorster 73 68 72
214 – Jack Duthie 72 71 71, Coert Groenewald 71 71 72, Daniel Hammond 71 71 72, Conway Kunneke 74 70 70
215 – Jason Rossiter 71 72 72, Dylan Kok 72 70 73, Greg Bentley (ZIM) 70 74 71, Arno Pretorius 71 73 71, Keaton Slatter 73 72 70, Divan Marais 69 76 70
216 – Neil Cheetham (ENG) 74 70 72
217 – Dongkwan Kim (KOR) 72 72 73, Matthew Rossouw AMA 70 71 76, Hayden Griffiths 68 72 77
218 – Leon Visser 74 69 75, Ruan Korb 73 72 73, Dylan Mostert 69 76 73
219 – Luke Brown 71 72 76
221 – Henning du Plooy AMA 71 74 76
224 – Jaco van der Merwe AMA 74 70 80
Written and released by Lali Stander on behalf of the IGT Challenge Tour.
Latest IGT Challenge Tour News