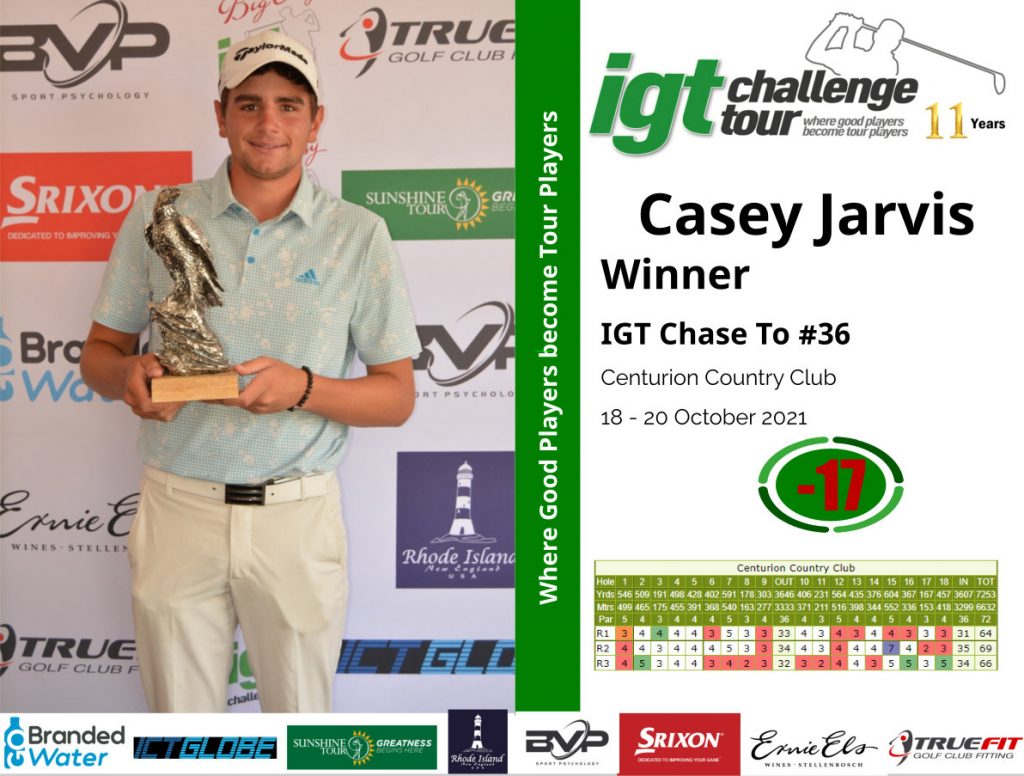 31st October 2021 | IGT Challenge Tour
Birdie binge sees Jarvis home at Centurion
Casey Jarvis went on a birdie binge around the turn of his final round on Wednesday of the Big Easy IGT Challenge Tour's Chase to the Sunshine Tour #36 at Centurion Country Club to set up a one-stroke victory in the 54-hole tournament.
Jarvis, who won the Freddie Tait Trophy for the leading amateur at the South African Open Championship last December, made seven birdies in a row from the sixth to the 12th to pull clear of Kyle McClatchie with whom he shared the lead after 36 holes. That gave him the luxury of being able to survive bogeys on 16 and 18, and his 17-under-par total after his six-under 66 closing effort was enough to hold off McClatchie and his 67.
Before Jarvis went on his birdie blitz, he had made a birdie on the first and a bogey on the second. He followed that start with three pars in a row, and then he set about his thrilling burst. He turned in 32, already one ahead of McClatchie, and he was two clear after the final three birdies in his run up to the 12th. McClatchie cut the gap to one with a birdie on 13 while Jarvis made par, but then Jarvis pushed it to three when he birdied 14 while McClatchie made bogey. Another bogey on 15 for the pursuer meant Jarvis could take his foot off the pedal, and, although McClatchie made a birdie on 17 between Jarvis' closing bogeys, it was too little too late.
It was Jarvis' fourth title since August last year, to go with an astonishing 13 other top-10s.
Jarvis and McClatchie opened a big gap on the rest of the field, with amateur Jordan Duminy and Michael Kok finishing in a share of third on eight-under-par. Duminy closed with a 65 and Kok had a level-par 72. Keelan van Wyk was in fifth on six-under after closing with a one-under 71.
McClatchie stays on top of the Chase to the Sunshine Tour points list, with Kok in second, but Jarvis climbs into third. At the end of the season, the top three players will have earned their Sunshine Tour cards.
Latest IGT Challenge Tour News