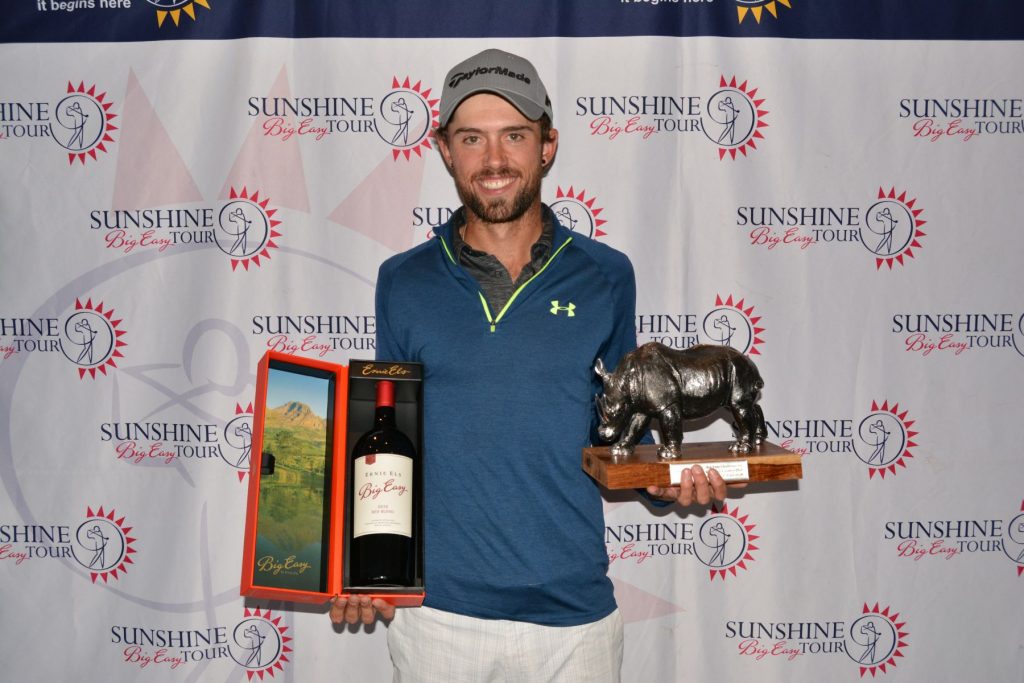 28th June 2018 | IGT Challenge Tour
Birdie finish brings delight for Bright at Big Easy IGT
Birdie finish brings delight for Bright at Big Easy IGT
(PHOTO – Matt Bright; credit CJ du Plooy)
JOHANNESBURG, 27 June 2018 – Matt Bright holed a monster putt at the final hole to mark a dramatic return to the winner's circle in the Big Easy IGT Challenge Tour #5 at Killarney Country Club on Wednesday.
The 24-year-old Bright defied the form book as he came from behind with a final round 67 to win by one shot on four-under-par 206.
Bright started the day four shots behind leader Thabang Simon and fired his way into contention with a trio of birdies on the front. He landed the outright lead on three-under with another gain at 15, but when Heinrich Bruiners set the clubhouse target at three-under with a round of 66, Bright knew it was time to take action.
"I needed a birdie finish and I nailed it," said the Randjiesfontein resident. "I had a 45-footer for birdie and it was a great feeling to watch the ball drop.
"I'm just seriously pleased with a win this early in the season. I missed my card by two at Q-School and to have another chance to get on the Sunshine Tour through the Big Easy IGT Challenge Tour is huge. This gets me into the fight for the 10 cards at the end of the tour."
Bright dropped the second, but rallied with a birdie at the third to stay in the hunt.
"A heavy tee shot and a heavy pitching wedge from a hard lie added up to a bogey at the second, but I was able to get the shot back at the next hole," Bright said. "I hit my drive at three a bit right, but I had 70 metres flag. I hit a high pitching-wedge in that cleared the bunkers and finished three feet from the hole. Holed the putt to get back on track."
A brace of birdies at five and six netted Bright a share of the lead.
"I kept pace with leaders with a birdie at 11," said the Irene golfer. "I hit a really good 3-iron down the fairway and left myself 135 metres flag. The pin was front left and I went with a gap-wedge and hit it a few yards right of where I aimed. I knew the putt would come off the slope and I caught it just right. Watched it catch the line and drop."
He failed to up and down from the bunker at 13 but rallied with another birdie at the par five 15th as last year's IGT Challenge Tour Money Leader Ruan Conradie made three birdies on the bounce from 15 to join Bruiners and Simon, who was stalking Bright at two-under.
"I had a close call for an eagle at 15, but the birdie kept me in front with a slender one shot lead," said Bright. "Then I went and dropped at 17. It's a tough hole to judge in the wind and I under-clubbed the tee shot. Thabang was playing behind me, and he dropped 15 to slip two back and Ruan missed a birdie chance to get to three-under at 18, so I had a shot in hand playing 18.
"I hit a really good 3-iron from the back tee and a gap-wedge in. I aimed pin-high right, but it came up well short. I faced a tricky uphill putt that broke away from the hole.
"I've been putting really well, so I trusted the line and I put just the perfect pace on the putt. As soon as I stroked the ball, I knew it had a chance. And it dropped. Huge relief to get the job done and to put myself among the winners this early in the season."
Bruiners had to settle for a runner-up finish for a third time in four weeks, while fellow Gary Player School of 2018 member Simon birdied the final hole to grab a share of second on two-under with a two-over 72.
Conradie from Wingate finished a further shot back in fourth with his four-under 66 closing round.
Virginia Tech student Slade Pickering, who broke through on the IGT Challenge Tour last week, closed with a 70 to sealed a share of fifth on one-under alongside Ryan Tipping and Korea's DK Kim.
Final Result
All competitors RSA unless otherwise specified; amateurs indicated as AMA
206 – Matt Bright 68 71 67
207 – Heinrich Bruiners 70 71 66, Thabang Simon 67 68 72
208 – Ruan Conradie 74 68 66
209 – Ryan Tipping 71 71 67, Slade Pickering AMA 74 65 70, Dongkwan Kim (KOR) 67 70 72
210 – Ruan Korb 73 67 70, Anton Haig 71 69 70, Estiaan Conradie 67 73 70
211 – Neil Cheetham (ENG) 71 70 70, David McIntyre 70 69 72
212 – Pieter Moolman 72 70 70, Dylan Mostert 69 73 70, Dayne Moore (ZAM) 68 74 70
214 – Clinton Grobler 72 70 72, Matthew Rushton 71 71 72
215 – Makhetha Mazibuko 74 71 70, Jabulane Mabilane 73 72 70, Sean Bradley 72 72 71, James Pennington (SWZ) 71 73 71, Stuart Smith (BOT) 70 71 74, Marthin Scheepers 66 72 77
216 – Kyle Barker 73 72 71, Jade Buitendag 74 69 73
217 – Otto van Buynder AMA 70 75 72, Jason Diab 75 70 72, Keanu Pestana AMA 73 71 73
219 – Theunis Bezuidenhout 71 72 76, Michael Schutz 75 68 76
220 – Arno Pretorius 74 71 75
223 – Peetie van der Merwe 72 73 78, Romano Saincic 69 76 78
230 – Shalan Govender 74 71 85
DSQ – Jeff Inglis (ENG) 75 70 DSQ
Written and released by Lali Stander on behalf of the IGT Challenge Tour.
Latest IGT Challenge Tour News