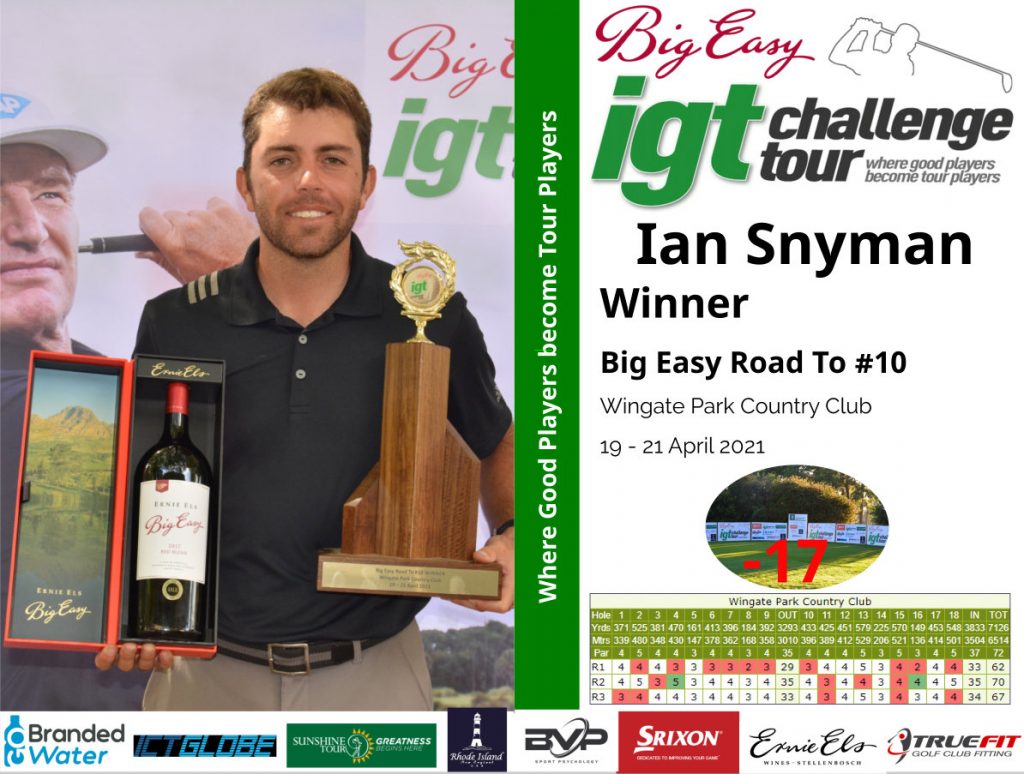 21st April 2021 | IGT Challenge Tour
Blemish-free 67 hands Snyman comfortable Wingate victory
PRETORIA, April 21 – Ian Snyman slept on the lead for two days before masterminding a bogey-free five-under-par 67 final round of the Big Easy IGT Challenge Tour Road to the Sunshine Tour #10 to claim a five-shot victory at Wingate Park Country Club on Wednesday.
He'd signed for a stunning 62 on day one which gave him a five-shot lead and backed that up with a 70 for a tournament total of 12-under after 36 holes, and a shot clear of Matthew Rushton. With Rushton playing some solid golf to get in contention this week and with a very capable Gerhard Pepler making up the final group on Wednesday, Snyman knew that he had it all to do for his second title of the season.
"I really needed a win to get myself up into that top six," said Snyman, referring to the Road To Sunshine Tour rankings where he was languishing outside (seventh) the top six players who will be eligible for their Sunshine Tour cards at the end of the season.
"I am really happy with the way I played this week. The goal is to get a Sunshine Tour card and I knew I had to get a win soon so that I can get into contention with that top six and it's nice to get it done.
"It's difficult not to think about winning but I had to focus and zone in on my processes and routines. The goal is always to win but you can't think about winning, about making birdies or bogeys, you have to focus on the routine and that's what I did today.
"The short stick was beautiful again today. I had a few testers; a bunch of four to seven-footers and I managed to make all of them. Some of them were for par and those helped me to keep the momentum going throughout the round. The guys didn't put a lot of pressure on me but I still had to make sure I made those pars and not give away any shots. This is great for my confidence."
Snyman made two birdies one after the other on the first two holes and gave nothing away for the remaining seven holes on the front stretch. Coming home, the Cape Town player made another birdie on the 11th, and 15th and closed off with another on the 18th as he dazzled his way to his second win this season.
His first win came back in November when he claimed the Big Easy IGT Tour Chase #12 at ERPM.
Rushton gave a solid account of himself and after grinding his way to a final round 71, he and GolfRSA National Elite Squad member, Christiaan Burke, finished in a tie for the second spot at 12-under-par. Burke closed with a 65 after rounds of 69 and 70.
Pepler finished in solo fourth after a level-par final round left him with a tournament total of 10-under-par and seven strokes off the winning score.
Latest IGT Challenge Tour News