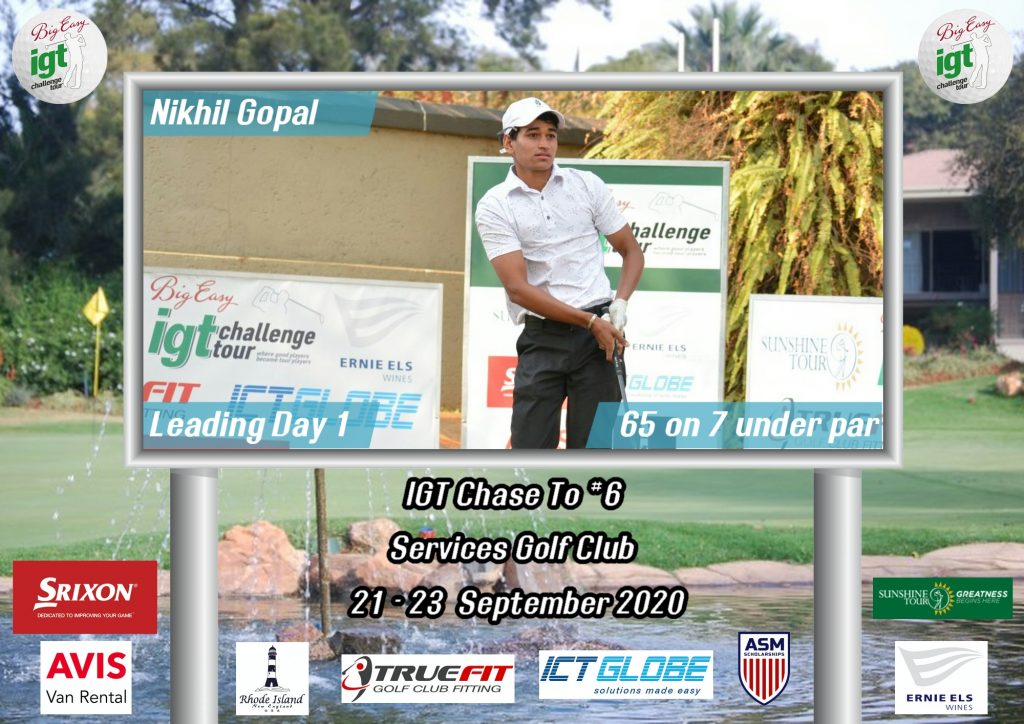 21st September 2020 | IGT Challenge Tour
Bogey-free 65 hands Gopal thin lead at Services
Zwartkop, September 21 – Amateur Nikhil Gopal carded a bogey-free seven-under-par 65 to lead by a single stroke on the first day of the IGT Chase #6 at Services Golf Club in Zwartkop on Monday.
In his third start on the IG Tour, Gopal wasted no time in getting to business, birdieing his second hole after the par he opened with. Two more pars followed, as he steadied his round and immediately after that, he made two birdies – on the par-four fifth and the sixth hole which plays as a par-three – on the trot to get it to three-under 33 on the front nine.
"It was quite fun out there, said an elated Gopal, "it's always nice to get out there and play some solid golf while having a bit of fun. I felt very comfortable on the course and I was quite dialled in with my distances. It took me two or three holes to get my speed right around the greens but once I got comfortable, I could play. The course was not playing too tough and the greens are small and there are opportunities out there."
A par at the turn was followed by a birdie on the par-three 11th, and while Gopal failed to capitalise on a birdie opportunity on the par-five 12th – owing to a poor bunker shot – he recovered swiftly on the next hole, making a birdie on 13. Back-to-back birdies on the 17thh and 18th holes sealed a perfect opening round for Gopal.
"I putted very well today," Gopal noted after his round, "but I thought the course was playing quite simple and that's why a lot of players are deep under-par. It was nice to get off to a good start like this, though, because this is only my third IGT event. But my putting was so good today. I hit my wedges pretty good as well today; at the flag and high."
He will not rest on his laurels, however, because the many players 'deep under-par' he speaks of are only a shot behind him, and those are amateurs Warwick Purchase, Christiaan Maas and the number one amateur in the country, Casey Jarvis, all of whom share second on six-under.
Dylan Kok shares fifth with yet another amateur, Werner Deyzel, after they both signed for 67s while Ryan Van Velzen and Gregg Gilson share the seventh spot at three-under-par.
65 – Nikhil Gopal (AM) (RSA)
66 – Warwick Purchase (AM) (RSA) , Christiaan Maas (AM) (RSA) , Casey Jarvis (AM) (RSA)
67 – Werner Deyzel (AM) (RSA) , Dylan Kok (RSA)
69 – Gregg Gilson (AM) (RSA) , Ryan Van Velzen (AM) (RSA)
70 – Franklin Manchest (RSA) , Karabo Mokoena (AM) (RSA) , Gerard Du Plooy (RSA) , Samual Mc Kenzie (AM) (RSA) , Carlo Heunis (RSA) , Danie Van Niekerk (RSA) , Christiaan Burke (AM) (RSA) , Michael Kok (RSA)
71 – Ricky Hendler (RSA) , Drikus Joubert (AM) (RSA) , Leon Vorster (RSA) , Vaughn Van Deventer (RSA) , Victor Lange (RSA)
72 – Lincon Cele (RSA) , Handre Truter (AM) (RSA) , Henning Du Plooy (RSA) , Therion Nel (RSA) , Jancarel Rossouw (RSA) , Wynand Potgieter (RSA)
73 – Phumlani Maluka (RSA) , Josh De Aguiar (AM) (RSA) , Pedro Cristovam (AM) (RSA) , Caylum Boon (RSA) , Shanren Brienen (RSA) , Matthew Dennis (AM) (RSA) , Shaydon Johnson (AM) (RSA) , Oswin Schlenkrich (AM) (RSA) , Keelan Van Wyk (RSA) , Francois Blaauw (AM) (RSA) , Jonathan George (AM) (RSA)
74 – Saul Moss (AM) (RSA) , Conway Kunneke (RSA) , Donald Makhafola (RSA) , Tetelo Seseni (RSA) , Ricardo V D Westhuizen (AM) (RSA) , MS Calitz (RSA)
75 – Dawid Opperman (AM) (RSA) , Tiaan De Jager (AM) (RSA) , Lwazi Gqira (RSA) , John-William Blomerus (AM) (RSA) , Byron Van Der Merwe (RSA) , Ryan Tipping (RSA) , Ruan Groenewald (RSA) , Keanu Pestana (RSA) , Johan Kriek (AM) (RSA) , Herman Loubser (RSA)
76 – Juan Diedericks (AM) (RSA) , Bradley Diggeden (RSA) , Marno Prinsloo (AM) (RSA) , Ernest Ludick (AM) (RSA)
77 – Jade Buitendag (RSA) , Lindi Coetzee (RSA) , Llewellyn Barnes (RSA) , Brandon Moodley (RSA) , Leon Van Der Walt (AM) (RSA) , Conner Mackenzie (AM) (RSA) , Nkosikhona Dilla (RSA) , Warrick Moonieyan (RSA)
78 – Pierre Du Plessis (AM) (RSA) , Michael Pretorius (AM) (RSA) , Tristan Leonard (AM) (RSA) , Matthew Mortimer (AM) (RSA) , Wayne Stroebel (RSA) , Teddy Mathebula (RSA) , Jason Hale (RSA)
79 – Christopher Constantinou (AM) (RSA) , Brenden Pieters (RSA) , Clinton Duncan (AM) (RSA) , Gerhard Trytsman (AM) (RSA)
80 – Gunther Pascal (AM) (RSA) , Andrew Inggs (AM) (RSA) , Kyle Lundy (AM) (RSA) , Slenda Sithebe (RSA)
81 – Adam Gamsy (AM) (RSA) , Bradley Fuchsloch (AM) (RSA) , Lynette Fourie (RSA)
82 – Willie Theron (AM) (RSA) , Heinrich Bolleurs (AM) (RSA)
83 – Christiaan Pretorius (RSA)
88 – Pierre Le Roux (AM) (RSA)
91 – Mchumane Wayiti (AM) (RSA)
Latest IGT Challenge Tour News