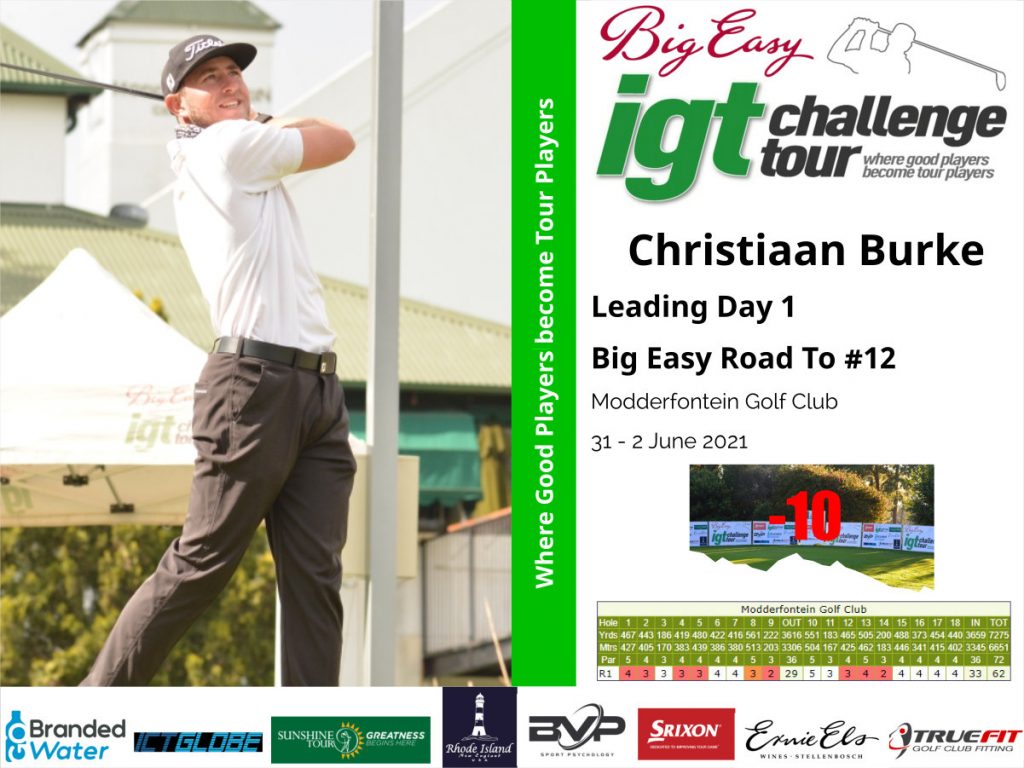 31st May 2021 | IGT Challenge Tour
Bogey-free Burke surges to Modderfontein lead
MODDERFONTEIN, May 31– Amateur Christiaan Burke made eight birdies and an eagle on his way to an untainted round of 62 on day of the Big Easy Tour Road To the Sunshine Tour #12 in testing conditions at Modderfontein Golf Club.
Gusting winds and cold weather conspired to unsettle even the most skilled of golfers but the man from Potchesftroom had a different idea on Monday as he surged to a 10-under-par 62 round which gave him a four-shot lead over Ryan Van Velzen.
"The cold and the wind made it quite tough out there today," Burke noted after his round, "Modderfontein is one of the most difficult courses in Joburg for me but if you hit the ball well you can score. I turned three-under-par on the back nine and I told myself just be patient and focus on the last nine holes."
He had made three birdies on the back where he teed off today – on 12, 13 and 14 – and four straight pars followed as he turned in 29 and bogey-free. Birdies on the first and second which were Burke's 10th and 11th holes, respectively, got onto his scorecard. Feeling the confidence and the momentum at this point, Burke continued his fine display of brilliant golf; birdieing both the fourth and fifth holes of the golf course, his 13th and 14th.
A strong finish by Burke was characterised by an eagle on his 17th hole and a birdie to seal a sparkling round of golf in difficult weather conditions.
"The mind definitely plays a role," he said of the challenging weather, "because everyone is playing in the same weather. So, you just need to accept that and try to give it your all.
"I played well today; made good birdies on one, two, four and five. So, the momentum was there and then on the eighth, I hit it middle fairway where I had 240 metres in, and I just hit a 3-iron to 15-feet and drained the eagle-putt."
Burke leads by four but the man trailing is no stranger to chasing. Van Velzen already has Big Easy Tour titles to his name and after an eventful round of 66, he will not be too concerned with Burke's position atop the leaderboard. With 36 more holes to play, the recently-turned-pro Van Velzen will want a strong showing on day two in order to give himself a chance at victory and continue his climb up the Order of Merit where he lies eighth and outside of the top six players who will be eligible for Sunshine Tour cards at the end of the season.
Bradley Diggeden's fine form continues and he shares the third spot with a resurgent Makhetha Mazibuko at five-under and five strokes off the lead while amateur Sam McKenzie takes solo fifth at four-under 68.
Latest IGT Challenge Tour News