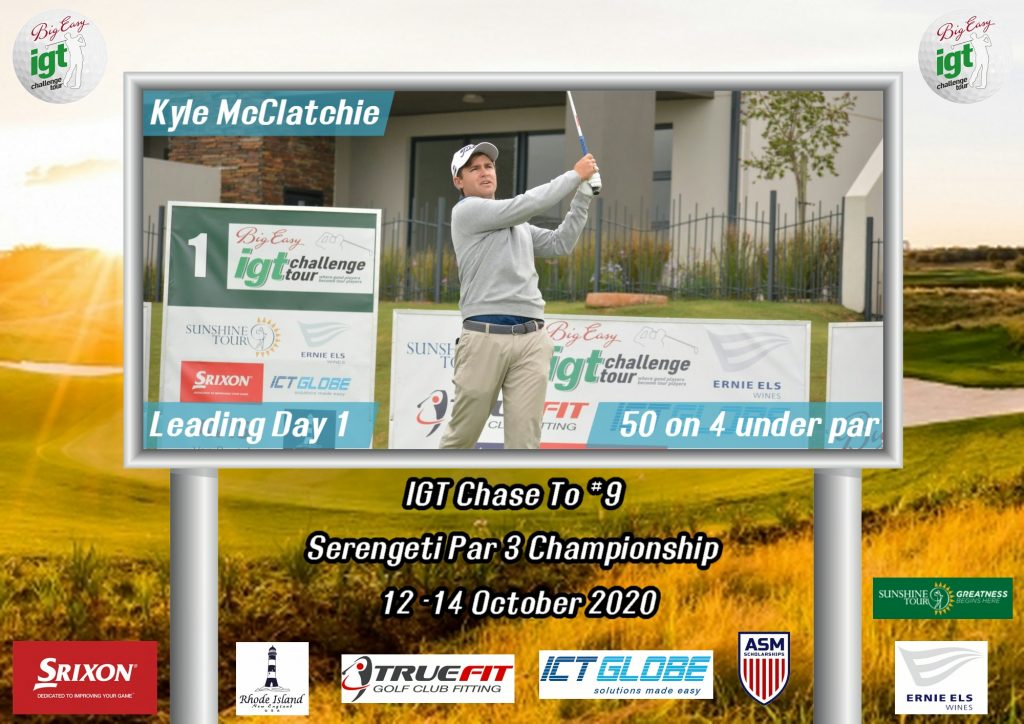 12th October 2020 | IGT Challenge Tour
Bogey-free McClatchie grabs early lead at Serengeti
KEMPTON PARK, October 12 – Fresh from a fourth-spot finish in the exciting revised Stableford format in last week's event at Copperleaf, Kyle McClatchie opened this week's IGT Chase #9 Serengeti Par-3 Championship in style, signing for a bogey-free four-under-par 50 to lead by two on Monday.
"It's always nice to do something a little different like the par-three challenge," said McClatchie, "It's also a nice change of scenery to be able to play a par-three course. It's also quite quick to play a round here and that's what I think that some of the guys enjoy."
McClatchie played some good golf from the first tee shot. His eight pars on the front nine showed a man who was not going to make any room for any mistake, and for all that work, the birdie he made on the sixth felt like a just reward. Designed by Dino De Abreu, the Serengeti Par-3 Championship layout is as tough a test as the best of them, and McClatchie was happy to walk away with deep-under-par after day one.
"I played nicely; was a solid day," he added, "I didn't make a bogey today, I was chuffed about that. I play quite a lot around here and I don't think I've gone round without a bogey, so I am happy with today's work."
Coming home, McClatchie seemed to have found something special because just after the pars he made on 10 and 11, three birdies, one after the other, got onto his card as he pulled clear of the chasing field.
While he would not make any more birdies after those, he played solid golf to consolidate what was the best score of the day.
"Today was a good day," McClatchie noted, "I gave myself loads of chances and I'm really looking forward to the next couple of days to see what we can do and what scores we can post out there. Looking forward to the rest of the week."
Keanu Pestana and veteran Ryan Tipping share the second spot at two-under-par while Louis Albertse lies fourth at one-under. At level-par, Sweden's Frederik From shares the fifth spot with Richard O'Donovan, Rigardt Albertse and amateur Drikus Joubert.
50 – Kyle McClatchie (RSA)
52 – Keanu Pestana (RSA) , Ryan Tipping (RSA)
53 – Louis Albertse (RSA)
54 – Richard O'Donovan (IRE) , Fredrik From (SWE) , Rigardt Albertse (RSA) , Drikus Joubert (AM) (RSA)
55 – Jason Hale (RSA) , Ryan Van Velzen (AM) (RSA) , Herman Loubser (RSA) , Luke Brown (RSA) , Dylan Mostert (RSA) , Callum Mowat (RSA) , Daniel Lee (AM) (RSA)
56 – Sam Mc Kenzie (AM) (RSA) , Leon Vorster (RSA) , Tara Griebenow (RSA)
57 – Adriel Poonan (RSA) , Leon Scheepers (RSA) , Erhard Lambrechts (RSA) , Casey Jarvis (AM) (RSA)
58 – Lwazi Gqira (RSA) , Warwick Purchase (AM) (RSA) , Marthin Scheepers (RSA)
59 – Travis Ladner (AM) (RSA) , Karabo Mokoena (AM) (RSA) , Shalan Govender (RSA) , Xander Prinsloo (AM) (RSA) , Jason Froneman (RSA) , Francois Blaauw (AM) (RSA) , Kyle Barker (RSA) , John-William Blomerus (AM) (RSA)
60 – Werner Deyzel (AM) (RSA) , Irvin Mazibuko (RSA) , Bradley Diggeden (RSA) , Divan De Villiers (RSA) , Ruan Groenewald (RSA) , Christiaan Burke (AM) (RSA) , Derick Petersen (RSA) , Conner Mackenzie (AM) (RSA)
61 – Johan Milho (RSA) , Ernest Ludick (AM) (RSA) , Luke Barblan (AM) (SUI) , Ruben Van Der Berg (AM) (RSA) , Tiaan De Jager (AM) (RSA) , Michael Kok (RSA) , Andrej Skrbinsek (AM) (RSA)
62 – Letsoso Letsai (AM) (RSA) , Phumlani Maluka (RSA) , Thabang Simon (RSA) , Tyron Taylor (AM) (RSA) , Johan Kriek (AM) (RSA) , Lora Assad (RSA) , Kelsey Nicholas (RSA)
63 – Clinton Duncan (AM) (RSA) , Leon Visser (RSA)
64 – Brandon Moodley (RSA) , Warrick Greentree (RSA) , Darren Neyt (AM) (RSA)
66 – Keyan Loubser (AM) (RSA)
68 – Tyron Warne (AM) (RSA)
DSQ – Matthew Mortimer (AM) (RSA)
Latest IGT Challenge Tour News