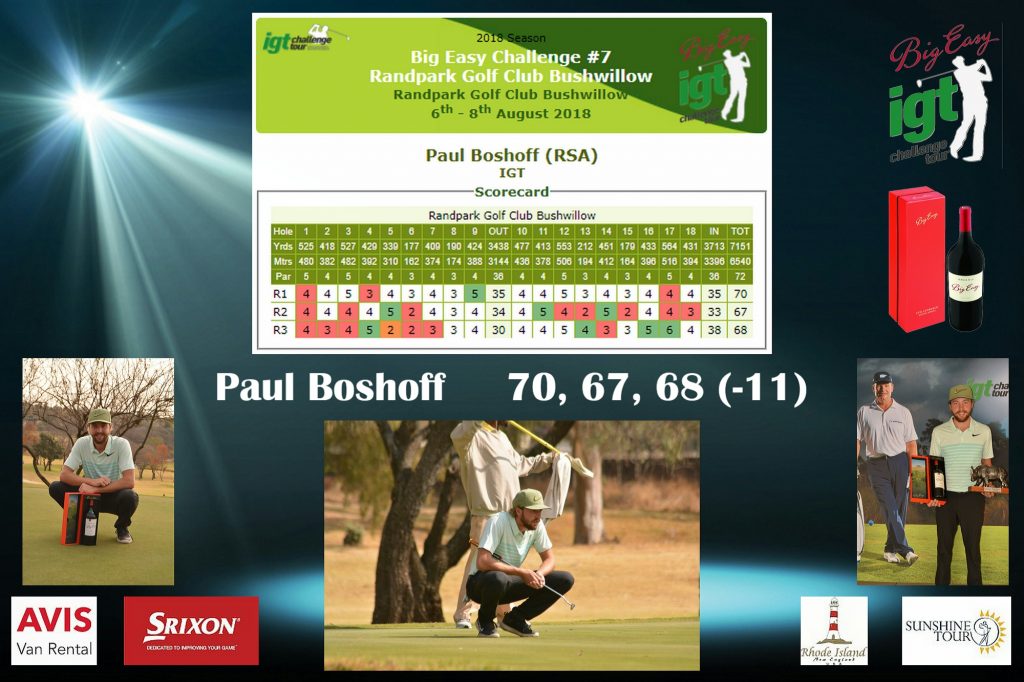 8th August 2018 | IGT Challenge Tour
Boshoff banks maiden Big Easy IGT title at Bushwillow
Boshoff banks maiden Big Easy IGT title at Bushwillow
(PHOTO – Paul Boshoff; credit CJ du Plooy)
RANDPARK, 8 August 2018 – Paul Boshoff staved off a late charge from fellow Pretoria golfer Hendrikus Stoop to claim his maiden professional victory in the seventh Big Easy IGT Challenge Tour event at Randpark Golf Club on Wednesday.
The Queenswood resident closed with a four-under-par 68 to win by two shots on 11-under.
Boshoff and Stoop were two shots off the pace at the start of the final round, but Boshoff wasted little time to shoot to the top of the pile at the Bushwillow Course. The 21-year-old Serengeti golfer fired a trio of birdies from the first and scrapped a bogey at four with an eagle at the par four fifth.
He pulled three shots clear of Stoop with another brace of birdies at six and kept the lead down the back nine. However, back-to-back bogeys at the 16th and 17th holes left Stoop, who birdied the penultimate hole, trailing by just one shot as the pair headed to the 18th green.
"The last hole was pretty tense," said Boshoff. "I hit my tee shot left of the fairway and I was under some trees and Hendrikus hit his to the right and had a clear shot to the green.
"I thought that was it; we'd have a play-off and I was really surprised when his second shot finished four metres short of the green. It took the pressure off, because all I could do was punch out.
"His chip shot flew past the hole and he had a three metre putt left for par. I holed a bump-and-run for eagle at five, so I went with the same shot and left myself a tap-in for par."
Stoop's par effort ran past the hole, leaving Boshoff free to tidy up for victory.
"I'm so pleased to finally win one after trying for two years," said Boshoff. "I have been playing really well for a while now and I expected a lot of myself this week and to pull it off is pretty amazing.
"Hendrikus was bogey-free for 13 holes. He put me under a lot of pressure and I'm proud that I stood up to it. I felt mentally strong out there and did the things I needed to do. It wasn't all pretty, but it got the job done."
Boshoff has been competing on the IGT Challenge Tour since he turned pro in early 2016.
"I went to the Sunshine Tour Qualifying School in March, but I missed out by one shot in the Final Stage, so I came back to the development circuit," he said.
"The tournaments on the Big Easy IGT Challenge Tour and on the IGT Challenge Tour are run very professionally. Ludwick (Manyama) from the Sunshine Tour and Cois (du Plooy) from IGT set up the courses to challenge us and that helps us to improve our course management.
"I've definitely grown as a golfer since I started playing here and that's why I don't regret having to spend another year playing the development ranks. Every round you play, adds to your experience."
Victory boosted Boshoff to sixth in the Road to the Sunshine Tour and fired up his quest to finish the season in the top 10.
"The top 10 guys in the Road to the Sunshine Tour after the Big Easy IGT final in December get cards for the Sunshine Tour. It's a huge incentive. All I've tried to do since the start of the season was to get myself into the top 10, but now the hard work starts. I'll need to play consistently good golf to stay in the top 10 and make the leap to the Sunshine Tour, but I've never been more motivated."
Stoop may have missed out on a trophy, but second place boosted the IGT Challenge Tour winner to seventh in the rankings.
Juran Dreyer closed with a 68 to finish third on his own at eight under.
Meanwhile Caylum Boon finished with five birdies on the bounce to claim the low round honours. A six-under-par 66 earned the Southern Cape amateur a share of fourth on seven-under with Hayden Griffiths and Tokkie van den Berg.
Jeff Inglis, Roodepoort amateur Keelan van Wyk and overnight leader Tyran van Lieshout rounded out the top 10 on six-under 210.
Final Result
All competitors RSA unless otherwise specified; amateurs indicated as AMA
205 – Paul Boshoff 70 67 68
207 – Hendrikus Stoop 68 69 70
208 – Juran Dreyer 73 67 68
209 – Caylum Boon AMA 71 72 66, Hayden Griffiths 72 70 67, Tokkie van den Berg 71 70 68
210 – Jeff Inglis (ENG) 71 71 68, Keelan van Wyk AMA 67 73 70, Tyran van Lieshout 69 66 75
211 – Albert Venter 74 70 67
212 – Matt Bright 73 70 69, Dwayne Basson 70 73 69, Cameron Moralee 71 72 69
213 – Jaco van der Merwe AMA 69 74 70, Conway Kunneke 69 72 72, Jason Rossiter 71 69 73
214 – Jason Roets 69 75 70, Matthew Rushton 67 76 71, Stefan Wears-Taylor 71 71 72, Stuart Smith (BOT) 71 69 74, Andrew Carlsson 67 73 74, Stals Swart AMA 69 70 75
215 – Luke Brown 74 71 70
216 – Irvin Mazibuko 72 73 71, Andrew Burmester 71 72 73, Stephan Erasmus 71 72 73, Dongkwan Kim (KOR) 70 72 74
217 – Peetie van der Merwe 71 74 72, Ruhan van Dijk 74 71 72, Neil Cheetham (ENG) 73 72 72, Daniel Hammond 69 74 74, Ruan Korb 71 72 74, Teddy Mathebula 69 68 80
218 – Marco de Beer 73 71 74
219 – Albert Visser 74 71 74, Romano Saincic 72 73 74, Zabastian de Jager 74 70 75
220 – Francois Coetzee 73 72 75, Eric Nel 73 70 77, Liam Clinton AMA 68 75 77
221 – Arno Pretorius 75 70 76
222 – Chandler Shaw AMA 69 76 77
Ends
Written and released by Lali Stander on behalf of the IGT Challenge Tour.
Latest IGT Challenge Tour News