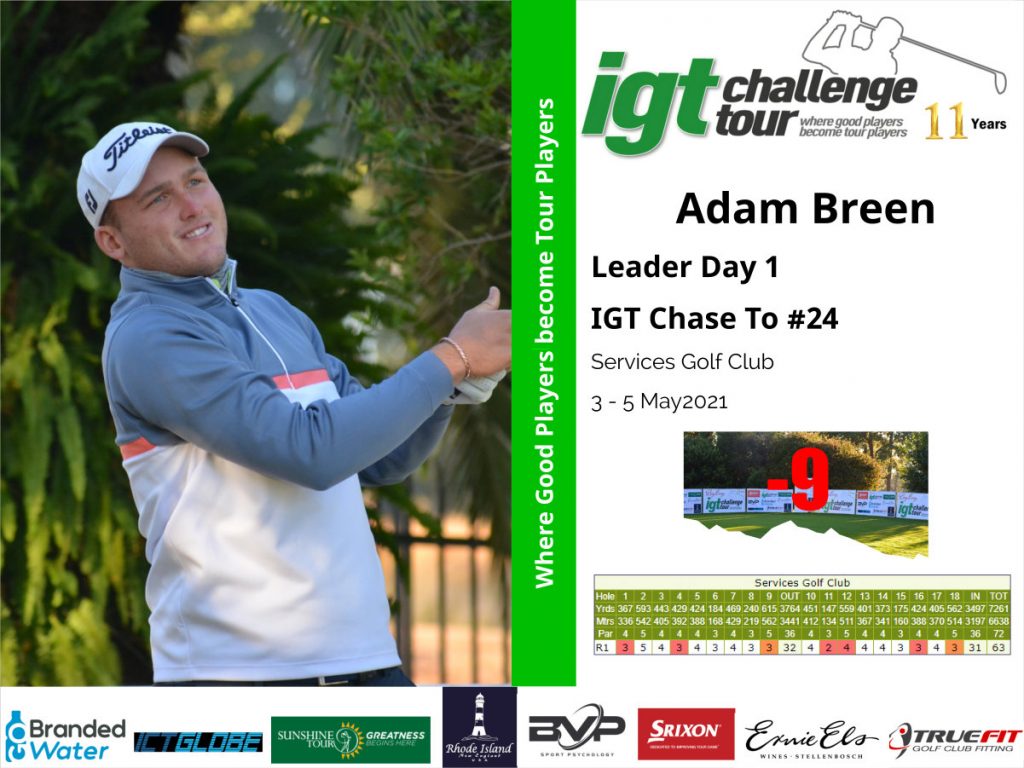 3rd May 2021 | IGT Challenge Tour
Breen, Joubert share top spot after scintillating rounds at Zwartkop
ZWARTKOP, May 3 – A spectacular nine-under-par 63 each saw amateur Adam Breen and Drikus Joubert take to the top of the leaderboard after the opening round of the Big Easy IGT Tour Chase To #24 at Services Golf Club where they co-lead by three shots.
"It was a really good round," said Breen after his flawless round. "My game was feeling great and got off to a hot start on the front nine. I putted really nicely and made some really important par saves after some poor shots on 13,14 and 15 to keep the momentum going.
"We were first off this morning so it was chilly, but the scoring conditions were there and we probably had a slight advantage. The first time we felt a breath of wind was on the 11th tee, which was a nice change after last week's weather."
He birdied the first and fourth holes to get things going and made an eagle on the ninth, his first of two in today's round. After the turn, Breen who plays out of Country Club Johannesburg, made back-to-back birdies on 11 and 12 to solidify his charge for the top spot. He found more joy after three straight pars as he made another birdie on 16 before closing off with another eagle and sign for a 63.
"The two eagles were awesome," said Breen, "I hit a poor 5-iron into the ninth and came up pin high right of the bunker, and I managed to hole out for eagle there, which was a massive bonus. The eagle on 18 had a bit of luck too; my tee shot ran through the trees and finished next to the first green. I had a clear line at the 18th green, then I knocked a 4-iron on there and made the 20-footer eagle-putt.
"So, I am really pleased to get off to a great start, and I think the most important thing for me to do is to stay in the present and focus on each shot as it happens. Obviously, the goal will be to win but you have to hit the shots when they matter and focus on the controllables.
"Services is a classic style layout with lots of doglegs and small greens, and I think you can find yourself in some pretty hairy spots quickly. I think scoring will come from finding as many fairways and having as many wedges in your hands as possible, and then taking your opportunities on the greens when presented."
Joubert also carded a bogey-free 63 to tie the lead. He was three-under through the first nine holes and did not relent on the homeward stretch as he made six birdies to secure a share of the top spot. Michael Kok, Keelan Van Wyk, Kyle McClatchie and amateur Kyle De Beer share the third spot after they all signed for a score of 66 on day one.
Latest IGT Challenge Tour News