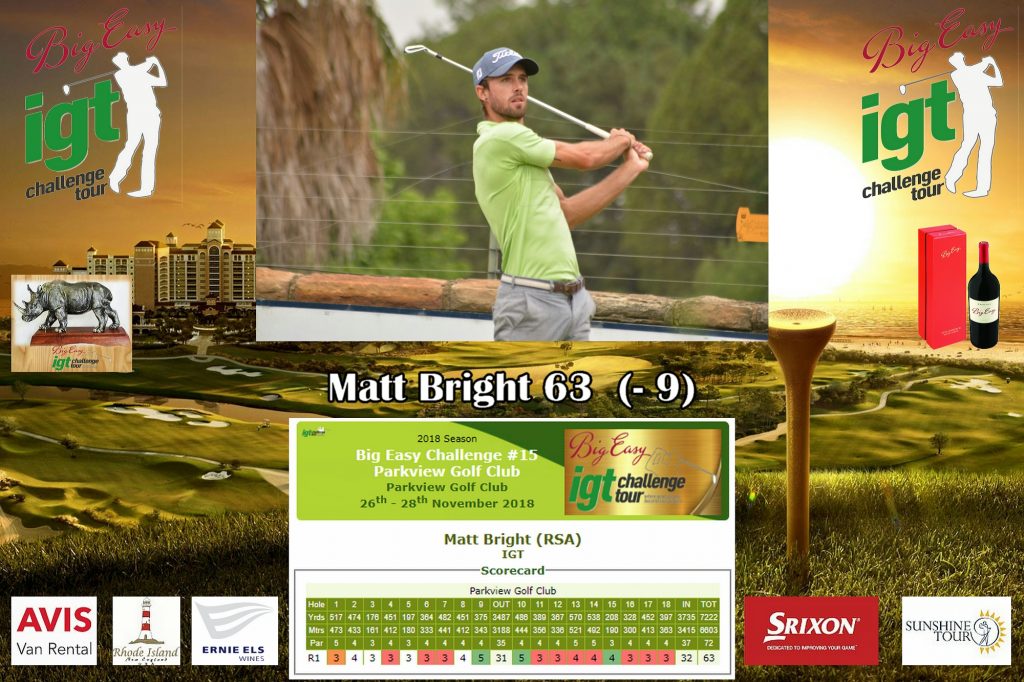 12th November 2018 | IGT Challenge Tour
Bright hits summit at Big Easy IGT Irene
Bright hits summit at Big Easy IGT Irene
(PHOTO – Matt Bright; credit CJ du Plooy)
PRETORIA, 12 November 2018 – Near-perfect scoring conditions at Irene Country Club made for a feast of birdies on day one of the Big Easy IGT Challenge Tour #14, with nearly a third of the field breaking par on Monday.
Johannesburg golfer Matt Bright made seven to surge to the summit with a bogey-free 65.
The Road to Sunshine Tour leader leads by one shot from Theunie Bezuidenhout, who offset three bogeys and a double at 16 with 11 birdies for a 66, and fellow Sunshine Tour pro Marthin Scheepers.
Kyle Barker, Luke Brown, Ruan Conradie, Roberto Lupini, Eric Nel and Korea's DK Kim lurk just two off the pace, with another half-a-dozen players just a further shot adrift.
Bright is hunting his third victory on the golf development circuit this season, having run up a double in the #5 at Killarney and #6 at Centurion Country Club in July.
He only made two birdies on his outward nine, but rattled off five on the home stretch.
"I haven't been hitting it well in the past couple of weeks, so I took a couple days off last week to get my head back in the right space," said the 24-year-old the self-made owner of a shop fitting enterprise called SteelStuff.
"I hit a lot of golf balls to get back in the groove and it was really solid today. I hit 10 fairways, which was very pleasing as this has been a weak point in my game. I hit it close on a lot of greens, but I missed quite a few birdie chances, especially on the front nine.
"I very nearly holed my third at 10, but left it hanging on the lip and tapped in for birdie. At 13, I hit 8-iron to 15 foot under the hole and rolled it straight in the middle of the cup. That was probably my best putt of the day.
"At 15 I hit 6-iron down the middle and sand-wedge to 10 foot right and made the birdie putt. I hit a huge drive at 17 and got a very big bounce down the right-hand side into the rough. I had 140 metres flag, hit gap-wedge to 10 foot and missed the eagle putt.
"At the last hole, hit it next to the green and hit a nice little chip to six foot behind the hole and made the birdie putt. I love Irene. I play a lot of golf here and the course is in great condition. It's early days and there is a lot of golf left but I'm pleased that I've put myself in a strong position on the first day."
Bezuidenhout fired a string of six birdies from the sixth and grabbed another gain at 13 to move to seven-under. A bogey at 14 and a double at 16 put the brakes on his challenge, but the North West golfer finished birdie-birdie to keep the leader in his sights.
"I'm really pleased with this round, especially with the SA Open qualifiers just around the corner," he said. "I stuck a new putter in the bag and just really felt comfortable on the greens.
"I holed a six-footer for birdie at six and hit a pitching wedge to six foot at seven and boxed that putt, as well. I hit it to 10 foot at eight and made a great up-and-down for birdie at nine. I laid up at 10 and hit gap-wedge to three foot and another great gap-wedge into 11 to 10 foot for birdie.
"At 16, I hit my pitching-wedge slightly right and connected with a tree and the ball ricochet into the water. It was an unlucky break, but I took the drop and the double and luckily I was able to clear the slate with birdies at 17 and 18."
Nearly a third of the field managed to break par, with forty-seven players in the field finishing one-under or better.
First Round Scores
All competitors RSA unless otherwise specified; amateurs indicated as AMA
65 – Matt Bright
66 – Theunis Bezuidenhout, Marthin Scheepers
67 – Kyle Barker, Ruan Conradie, Roberto Lupini, Dongkwan Kim (KOR), Eric Nel, Luke Brown
68 – Estiaan Conradie, Derick Petersen, Jack Duthie, John McClean (NIR), Andi Dill, Thabang Simon
69 – Clinton Grobler, Dylan Kok, Tristen Strydom, Jason Rossiter, Allan Versfeld, Dwayne Basson, Bradley Diggeden AMA, Jason Diab, Steven Lecuyer (CAN)
70 – Paul Boshoff, Thriston Lawrence, Leon Vorster, Gerard du Plooy, Coert Groenewald, Teboho Sefatsa, Albert Venter, Matt Saulez AMA
71 – Matthew Rushton, Leon Visser, Yubin Jung, Cameron Moralee, Stuart Smith (BOT), Wayne Stroebel, Heinrich Bruiners, Andrew Carlsson, Louis Albertse, Marco de Beer, David Rebelo, Altaaf Bux, Richard Joubert, Jason Roets, Daniel Hammond
72 – Andrew Williamson AMA, Keaton Slatter, Jade Buitendag, Anton Haig, Greg Bentley (ZIM), Ruan Korb, Dylan Mostert, Gary Daoust (BEL), Keelan Africa, Nqobani Ndabambi (ZIM), Michael Kok, Brett Liddle, Jeff Inglis (ENG), Christof Appel, Matthew Spacey, Jason Smith, Ricky Palonis (USA), Ruhan van Dijk
73 – Christopher van der Merwe AMA, James Pennington (SWZ), Juran Dreyer, Duane Keun, Tyran van Lieshout, JP Cooper AMA, Christopher de Beer, Hayden Griffiths, Bryce Myburgh, Ryan Tipping, Michiel Bothma, Antonio Costa (CHL), Michael Saunders (ENG), Jay Fourie
74 – Francois Coetzee, Hendrikus Stoop, David McIntyre, Louis Calitz, Romano Saincic, Jonathan Waschefort, Zander Gous AMA, Arno Pretorius, Giulio Castagnara AMA (ITA), Luke Mayo AMA, Paul Colditz, Marcel Steyn Scholtz AMA
75 – Neal Herman, Harry Konig (ENG), Pieter Moolman, Terence Mogapi, Thabiso Ngcobo, Phumlani Maluka, Zabastian de Jager, Quintin Crause, Neil Cheetham (ENG), Philip Geerts (ITA), Tokkie van den Berg, Patrick Thompson, Michael-James Steyn
76 – Andrew Burmester, Divan Marais, Deon Bredenkamp, Dean du Plessis AMA, Allister de Kock, Makhetha Mazibuko, Keanu Pestana AMA
77 – Tumelo Molloyi, Warric Dyers, Gareth Sargent AMA, Fezekile Kana, Bennie van der Merwe, Cody White (CAN), Basil Wright, Hanish Nagrani (ZIM), Stefan Wears-Taylor, Jakob Montemurro (CAN)
78 – Maritz Wessels, Cameron Gurr AMA, Sipho Bujela, Thabo Moraba, Jabulane Mabilane, Alpheus Kelapile
79 – Cole Dodgen AMA, Michael Dreyer, Conway Kunneke, Jancarel Rossouw AMA
80 – Nico du Buisson, Nick Loake, Marcus Smal AMA
82 – Marais Visagie
83 – Adam Baker, Peetie van der Merwe
85 – Neo Mokgatle AMA
86 – Ethan Joseph
89 – Chase Paton AMA
Ends
Written and released by Lali Stander on behalf of the IGT Challenge Tour.
Latest IGT Challenge Tour News