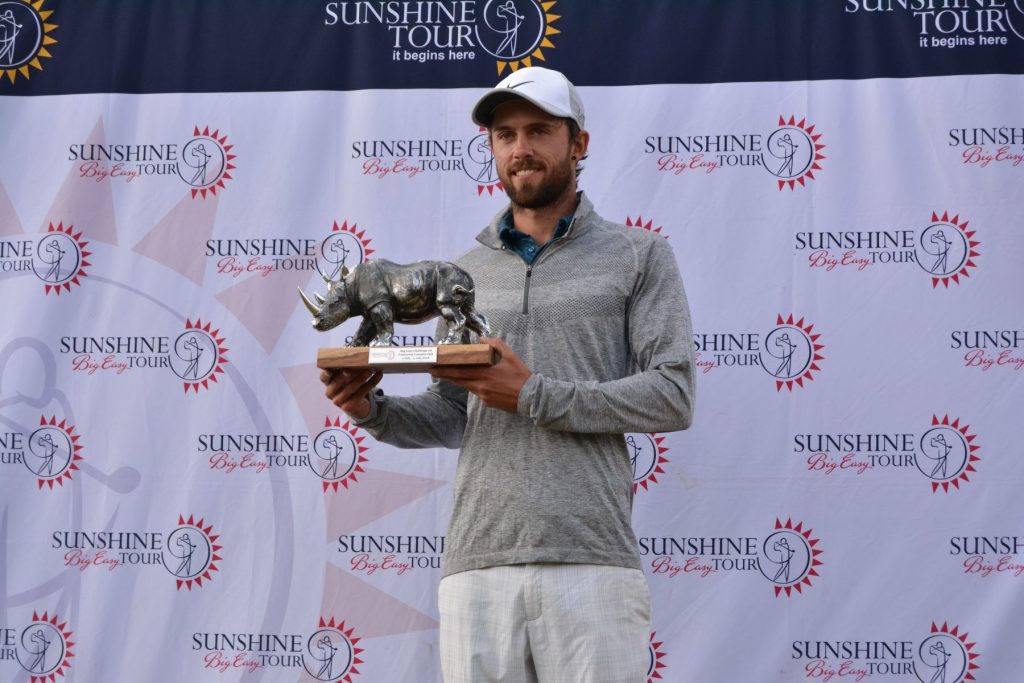 6th July 2018 | IGT Challenge Tour
Brilliant Bright runs up Big Easy IGT double
Brilliant Bright runs up Big Easy IGT double
(PHOTO – Matt Bright; credit CJ du Plooy)
PRETORIA, 4 July 2018 – It was double delight for Matt Bright, who intensified the battle for supremacy in the Road to the Sunshine Tour with back-to-back titles on the Big Easy IGT Challenge Tour at Centurion Country Club on Wednesday.
Just a week after he won the fifth event with a short game masterclass at Killarney Country Club, the 24-year-old Bright came from behind to win by one stroke with another magnificent final round production in Pretoria.
The young entrepreneur began the final round three strokes behind overnight leader Matt Rushton and was six off the pace after a bogey start and a further bogey at the par four sixth.
However a momentum boosting birdie at the par four ninth delivered the spark Bright needed to ignite a birdie feast down the home stretch.
He made three gains on the bounce from the 12th and finished birdie-birdie for a four-under 68 to triumph on 10 under.
"I am a die-hard; I never give up and that birdie at nine definitely did the trick," said Bright, the first player to win successive titles on the Big Easy IGT Challenge Tour this season.
"I turned five behind, but I closed the gap quickly with the birdies at 12, 13 and 14. I hit a really good tee shot to the left side of the fairway. I hit a 9-iron in to 12 foot below the hole.
"I hit probably my best drive of the day on 13 and a really good lob-wedge from 79 metres in the middle of the fairway to four foot. At the downhill 14th, I hit a hybrid just slightly off the fairway left and pitched from 60 metres out to three foot behind the hole."
Two great good par saves at 15 and 16 kept Bright in the battle for glory.
"I had a birdie chance at 15 when I pitched it close, but first putt rolled out quite a bit," he said. "I hit 7-iron, sand-wedge to the back tier pin at 16. It looked great, but when I got there, the ball had run 14 feet past the pin. The first putt stayed out, but the second one dropped.
"Those par saves were crucial, because a few guys also ran hot on the back nine. A couple was in the clubhouse on nine-under, so I knew I needed at least one birdie over the last two holes.
"The 17th played quite short. I hit sand-wedge to 15 feet and drained the putt. On 18, my tee shot finished a metre short of the green. I lagged the first putt from 15 metres to four inches and tapped in for the win.
"I felt that the game was there in the last couple of weeks and it came together at Killarney, but today was more of a mental victory. To come from five behind and win by one is really satisfying and a big motivation."
The victory boosted Bright to the third in the Road to the Sunshine Tour Rankings, with only R5 000 separating him and leader Dylan Mostert.
"The overall goal is a top 10 finish at the end of the season so I can earn my card for the Sunshine Tour, and the sooner you put yourself in contention, the better your chances of keeping yourself in the top 10," said the Irene golfer. "Third in the rankings after six events is a good place to be. I just have to work hard to stay there."
Former Sunshine Tour winner Heinrich Bruiners is in an even strong position.
The Gary Player School of 2018 member fired four birdies on the back nine for a five-under 67 that not only won him the low round honour on the final day, but propelled him to join second with Thriston Lawrence, Dylan Kok and overnight leader Matthew Rushton.
His third runner-up finish in six starts on the Big Easy Challenge Tour moved Bruiners to second overall and within striking distance of the number one spot.
Final Result
All competitors RSA unless otherwise specified; amateurs indicated as AMA
206 – Matt Bright 67 71 68
207 – Thriston Lawrence 68 72 67, Heinrich Bruiners 68 71 68, Dylan Kok 70 68 69, Matthew Rushton 70 65 72
209 – Stefan Wears-Taylor 68 72 69, Ryan Tipping 70 70 69, Christopher van der Merwe AMA 67 71 71, Estiaan Conradie 66 71 72
210 – Neil Cheetham (ENG) 69 72 69, Conway Kunneke 71 70 69, Jason Roets 68 70 72
211 – Gianni Pera AMA 71 72 68, Ruan Korb 70 71 70
212 – Arno Pretorius 74 70 68, Hayden Griffiths 71 71 70, Makhetha Mazibuko 70 71 71
213 – Jade Buitendag 72 72 69, Stals Swart AMA 69 72 72, Jason Diab 70 71 72
214 – Dongkwan Kim (KOR) 73 72 69, Romano Saincic 74 70 70, Anton Haig 73 68 73
215 – Dylan Mostert 69 76 70, Louis Albertse 71 74 70
216 – Matthew Rossouw AMA 72 73 71, Teboho Sefatsa 74 71 71, Matthew Spacey 68 75 73, Neal Herman 68 71 77
217 – Pieter Moolman 75 70 72, Peetie van der Merwe 71 72 74, Michiel Bothma 74 68 75
218 – Hendrikus Stoop 72 72 74
219 – Sean Bradley 71 73 75, Thabiso Ngcobo 72 72 75, Eric Nel 74 69 76
220 – Dwayne Basson 73 72 75
221 – Kyle Barker 72 73 76
222 – Quintin Crause 69 76 77, Jonathan Waschefort 69 76 77
224 – David Rebelo 69 76 79
Written and released by Lali Stander on behalf of the IGT Challenge Tour.
Latest IGT Challenge Tour News