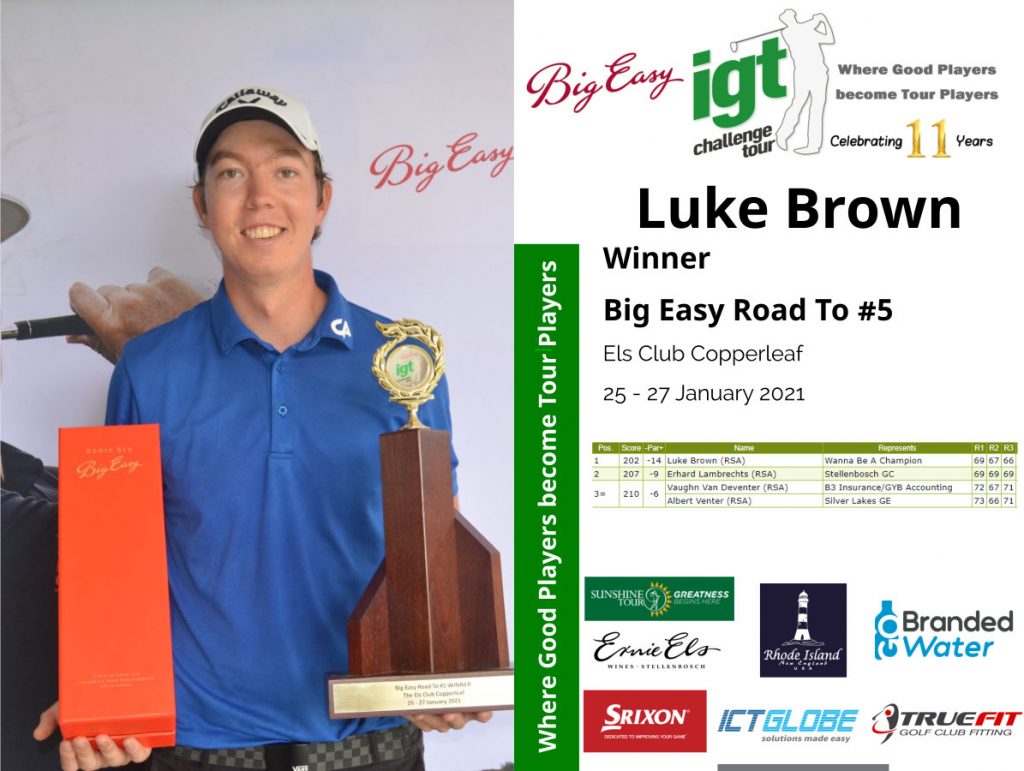 27th January 2021 | IGT Challenge Tour
Brown claims emphatic win at Copperleaf
CENTURION, January 27 – Luke Brown says he had anticipated that the final round of the Big Easy Road To #5 Copperleaf was going to be a tough contest and so he needed a well-crafted plan which would see him to victory if well-executed.
Wednesday was just as tough as the previous two days weather-wise, and the unforgiving wind made things even tougher for golfers. Brown had managed to carve a total of eight-under-par after a grueling 36 holes which were played under testing conditions at Els Club Copperleaf.
Coming into the final round, he was a shot back of Quintin Wilsnach's lead which the Pretoria golfer had maintained for two rounds. Brown had a plan.
"We knew the conditions were going to be tough," said Brown after shooting a final round 66 which earned him the win on a tournament total of 14-under and five shots clear of Erhardt Lambrechts. "So, today was just about keeping the ball in play; giving yourself as many chances as possible and also limiting silly mistakes. That definitely made the difference today.
"The weather was still pretty hectic today; the rain was on and off, very windy and play even got suspended on the 17th, so one had to stay focused in conditions like that. But, my ball-striking today played a part; just to control the flight and the speed and the spin of the ball was important in weather like today's."
Brown showed a high level of focus early on in the round, birdieing three of his first four holes in the round for a bogey-free 33 on the front nine. Following a stretch of six straight pars, Brown made further gains on the par-five 11th, taking a birdie there. That joy was shortlived because the par-three 14th proved tricky for Brown and he dropped a shot.
That did nothing to throw him off and a hattrick of birdies followed to prove it.
"My game has been feeling good coming into the week," Brown added. "I played on another tour last week and won. I came into this week with some good form and I am grateful that I was able to continue with it for another three days. I've been improving a lot, the putting.
"So, this win is very nice because I think there are some world ranking points to be earned so that's quite a big deal. And the Sunshine Tour is delayed until March and with this being my first tournament of the year on the Big Easy, this win builds confidence and hopefully, it will show on the main tour."
Brown last tasted victory on the Big Easy Tour back in 2018 when he won the Tour Championship, however, his sixth-place finish in the African Back Sunshine Tour Championship in August last year reminded many of what Brown could do.
Despite a spirited performance by Lambrecht which yielded a final-round 69 for a tournament score of nine-under-par, a runner-up placing will have to suffice for the Stellenbosch Golf Club representative.
Latest IGT Challenge Tour News