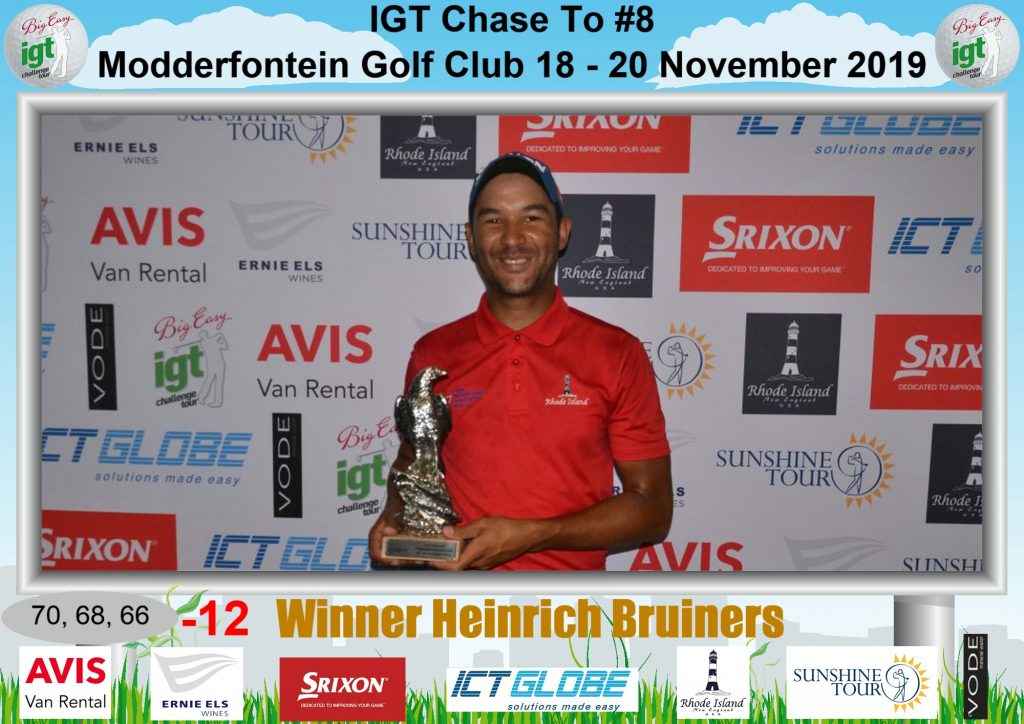 20th November 2019 | IGT Challenge Tour
Bruiners banks IGT victory at Modderfontein
Bruiners banks IGT victory at Modderfontein
JOHANNESBURG, 20 November 2019 – George golfer Heinrich Bruiners ended a six-year victory drought as he held off the challenge of overnight leader Anton Haig in Wednesday's final round to win the Chase to Sunshine Tour #8 on the IGT Challenge Tour.
The Gary Player Class of 2019 member showed all his experience under pressure with a closing six-under-par 66 at Modderfontein Golf Club to triumph on 12-under 204.
That was two shots better than Haig, who settled for a share of second alongside rookies Luke Mayo and Gareth Sargent after signing for 74.
"It's the best feeling in the world to lift a trophy again," said the 32-year-old Southern Cape native, who celebrated his maiden success in the Vodacom Origins series on the Sunshine Tour in 2013.
"It doesn't matter how big or small the tournament; you still have to do all the right things to win and after so many close calls in the last 18 months, it feels incredible to get over the finish line. This didn't just happen today. It's been building for a long time and the Gary Player Class boot camps helped me immensely to get to this point. This win means more to me than anyone can imagine."
Haig set the 36-hole target at 12-under with successive rounds of 66.
Bruiners began the final round six shots adrift in joint second with Sargent and fellow Gary Player Class member Makhetha Mazibuko.
The overnight leader followed a birdie start with a triple bogey seven on second, but birdied two of the par fives – eight and 10 – to get back to 12-under. Bruiners got within two shots of Haig with a birdies on the third and eighth holes and an eagle two on the seventh.
"The turning point was the 12th and 13th holes," Bruiners said. "I hit a knock-down gap-wedge into 12 and holed a six-footer for birdie. Anton missed his par putt and the two-shot swing left us tied on 11-under. At the par five, Anton nearly holed his approach and tapped in for eagle. I hit my second to 15 feet and made the eagle putt to stay with him. Those two holes really set me up for the win."
The pair remained neck-in-neck with pars on 14, 15 and 16 and bogeys on 17.
"On the last hole, I hit my drive down the left and Anton's drive went down the middle. His approach pitched on the fringe and spun back in the water. I went for the middle of the green, knowing he had to take a penalty drop. I had 140 metres into the wind and I hit that wedge with everything I had and more. It pitched 150 and I had a 35 foot putt left," Bruiners said.
"I lagged my first putt close, and when Anton missed his bogey putt, I putted for the win. I have so much respect for Anton as a player and a person. It's inspiring to play with him, and on any other day I would be happy for him to win. Today, I'm really glad I was on the receiving end.
"I lost in two play-offs last year on the Big Easy and IGT Tours and they taught me a lot. It showed me that I was headed in the right direction, but there are so many things that influence you as a professional golfer. I realised I was good enough to win but I just needed to find the right formula.
"Results on paper doesn't tell the story of the hardships, the frustration, the grinding and sacrifices. Winning makes it all worthwhile, though. I was so frustrated when I was forced to withdraw from the last Vodacom Origins event with a shoulder injury, especially after coming seventh at Selborne. Now I recognise it as a blessing in disguise.
"The physio gave me a series of exercises and stretches, and I have been absolutely disciplined, even for my practice rounds. It definitely made a big difference to my game. I struck the ball really well all week and barely had a twitch in my shoulder. And the putter was hot."
With the Alfred Dunhill Championship Qualifier around the corner, the win could not have been timed better. "I am super stoked win just before two big events on the Sunshine Tour," he said. "The game has felt so good for so long, and getting across the finish line just gives you that extra boost of confidence that counts with every shot. I'm heading to Centurion on Friday with a winning mind set."
His two-shot triumph continues the success of the Gary Player Class in 2019, following Toto Thimba's march to victory in the KBC Karen Masters in June.
"The Gary Player Class members are at the end of a development programme that is starting to show a hugely positive impact on our previously disadvantaged talent," said IGT Challenge Tour commissioner Cois du Plooy.
"This structure starts at grassroots level with the South African Golf Development Board, the Ernie Els and Fancourt Foundation and other such organisations and GolfRSA continues the development at junior and open amateur level.
"The Gary Player Class provides these golfers with all the opportunities to make a success of their professional careers and the Big Easy IGT Challenge and IGT Challenge Tours provide that vital bridge to get them to next level. Here they hone their craft, learn to compete and gain the consistency they will need to sustain their careers at the next level.
"This year, Toto and Heinrich have both won events. Allister de Kock won the Road to Sunshine Tour Transformation Order of Merit last week, but he also finished 21st on the Road to Sunshine Tour and qualified for next week's Big Easy IGT Tour Championship top 30 field. This week, nine players from the Gary Player Class of 2019 made the cut here at Modderfontein.
"Apart from the Gary Player Class achievements, Dwayne Basson finished second in the Road to Sunshine Tour Transformation rankings and also made the field for the Tour Championship. He is leading the Chase to Sunshine Tour Transformation Order of Merit on the IGT Challenge Tour.
Achievements like these demonstrate that the system is working and that is what will inspire the wave of young stars waiting in the wings."
Final Result
All competitors RSA unless otherwise specified and amateurs indicated at AMA
204 – Heinrich Bruiners 70 68 66
206 – Luke Mayo 68 71 67, Gareth Sargent 70 68 68, Anton Haig 66 66 74
209 – Makhetha Mazibuko 69 69 71
212 – Marthin Scheepers 70 73 69
213 – Martin Rohwer 74 73 66, Carlo Heunis 75 69 69, Wynand Dingle 75 72 66, Dylan Naidoo 68 72 73
214 – Thabang Simon 71 73 70, Jason Froneman 73 70 71
215 – Shalan Govender 76 69 70
216 – Leon Visser 74 70 72
217 – Paul Rodrigues 74 71 72, Gerard du Plooy 73 71 73, Sipho Bujela 72 72 73
218 – Thato Mazibuko 72 74 72, Jason Viljoen 73 69 76
219 – Ruan Groenewald 76 70 73, Dwayne Basson 70 77 72, Hanlo Jacobs 74 70 75
220 – Jack Duthie 75 73 72
221 – Keelan Van Wyk 72 75 74, Michael Kok 73 74 74
222 – Franklin Manchest 73 73 76, Mike Maile 76 72 74
223 – Jason Gilliver AMA 75 74 74
224 – Basil Wright 77 72 75, Alpheus Kelapile 75 74 75, Lwazi Gqira 79 71 74, Keaton Slatter 75 75 74, Marcel Steyn Scholtz 74 77 73
225 – Xander Basson AMA 78 70 77
226 – Adriel Poonan 74 75 77, Lincon Cele 76 75 75
227 – Cameron Esau 75 72 80, Tristen Strydom 70 78 79, Fritz Orren 80 71 76
231 – Duan Nagel 77 74 80
Written and released by Lali Stander on behalf of the IGT Challenge Tour.
Latest IGT Challenge Tour News