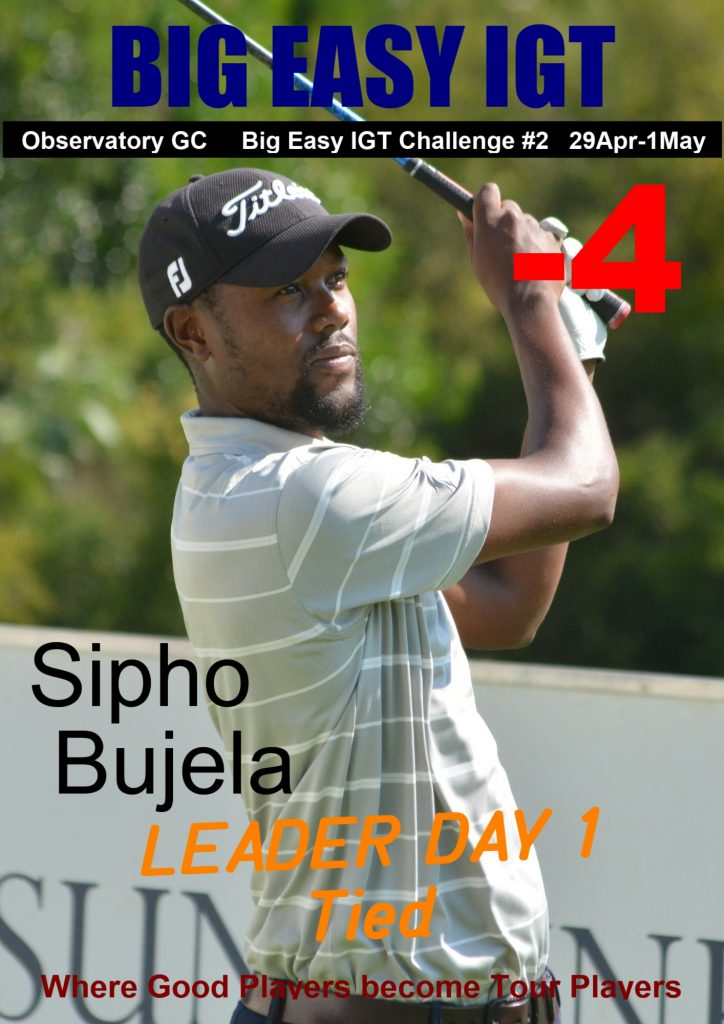 29th April 2019 | IGT Challenge Tour
Bujela bags share of Big Easy Observatory lead
Bujela bags share of Big Easy Observatory lead
(PHOTO – Sipho Bujela; credit CJ du Plooy)
JOHANNESBURG, 29 April 2019 – Gary Player School member Sipho Bujela birdied the closing hole at Observatory Golf Club to grab a share of the top spot in the first round of the Big Easy IGT Challenge Tour #2 with Coert Groenewald and Swiss golfer Neal Woernhard.
The Soweto golfer competed in the Vusi Ngubeni Qualifying School at the same venue in March and used his local course knowledge to open with a four-under-par 68.
Groenewald also made the most of the benign conditions in the morning surge into the lead, while Woernhard – who got the brunt of the gusting wind in the afternoon – racked up four birdies to make it a three-way tie at the top of a very congested leaderboard.
No less than five players sit at three-under, with a further 10 players tied for ninth on two-under.
Bujela decided to skip the Investec Royal Swazi Open to work on his game and was pleased with the early results.
"I would have had to play the qualifier and I felt that playing the Big Easy IGT event to work on my game would be a better option," said the 29-year-old. "I'm battling a bit with the driver, so I am using this week to sort it out so I can be ready for the Lombard Insurance Classic in Swaziland next month.
Early birdies at the second and fourth holes brought a smile to his face.
"The weather was pretty good this morning with clear skies, and I wanted to make the most of the conditions," Bujela said. "The first tee shot was tough, straight into the sun. I missed it right, but it was far enough right to leave me with a good angle and I made a good par save to start.
"At the second hole, I hit the fairway to the right, but I had a low overhanging branch in the way. I hit a low fade that ended up just short of the green and I made a good up-and-down for birdie. I hit a strong 7-iron into the par three (fourth). My playing partner Reinard (Blaauw) was two metres further and I got a good line from him and boxed the birdie putt.
Bujela was disappointed not to capitalise on the two par fives before the turn
"I hit a poor tee shot at the seventh and we struggled to find my ball. I punched out and hit a sand-wedge in. I had a 15-footer for birdie and two-putted," he explained.
"The wind started to blow at this stage and the ninth was straight into the wind. The tees were set back, so it was playing quite long. I hit it down the fairway left, but it's such a narrow approach, so I opted to lay up. I hit a really good third, but two-putted for par.
"I was happy to sink an eight-footer for birdie at the 10th. I hit a choke down wedge from 138 metres into a cross wind and drained the putt. But then I dropped at the next hole. It was very disappointing, because the 11th wasn't playing that tough. I hit the wedge shot fat and caught the bunker."
He rebounded with a birdie at the next short hole and finished in style with a birdie at 18.
"I hit another wayward tee shot at the par five (14) and I was nearly out of time when we finally found my ball," said Bujela. "I managed to save par and birdie 15. At the last hole, I hit a great drive straight down the middle, sand-wedge to 10 feet and boxed the birdie putt.
"I was surprised that the scores weren't lower, but this is a tough track when the wind gets up. We had a one-club wind in the morning, but it really got up in the afternoon. And with the tees pushed back, it's tough to score into the wind.
"The ball striking is still a little erratic, but I definitely felt an improvement. Unfortunately I had a couple of bad drives, but I hit my shorter irons and wedges really well and if I can hole a few more putts, I'll be really happy."
In-form rookie Clayton Mansfield, coming off a runner-up finish in the season-opener at Centurion Country Club two weeks ago, fired five birdies for a 69 and a share of fourth with Jason Smith, Gerhard Pepler, Divan Marais and Gideon van der Vyfer.
First Round Scores
All competitors RSA unless otherwise specified and amateurs indicated at AMA
68 – Coert Groenewald, Sipho Bujela, Neal Woernhard (SUI)
69 – Clayton Mansfield, Gerhard Pepler, Divan Marais, Jason Smith, Gideon van der Vyver
70 – Matthew Carvell, Thato Mazibuko, Gareth Sargent, Leon Vorster, Jack Duthie, Dylan O'Leary, Quintin Wilsnach, Maverick Faber (FRA), Kenneth Dube, Jason Roets
71 – Ruan Groenewald, Yurav Premlall AMA, Marthin Scheepers, Thabang Simon, John McClean (NIR), Paulo Serrao (POR)
72 – Christiaan Burke AMA, Malcolm Mitchell, Khaya Jika, Albert Venter, Keaton Slatter, Shalan Govender
73 – Matthew Spacey, Mitchell Lightfoot, Hanlo Jacobs, Leon Visser, Jaco van der Merwe, Karl Ochse, Jason Viljoen, Desne van den Bergh, Tristan Eeles, Nicholaus Frade
74 – Paul Rodrigues, Gary Daoust (BEL), Michael Kok, Phumlani Maluka, Gary Jutzen AMA, Christian Basson, Carlo O'Reilly
75 – Nqobani Ndabambi (ZIM), Terence Archibald, Nhlalenhle Dlamini, Tristan Topka, Jason Rossiter, Richard Joubert, Ruhan van Dijk, Werner Deyzel AMA
76 – Evance Vukeya, Henning du Plooy, Deon Bredenkamp, Andrew Burmester, Luan Boshoff, Reinhardt Blaauw, Michael Louth, Zabastian de Jager, Eric Nel, Thabiso Ngcobo, Xander Prinsloo AMA, Francois Blaauw AMA, Romano Saincic
77 – Neil Cheetham (ENG), Neville Mitchell, Richard Spagnolo AMA
78 – Mohit Mediratta (KEN), Angus Ellis-Cole, Teddy Mathebula, Liam Clinton AMA, Ismaeel Randeree, Matt Saulez AMA, Albert Visser, Christiaan Pretorius
79 – Liam Labuschagne, Alex Pienaar AMA, Michael Pfeifer, Dennis Williams
80 – Jan-Louis Nel AMA, Christian MacGregor AMA, Ricardo Towell
81 – Byron van der Merwe, James Cleasby AMA, Neo Mokgatle
82 – Llewellyn Grobbelaar, Jared Hall AMA
83 – Adam Baker, David Toplis
84 – Angelo Marques AMA, Patric Dowling AMA, Songezo Sonamzi
85 – Cody Holwill AMA
88 – Duan Nagel
107 – Armand van Dyk AMA
Written and released by Lali Stander on behalf of the Big Easy IGT Challenge Tour.
Latest IGT Challenge Tour News