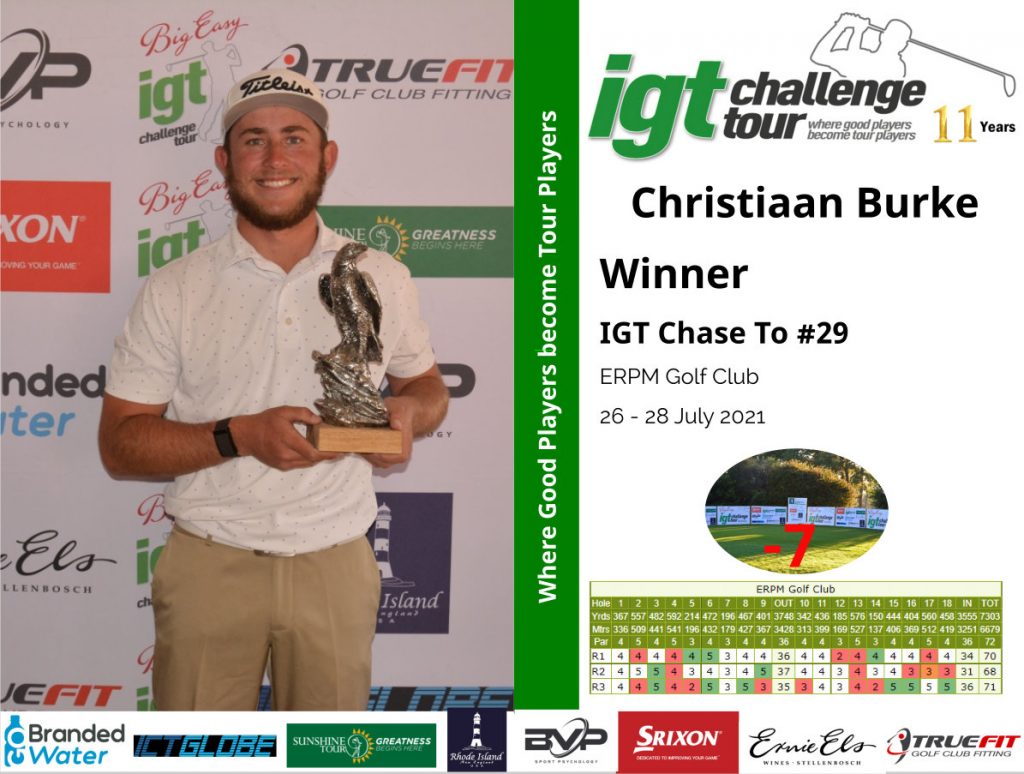 5th August 2021 | IGT Challenge Tour
Burke holds on to take Big Easy IGT victory at ERPM
He limped home with three bogeys in his final four holes, but Christiaan Burke's one-under-par 71 on Wednesday in the closing round of the Big Easy IGT Challenge Tour's Chase to the Sunshine Tour #29 at ERPM Golf Club was enough to give him a one-stroke victory at seven-under-par.
After turning for home in one-under 35 with four birdies and three bogeys on his card, Burke looked to have sewn things up comfortably when he made three birdies in the next five holes after the turn and he got it to 10-under for the tournament. That was a four-stroke edge with four to play, and all looked safe for the man who had closed with two birdies and an eagle in the second round.
"The third round was definitely in my mind," admitted Burke. "I knew I could go out and just play my own game, because the other guys had to do a lot of work to chase me. But I still made some sill mistakes.
"The course was playing quite a bit tougher today, but that doesn't justify some of the mistakes I made on the back nine. There were a couple of time when I tried to chip in or at least chip it close, and I hit it seven or eight feet past the hole and missed the return putts."
Fortunately for Burke, his closest challengers were also battling to close things with a flourish, as Siyanda Mwandla, Wynand Dingle, Dylan Naidoo, Ryan van Velzen and birthday boy Casey Jarvis were all unable to turn the screws down the stretch.
Mwandla, who finished runner-up on six-under, made an eagle-three on the par-five 17th to get to seven-under, but then he dropped a shot on the closing hole to slip back. Dingle repeated that formula exactly, and he finished on five-under for third.
Naidoo, Van Velzen and Jarvis, who turned 18 today, carded four-under, level-par and one-over respectively to finish in a share of fourth on four-under. Only Naidoo managed not to drop any shots on his homeward nine, picking up and eagle on the par-five 13th, and a pair of birdies on 10 and 11. Van Velzen dropped a shot on the par-four 16th, and although he regained that with a birdie of 17, he was too far back to stop Burke. And Jarvis finished double-bogey-bogey-birdie-birdie.
"I'm glad I got it done," said Burke. "It always feels good to win, and to get it done when things aren't going well is very encouraging."
Latest IGT Challenge Tour News