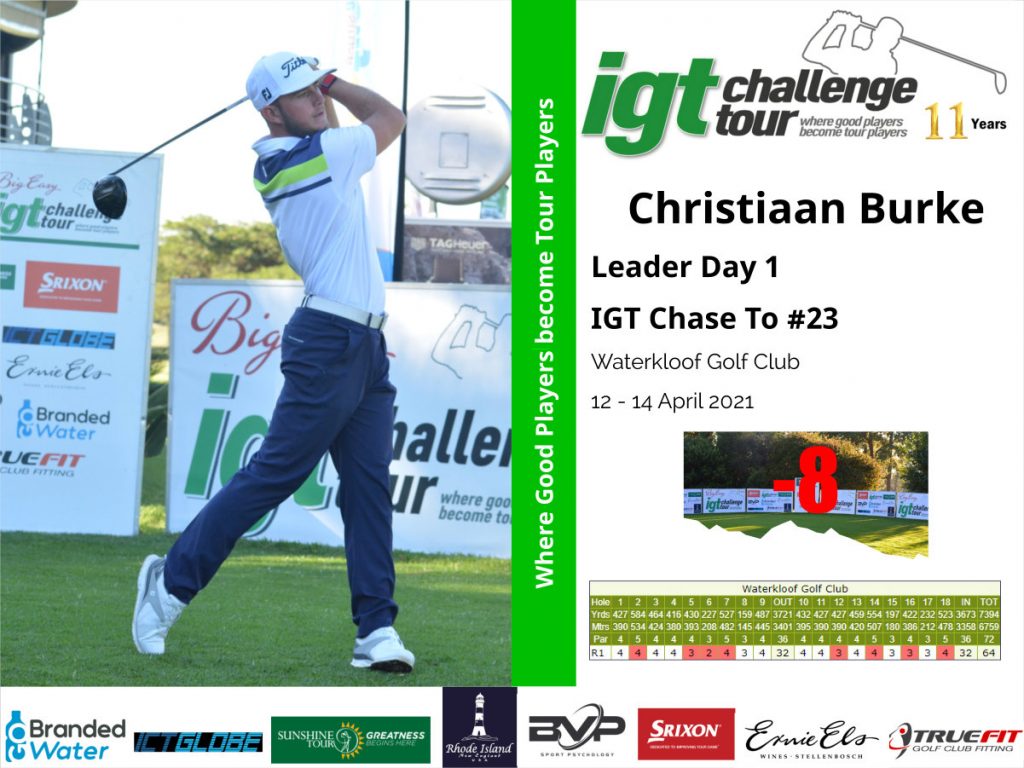 12th April 2021 | IGT Challenge Tour
Burke surges to Waterkloof lead
PRETORIA, April 12– The trend of GolfRSA's Elite squad members' dominance on the Big Easy IGT Tour this season continued this week as amateur Chistiaan Burke opened with a sublime 64 in this week's Chase To #23 at Waterkloof to lead by one shot in Pretoria.
The Potchefstroom golfer was bogey-free on the front stretch thanks to a birdie on the par-five second and a hat-trick of birdies from the fifth to the seventh hole as he turned in 32 and oozing confidence. It didn't take him long to get back into his groove coming home and birdies on the 12th, 14, 16 and 18 sealed a blemish-free round for a one-stroke lead after the first 18 holes.
"I'm feeling good about my golf and I'm happy with how my game is at this moment," said Burke, "I just told myself play for pars and birdies will come, and try not to make silly mistakes because those can cost you a tournament.
"The conditions were good in the first nine holes and then the last nine, the wind started to pick up. But I like the course layout and I've played some good golf on this course. So, I am happy with the way I started. It's great to have a good start in these tournaments, and hopefully, I can keep going in the next 36 holes."
He is but a single shot clear of the duo of Wynand Potgieter and Thabang Simon who seems to have rediscovered his form last week in Soweto. Both players carded 67s and while Thabang's scorecard might have been blemished by the bogey he made on the par-four ninth, Potgieter was flawless and the two of them head into the second round tied for second.
Quintin Wilsnach is solo fourth thanks to a six-under 66 opening round and just a shot further behind lies multiple-time IGT winner, Louis Albertse at five-under.
Amateurs Juan Diedericks, Reece Emanuel and Dean Wilken share the sixth spot with veteran Ryan Tipping who was also in fine form last week in Soweto, and at four-under-par, they make up the top 10 players after round one.
Latest IGT Challenge Tour News