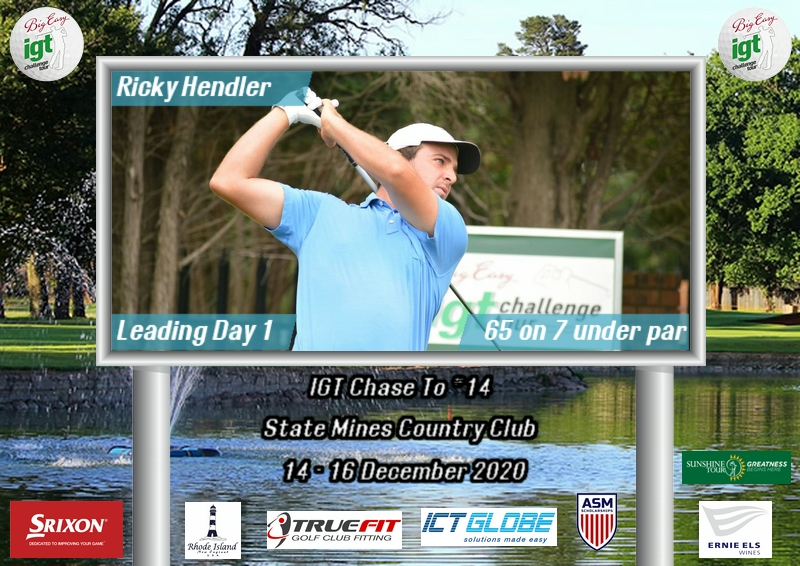 14th December 2020 | IGT Challenge Tour
Career-best hands Hendler early lead at State Mines
BRAKPAN, December 14 – Ricky Hendler weaved together a low seven-under 65 opening-round – the lowest score he has ever posted as a pro – of the IGT Tour Chase to #14 to lead by a single shot at State Mines Country Club.
"65 is my lowest round in competition to date," said Hendler who is in his rookie season, "and I've shot it twice now at State Mines. I birdied two and three which was nice to get off to a good start and then, I dropped a shot on four but I knew there would be a lot of opportunities out there, especially with the greens being softer than usual."
That bogey on four was followed by pars on the fifth and sixth holes before Hendler got going again. He birdied the par-five seventh, the eighth hole which is a par-three and then made an eagle before the turn for a five-under-par 31 front nine.
"I had just birdied seven and eight and I knew nine was a birdie hole if you hit the fairway with the driver which I did," said Hendler who plays out of Dainfern Country Club. "I had 105 meters to the flag and me and David (Toplis – his caddie and coach) decided a smooth punch flighted sand wedge would be perfect."
Hendler made further gains after picking up a birdie after the turn to make it four straight birdies as he surged for the summit of the leaderboard. He went on a run of five consecutive pars before making another birdie, this time on the par-three 16th, as he closed off a brilliant round of golf on Monday.
He finds himself in an unfamiliar territory atop that leaderboard as he has never held an opening-round lead in a professional golf tournament and will have to have his wits tomorrow when round two resumes. Piling the pressure on him will be a lot of dangerous competitors which include State Mines' own Casey Jarvis who has had a great year, along with experienced campaigners such as Makhetha Mazibuko.
"I've never had the first-round lead in a golf tournament before so I will find out what it's like," he admitted, "I'm just really excited that all the hard work is paying off and I'm going to give it all I have in the next two days and stay aggressive.
"I played State Mines for the first time at Q-school last year and ever since I have loved the course. It is one of the courses I always look forward to playing."
Placed second on the leaderboard after a round that yielded a 66, amateur Kian Rose will be happy with the day's work as he is just one shot off the lead.
The record-shattering Jarvis – who etched his name in the history books last week at the South African Open Championship when he joined Sir Bobby Locke and Neville Clarke as the only three players to win SA Amateur Championship, the SA Stroke Play Championship and the Freddie Tait Cup in a calendar year – is two strokes off the pace and knows State Mines well.
He will want to close off the year with a victory and will always fancy his chances, especially at a place where he has enjoyed success already.
Latest IGT Challenge Tour News