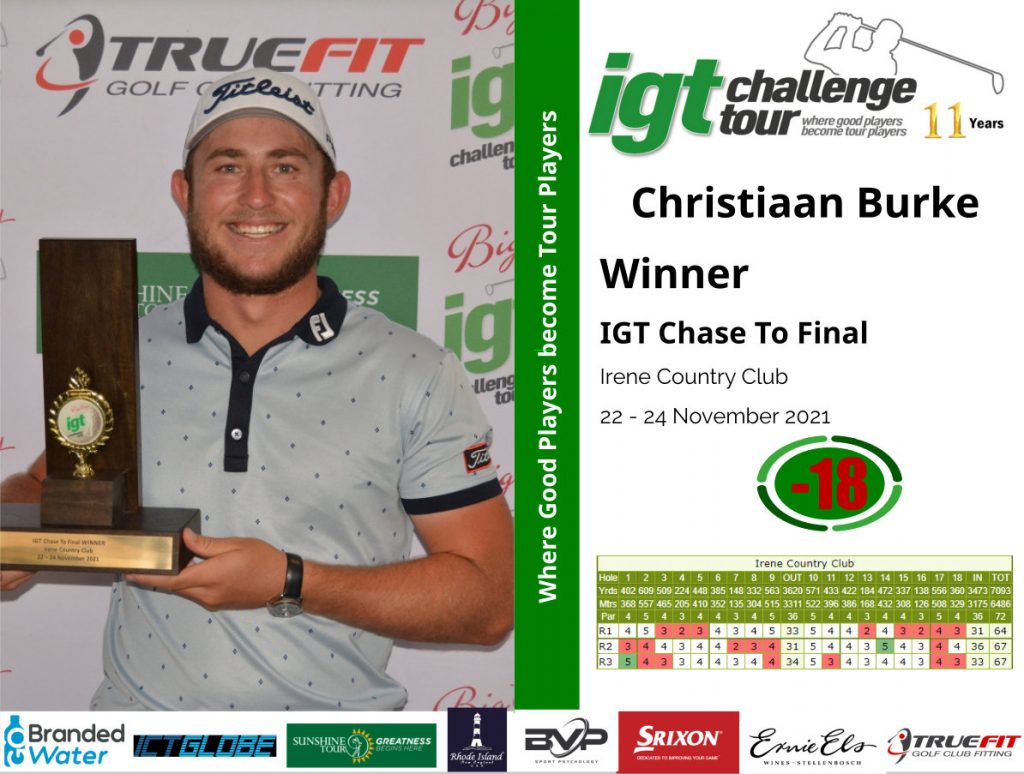 25th November 2021 | IGT Challenge Tour
Red-hot Burke powers to 2nd successive 67 to claim Irene win
Amateur Christiaan Burke bogeyed the first hole of the final round of the Big Easy IGT Tour Chase To the Final at Irene Country Club but bounced back spectacularly as his five-under-par 67 earned him a two-shot win over Kyle De Beer on Wednesday.
Both players entered the final round as co-leaders at 13-under-par after 36 holes of play, with Burke having slept on the lead from day one, after some brilliant golf at the wind-affected Irene course.
"The wind started to come up on our back nine that made it a bit tricky," said Burke after his win, "but it was still fun. I was just playing my own game and focusing on every shot and didn't really think about the other guys."
Burke shrugged off that birdie on the first hole with back-to-back birdies on the second and third holes. De Beer had made two pars and a bogey after three holes while Casey Jarvis was two-under after three holes. Without dropping a short in the next five holes, Burke navigated the Irene layout with discipline and poise until he made further gains with a birdie on the par-five ninth.
He made three more birdies on the back nine to total 18-under for the week and claim a one-stroke win over a very competitive De Beer who gave a solid account of himself.
"I knew they (De Beer and Casey Jarvis) needed to make birdies to catch me, so I just played for pars and let the birdies come by on their own," Burke added. "So, I just focused on every shot and tried not to make silly mistakes and just play well fairway to green. The course set-up was great today, with good flags, so it was fun.
"This win means a lot to me, especially going into next week; the SA Open because it has given me a lot of confidence. I'm really looking forward to it"
De Beer didn't play badly at all, and, had it not been for some beautiful golf by Burke, he probably would have walked away with this one. The bogey he made on the par-five second was his only drop of the round en route to a three-under 69. He made his gains on the ninth, 10th, 15th and 18th.
Jarvis was the biggest mover of the day, threatening to even topple Burke from the summit. The State Mines player's six-under-par 66 final round was clinical and blemish-free, catapulting him to solo third on the leaderboard at 14-under-par and two shots behind De Beer.
Ricky Hendler's 10-under-par total means he finishes fourth this week while Michael Kok solidified his spot in the top three players on this circuit with a fifth-place finish this week, on nine-under.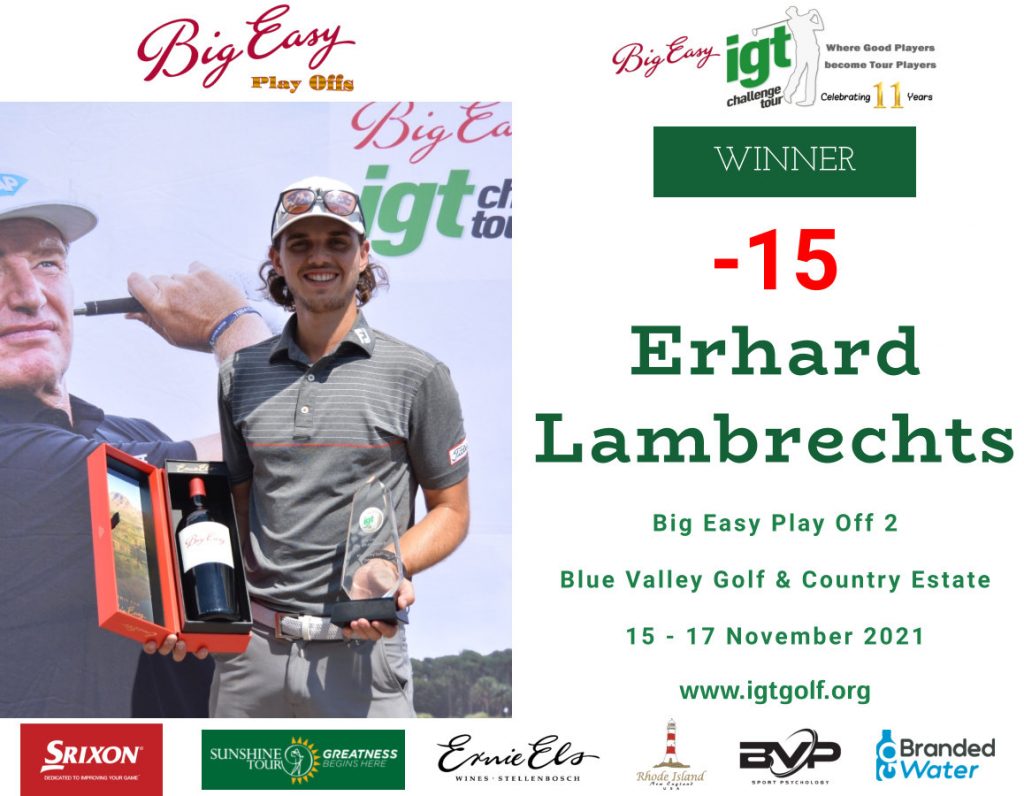 19th November 2021 | IGT Challenge Tour
Eagle on 18 gives Lambrechts the win at Blue Valley
Erhard Lambrechts made an eagle on the final hole on Wednesday to close out a victory in the Big Easy IGT Tour's Road to the Sunshine Tour Play Off #2 at Blue Valley Golf and Country Estate.
Lambrechts closed with a five-under-par 67 to reach 15-under-par for the 54-hole tournament, giving him a two-stroke margin over runner-up Vaughn Groenewald who closed with a two-under-par 70. A gaping four shots further back were James Kamte and Franklin Manchest on nine-under after rounds of 71 and 76 respectively.
"I made things difficult for myself at the end there," said Lambrechts, who made a bogey on the 17th, while Van Deventer made birdie in a two-shot swing which saw the pair level going into the final hole. "It was a three-putt bogey on 17, and that came in a week where I started off making everything I looked at in the first round.
"I had started striking the ball better after the first round to go with my putting, and I hit a good drive down the 18th, and hit my approach to about 15 feet. Vaughn also was on for two, and had a look at eagle, but he put his first putt about four feet past. That meant I knew I had to make mine if I wanted to avoid a play-off, and I managed to sink it."
Groenewald missed his return putt for birdie, but, at that stage, it was academic and affected only the margin by which Lambrechts won.
The victory saw him climb into second place on the Road to the Sunshine Tour Order of Merit with just the final play-off event scheduled for December 8 at Centurion Country Club. The top six players on the Order of Merit will earn their Sunshine Tour cards, and with the points up for grabs in that final event being boosted exponentially higher, none of the current top six can be entirely sure of retaining their places.
"I'm fairly sure I should win my card," said Lambrechts, "but with something like 30,000 points for the winner in the last tournament, I am pleased that my game is in such good shape and that I withstood the pressure in the final round today."
Ian Snyman still leads the Order of Merit, and Kyle McClatchie is down to third. McClatchie closed with a two-under 70 to go to five-under for the tournament and a share of 12th, and Snyman fought his way to a one-over 73, a total of four-under and a share of 16th.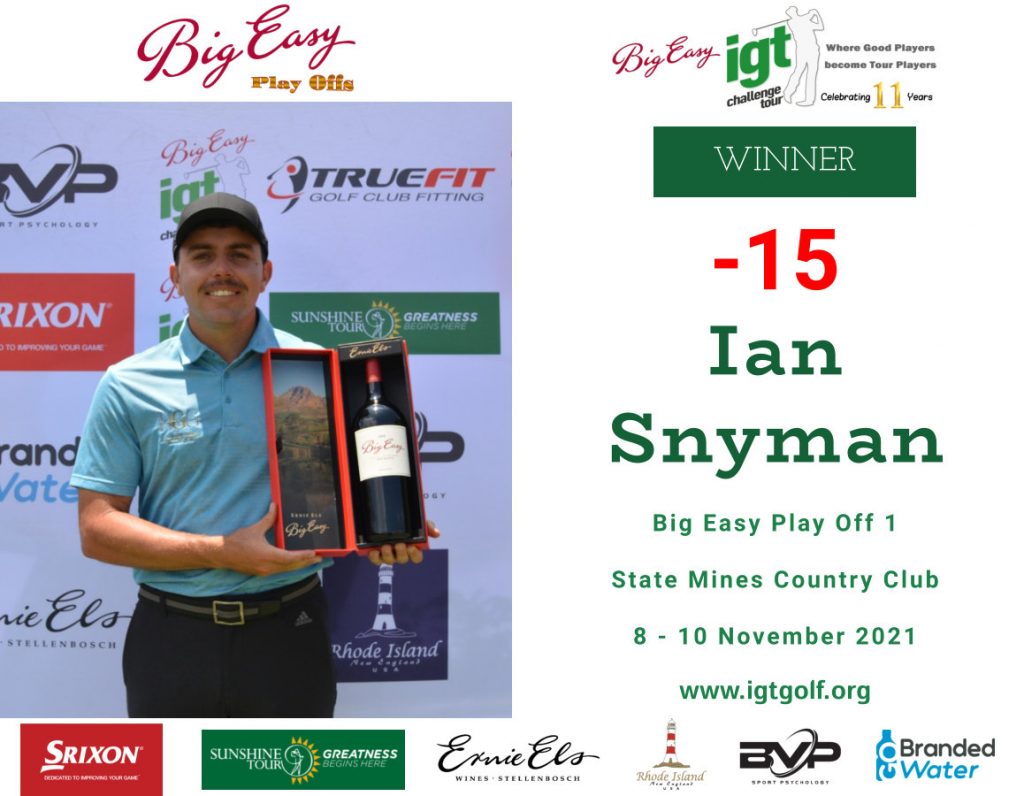 10th November 2021 | IGT Challenge Tour
Snyman charges to snatch play-off win at State Mines
It was a clash of the titans on Wednesday in the final round of the Big Easy IGT Tour's Road to the Sunshine Tour Play Off #1 at State Mines as Ian Snyman came from behind to win the title in a play-off.
It was the fifth victory of the year for Snyman – he also won the Pro-Am at Riviera-on-Vaal in September – as he carded a bogey-free six-under-par 66 to haul in Kyle McClatchie, who has won five times himself. The pair finished on 15-under-par after McClatchie closed with a bogey-free 69 which was not enough to keep him in sole possession of the lead he held from the first round.
"I knew Kyle wasn't going to make any mistakes, so I had to charge hard," said Snyman, who drew level with McClatchie for the first time with a birdie on the 10th in regulation. McClatchie regained the lead with a birdie on 11, and, when he was unable to birdie the final par-five, the 15th, Snyman drew level again with a birdie there.
"We both missed putts on the 18th in regulation play," said Snyman, "but then on the first extra hole, my putter, which had got me into a position to win through the final two days, co-operated again, and I drained a 15-metre putt from the middle of the green for birdie, while Kyle had two metres left for his par after getting out of a greenside bunker."
The pair has now pulled clear at the top of the Road to the Sunshine Tour Order of Merit, with Snyman starting to build a lead that is substantial but not unassailable with the number of points left in the remaining two play-off events. So much so that he will dash out of the country to play in his first Asian Tour event, the Blue Canyon Phuket Championship, on November 25, and then race back in time to tee off in the final play-off event at Centurion Country Club on December 8.
"I'm so excited to be playing my first Asian Tour event after waiting for so long through the COVID-19 disruptions," said Snyman, "but I'm also very keen to finish top of the Order of Merit and secure my Sunshine Tour card as well." The top six players after the final event will win their playing privileges.
Currently in third on that list is Ryan van Velzen, who finished fourth at State Mines on nine-under, one stroke behind Delano Kotze who is in 35th on the Order of Merit. Erhard Lambrechts is in fourth, and he finished in a share of fifth at State Mines with Luke Trocado, Ryan Tipping and Herman Loubser. Loubser is making a determined charge towards the top six on the Order of Merit, and is in eighth after this week's tournament.
For now, Snyman is basking in another win, and is anticipating yet another challenge from McClatchie.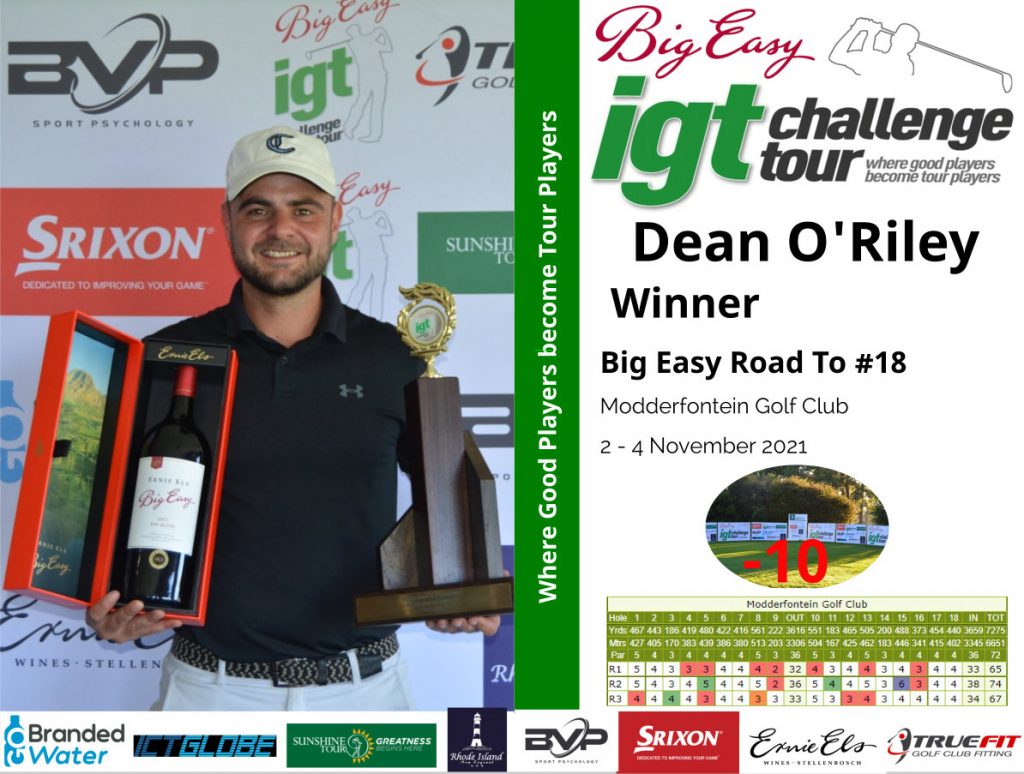 | IGT Challenge Tour
O'Riley grabs Road to Sunshine Tour win at Modderfontein
Dean O'Riley overcame an early bogey on Thursday and then cruised his way to a one-shot victory with a closing five-under 67 in the Big Easy IGT Challenge Tour's Road to the Sunshine Tour #18 at Modderfontein Golf Club.
Although he started with a birdie on the opening hole, O'Riley dropped a shot on the third in his quest for victory after he slipped off the pace in the second round with a two-over 74. But he stayed resolute under the pressure, and two more birdies on the front nine, together with two on the homeward nine, saw him home ahead of Carlo Heunis and second-round leader Gregory Mackay.
The victory catapulted the former Sunshine Tour professional and former golf director at Vaal de Grace into 31st on the Road to the Sunshine Tour Order of Merit, a jump of 38 places, and his form sets him up nicely ahead of the three-tournament play-off series. When the play-offs are done and dusted, the top six will earn their Sunshine Tour cards.
O'Riley's 67 was the joint low round of the day, matched by Ian Snyman who came home in a share of fourth place on eight-under for the tournament, two shots off the lead. That kept Snyman in top spot on the Order of Merit as he seeks to add Sunshine Tour status to his Asian Tour card. Snyman shared fourth with Kyle McClatchie, who continues his good form and is in third place on the Order of Merit.
The other four players currently in the top six – Ryan van Velzen, Erhard Lambrechts, Therion Nel and Vaughn van Deventer – all finished inside the top 20. Mackay climbed into seventh place with his runner-up finish.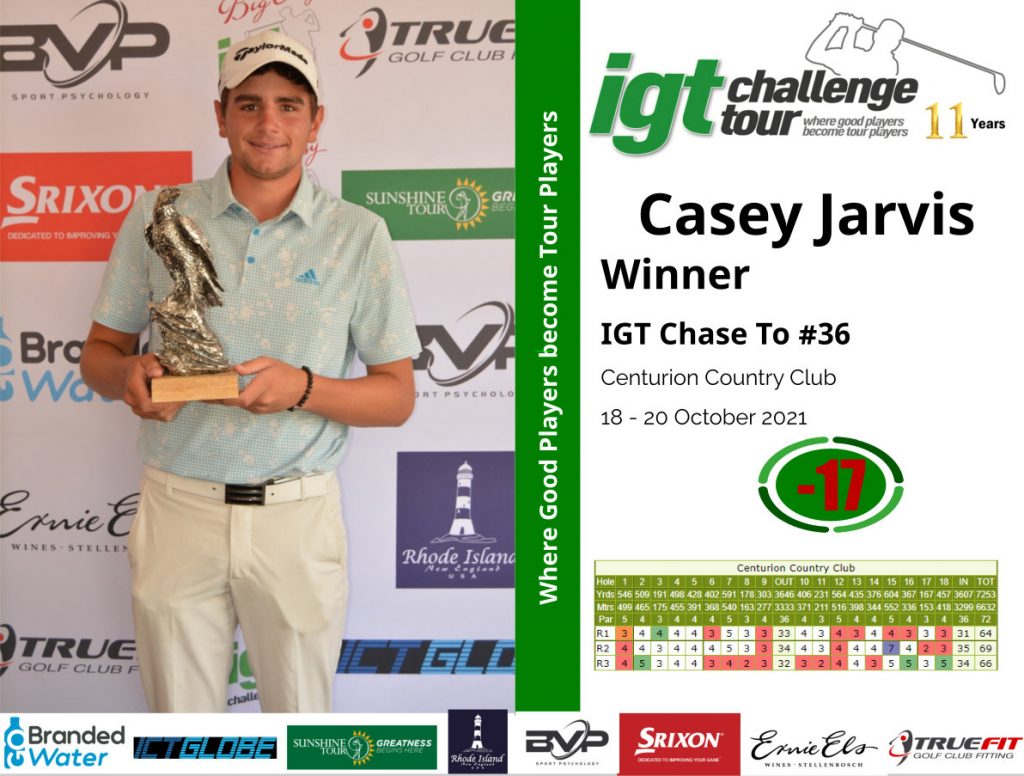 31st October 2021 | IGT Challenge Tour
Birdie binge sees Jarvis home at Centurion
Casey Jarvis went on a birdie binge around the turn of his final round on Wednesday of the Big Easy IGT Challenge Tour's Chase to the Sunshine Tour #36 at Centurion Country Club to set up a one-stroke victory in the 54-hole tournament.
Jarvis, who won the Freddie Tait Trophy for the leading amateur at the South African Open Championship last December, made seven birdies in a row from the sixth to the 12th to pull clear of Kyle McClatchie with whom he shared the lead after 36 holes. That gave him the luxury of being able to survive bogeys on 16 and 18, and his 17-under-par total after his six-under 66 closing effort was enough to hold off McClatchie and his 67.
Before Jarvis went on his birdie blitz, he had made a birdie on the first and a bogey on the second. He followed that start with three pars in a row, and then he set about his thrilling burst. He turned in 32, already one ahead of McClatchie, and he was two clear after the final three birdies in his run up to the 12th. McClatchie cut the gap to one with a birdie on 13 while Jarvis made par, but then Jarvis pushed it to three when he birdied 14 while McClatchie made bogey. Another bogey on 15 for the pursuer meant Jarvis could take his foot off the pedal, and, although McClatchie made a birdie on 17 between Jarvis' closing bogeys, it was too little too late.
It was Jarvis' fourth title since August last year, to go with an astonishing 13 other top-10s.
Jarvis and McClatchie opened a big gap on the rest of the field, with amateur Jordan Duminy and Michael Kok finishing in a share of third on eight-under-par. Duminy closed with a 65 and Kok had a level-par 72. Keelan van Wyk was in fifth on six-under after closing with a one-under 71.
McClatchie stays on top of the Chase to the Sunshine Tour points list, with Kok in second, but Jarvis climbs into third. At the end of the season, the top three players will have earned their Sunshine Tour cards.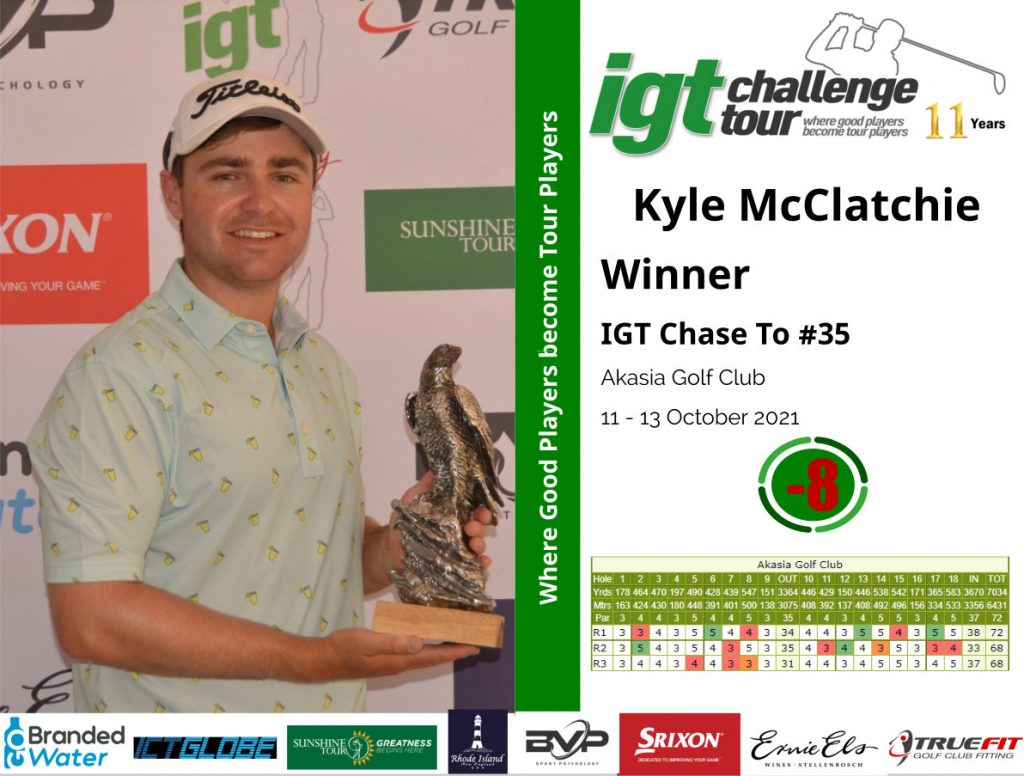 16th October 2021 | IGT Challenge Tour
McClatchie wins again with victory at Akasia
Kyle McClatchie eagled the eighth hole on Wednesday which put the seal on his victory in the Big Easy IGT Challenge Tour's Chase to the Sunshine Tour #35 at Akasia Golf Club.
McClatchie carded a four-under-par 68 to go to eight-under for the tournament. That gave him a one-stroke victory over Herman Loubser, Ryan Tipping and Franklin Manchest. Sentanio Minnie and Michael Kok were in a share of fifth place, one shot further back on four-under for the 54-hole tournament.
"I chipped it in from just short of the green," said McClatchie of the eagle which took him to eight-under and the lead which he never relinquished. "It was a good thing, because I wasn't putting too well, so it took the putter out of the equation."
He had chances to go further ahead on his homeward nine, but he was unable to make any birdies. "It was difficult with the putter no co-operating," McClatchie said, "and I was disappointed to not make birdies on the three par-fives on the second nine. But I was pleased to get the job done with all those guys chasing me."
It was McClatchie's fourth victory of the year, and his fifth of the season since he won his first back in October last year at State Mines. It's also his second inside the last month after he won at ERPM on September 13. "It's good to have all the hard work paying off towards the end of the season," he said. "It almost feels as if it counts more, and, of course, having form ahead of the Chase to the Sunshine Tour Final at Irene on November 22 is very valuable."
McClatchie heads the rankings on the Chase to the Sunshine Tour, ahead of Kok in second and Leon Vorster in third. The top three players after the final will earn their Sunshine Tour cards.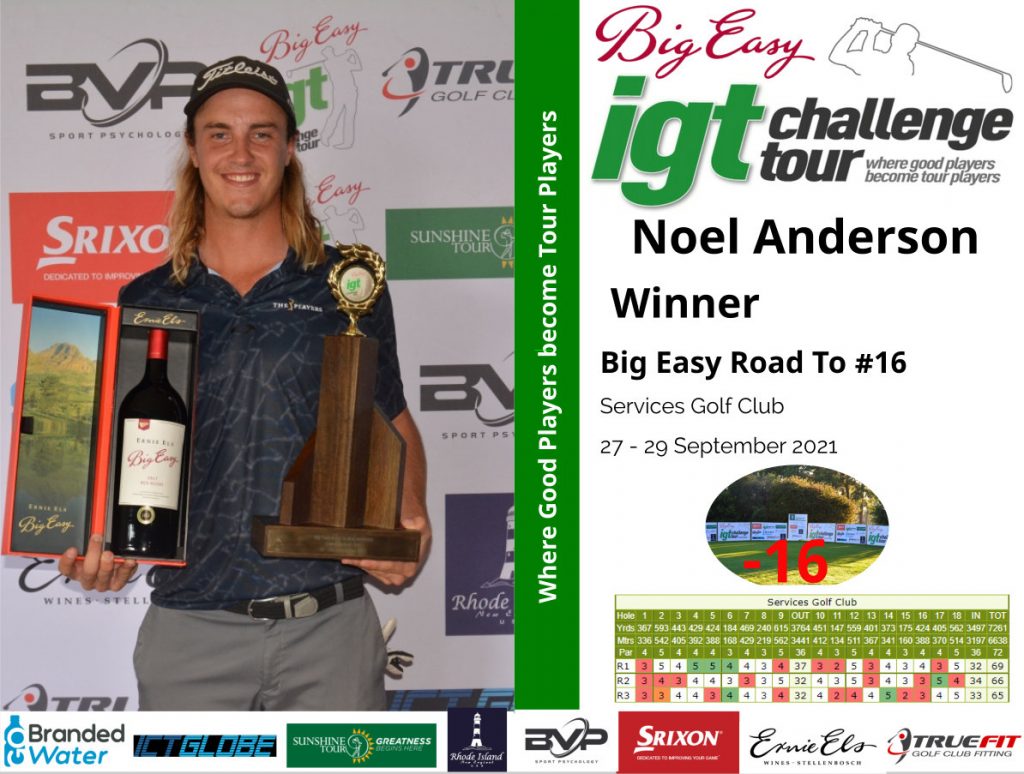 3rd October 2021 | IGT Challenge Tour
Anderson blows by Services field with closing 65 for victory
Amateur Noel Anderson carded a closing round of seven-under-par 65 on Wednesday to run out a two-stroke winner in the Big Easy IGT Challenge Tour's Road to the Sunshine Tour #15 at Services Golf Club.
Anderson, who spent four years at a Division II college in the United States, Flagler in Florida, but only resumed competitive golf with any kind of commitment about six months ago, made an eagle, seven birdies and two bogeys to head off the challenge of Therion Nel, Vaughn van Deventer and overnight leader Erhard Lambrechts by two shots.
"I was actually quite calm about everything, considering I've never been in this kind of position before," said Anderson. "I mean, my hands weren't shaking, or anything. I really pretty much kept concentrating on what I was doing, and then, when I got to the last hole, I saw that I had a two-shot lead, and that made me feel pretty good."
He got off to a flyer in the final round, with a birdie on the first and an eagle on the second. He followed his next gain for the day with his first bogey on the sixth, but he was back on track with another birdie on nine to turn in four-under. Two more birdie-putts dropped on 11 and 12. A bogey on 14 could have made him nervous, but, instead, he followed it with birdies on 15 and 16 to get two shots ahead, which was where he stayed.
"I put a new putter in play," said Anderson, "and that made a big difference. I've missed quite a few cuts recently, and it's only by grinding and grinding and grinding that I've been able to put myself in a position when I can think of trying to win my Sunshine Tour card."
That's his immediate goal, and, with two more tournaments in the series, he's heading closer to the top 30 who will contest the three-tournament play-off series. The top six players from their will win the Sunshine Tour playing privileges.
He brings a maturity to this chase, and an acceptance that there is no substitute for hard work, and then trying and trying again. "This win is great," he said. "It puts me in a better position to try and win my card, and it has shown me that I'm able to handle the pressure."
He can afford to feel that way. With the quality of the opposition he left in his wake – the three runners-up, as well as the likes of Herman Loubser in sixth and Ian Snyman in ninth – he can be sure he's doing something right.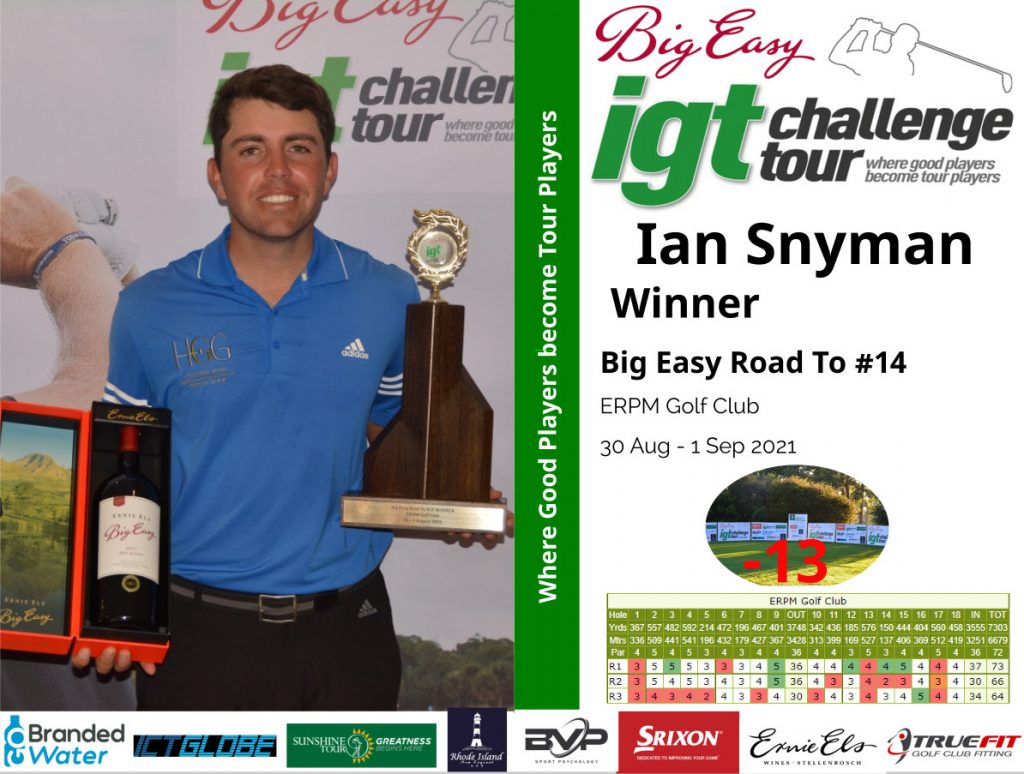 1st September 2021 | IGT Challenge Tour
Snyman's opening 9 buries opposition on way to ERPM victory
Ian Snyman found that rare zone for any golfer on Wednesday as he blew away the opposition with a final round of eight-under-par 64 to win the Big Easy IGT Challenge Tour's Road to the Sunshine Tour #14 by three shots.
He started the final round two shots off the lead, and he gave notice of his intentions with five consecutive birdies to start the day. Another before the turn which he reached in six-under 30 just about sealed the deal, and two more on 10 and 13 put him almost out of sight. He bogeyed 16, and regained that shot on 17 as he left the fast-finishing Zabastian de Jager too far off the be any better than second.
"It was a lot of fun, that front nine," said Snyman. "Everything just worked. I couldn't miss the fairways, I was judging approaches to the very hard greens perfectly, and the ball was rolling into the middle of the cup off my putter.
"In fact, my putter picked up where I left off in the second round. I closed that out yesterday with a 30, so today felt like more of the same. In the end, I just made sure I went through all the motions properly, and made smart decisions all the way around.
"When I made the birdie on 10, I felt that I had given myself a big enough cushion, and I kept reminding myself to just keep playing smart after that."
Hi 64 was just too much for anyone to chase down. De Jager came closest with his closing nine of six-under 30 for a 66, but it was simply not enough. Thanda Mavundla also chased valiantly, but his 65 left him five shots back in a share of third with Kyle McClatchie and Ryan van Velzen. McClatchie signed for a 69 and Van Velzen carded a five-under 67.
The man who led the tournament for the first two rounds, Makhetha Mazibuko, had to be satisfied with a closing level-par 72 and a share of sixth with Keelan van Wyk who shot a 69.
For Snyman, it's now a question of keeping on playing smart golf in a search for consistency as he chases one of six Sunshine Tour cards that are up for grabs for players in the Road to the Sunshine Tour Series, which has four more regular season events before the play-offs which begin on November 8 and will be held over three tournaments in four weeks.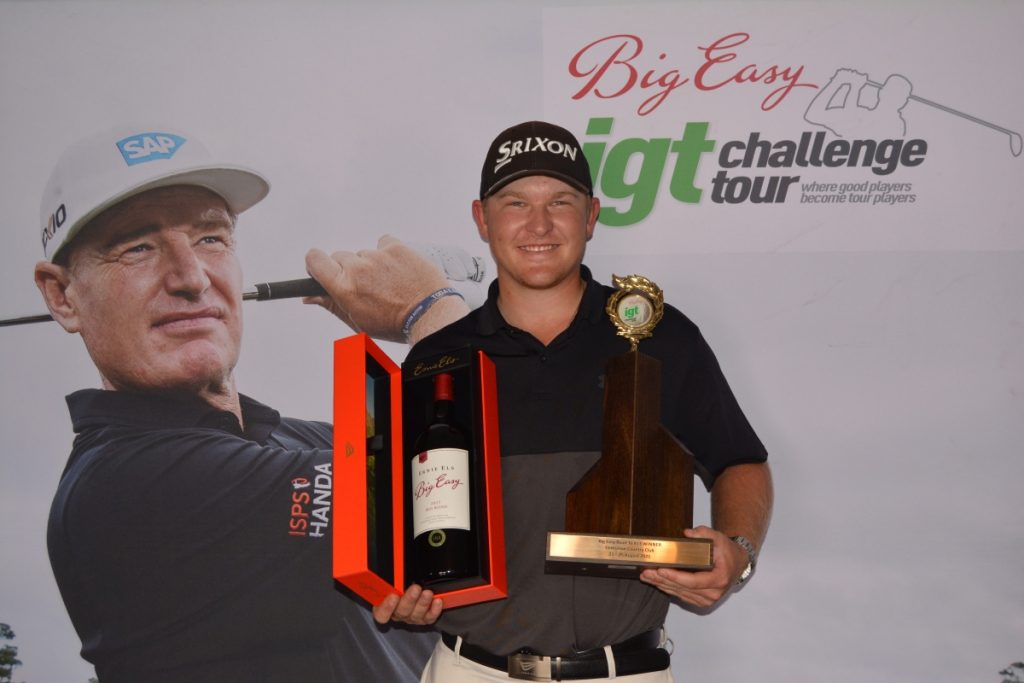 25th August 2021 | IGT Challenge Tour
Pickering eagle sets him up for comfortable Big Easy win at Centurion
Slade Pickering made an eagle two on the par-four second hole at Centurion Country Club on Wednesday as he cruised his way to a five-under 67 and a two-shot victory in the Big Easy IGT Challenge Tour's Road to the Sunshine Tour #13.
Having opened with a birdie on the first, the eagle gave him the peace of mind that he had the weapons in his armoury to hold off any challenge, and even two bogeys in his opening nine did not put a hold on his march to the win.
"I hit my drive really well down the fairway on two," said Pickering of his eagle. "I had 173 in, and I took my nine-iron to try and keep from going too long. I absolutely flushed it, and it landed about three metres from the hole, hopped twice and trickled in."
With none of the players who were close to him after the second round making any substantial move, he was able to enjoy the rest of the round. "I don't know what happened with the bogey on three," he said, "and, when I dropped that shot on the par-five seventh, I just flushed a four-iron right over the green into the hazard.
"But I made birdie on nine, and I felt things were back on track again. The birdie on 12 felt as if it gave me more space, and, when I looked at a leaderboard on the 15th, I saw I was tied for the lead with Therion Nel. But I knew he was a few holes ahead of me, and so I just tied to make sure I made two birdies in the final two holes to make absolutely sure. And they came on 16 and 17.
"So, by the time I got to 18, I knew exactly what I had to do – hit the fairway and green, two-putt and walk off."
Nel finished up with a 67 too, but it left him on 12-under for the tournament, two back. Jason Froneman carded a closing 69 to take third on 11-under, while Kyle McClatchie and Ian Snyman shared fourth on 10-under after rounds of 67 and 68 respectively.
It was the 22-year-old Pickering's second win on the Road to the Sunshine Tour series, and he also has one on the Chase to the Sunshine Tour series. "I'm playing in the SA Inter-Provincial tournament next month," he said, "and after that, I want to turn professional."
He will bring good experience with him to the paid ranks.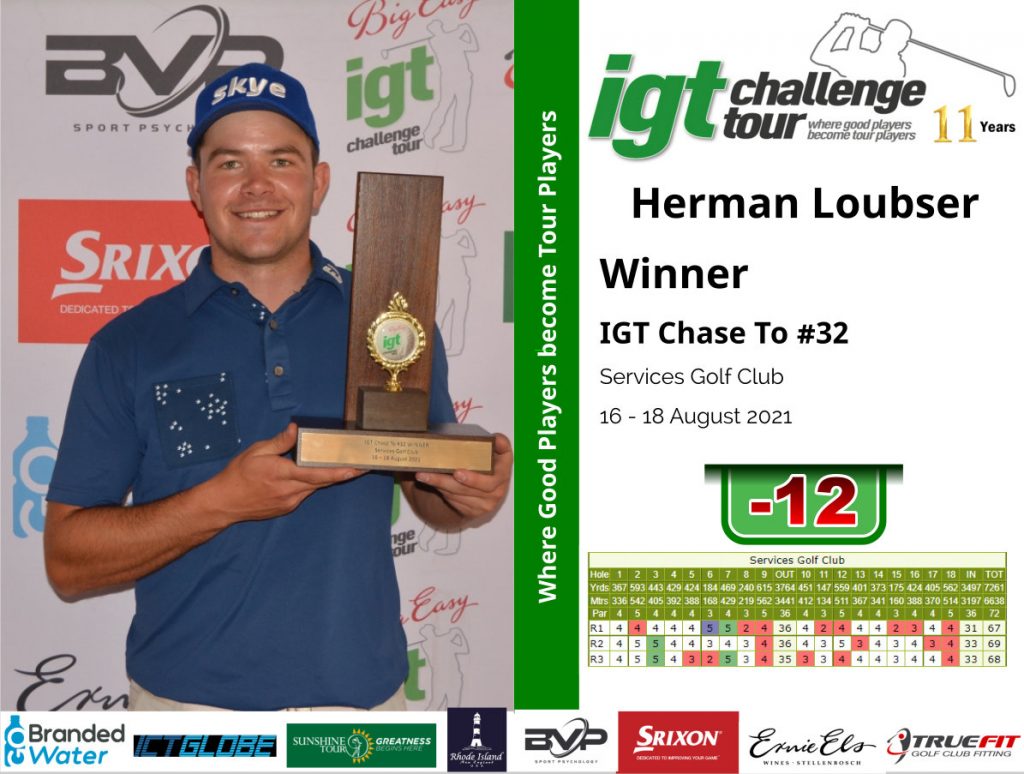 23rd August 2021 | IGT Challenge Tour
Loubser holds off strong challenge to win at Services
Herman Loubser held off a determined challenge on Wednesday to take a two-shot victory in the Big Easy IGT Challenge Tour's Chase to the Sunshine Tour #32 at Services Golf Club for his second title of the season.
With four holes to play, Leon Vorster, with whom Loubser had shared the 36-hole lead, had drawn level with Loubser again after a run of three successive birdies had put the pair on 11-under-par for the tournament.
But two dropped shots in a row on 15 and 16 put a brake on the challenge Vorster was bringing, and Loubser was able to coast home, even though an eagle on 18 from Vorster might have added some pressure to the situation. Vorster didn't make the 30-footer for eagle, two-putting for birdie instead. Loubser responded with a birdie of his own after missing a 10-footer for eagle on the closing hole, and the two-shot margin was maintained.
"It got a bit tight," conceded Loubser as he looked back on the homeward nine. "I actually missed a shirt birdie putt on 11 when he made bogey, and that could have taken quite a bit of pressure off me.
"But the reality is Leon played really, really well, and when he made those three birdies in a row, I certainly was getting a bit tense. Then he hit his tee shot in the bunker on the par-three 15th, and couldn't get up and down for par, and the wind had no affect on his approach to 16 and he hit it over the back of the green to make bogey there.
"That helped me to make par all the way in, and, even though he was full of eagles yesterday, I was pretty comfortable when he hit his approach to 30 feet on the par-five 18th, and I hit mine to 10. If that has been reversed, then I would have felt a little less comfortable."
Loubser, who won the Sunshine Tour's Qualifying School back in 2017, has lost his card and is in the process of strengthening his game in an attempt to regain his playing privileges. He won on the Road to the Sunshine Tour series back in November 2020, and this win on the Chase to the Sunshine Tour series gives him two possible roads back onto the country's premier professional tour.
"I've done a lot of work on my swing," said Loubser, "and, frankly, I just wanted to feel I was playing well under pressure today. The win was a lovely bonus."
Latest IGT Challenge Tour News