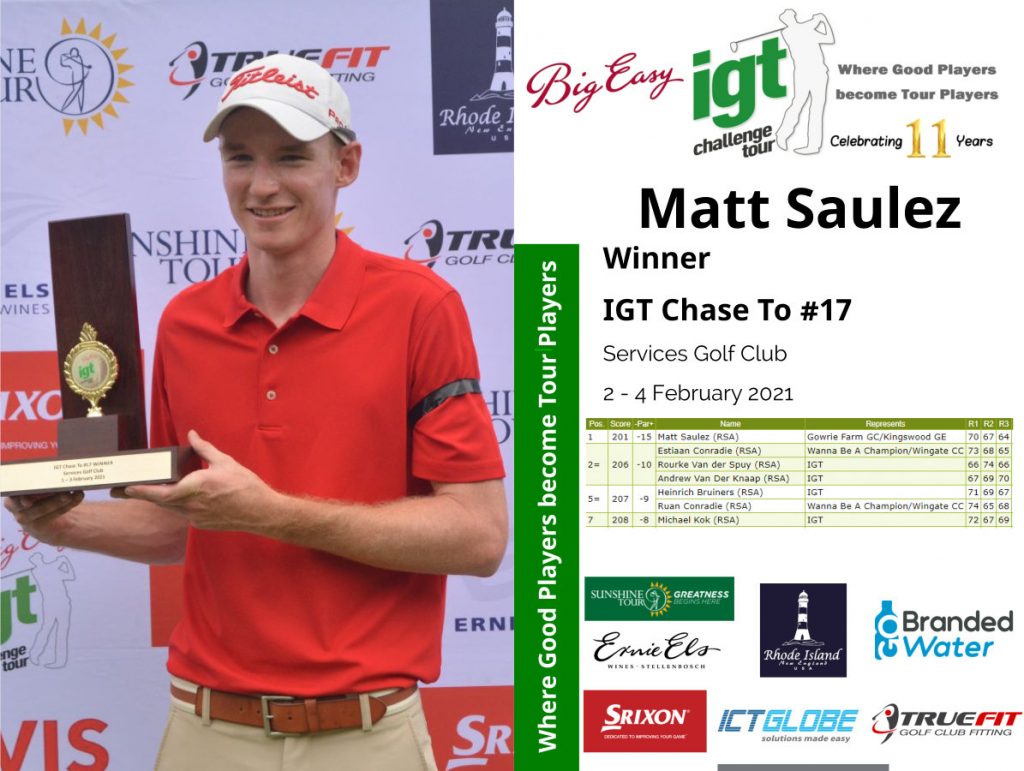 5th February 2021 | IGT Challenge Tour
Clinical Saulez goes low for maiden IGT Tour title
ZWARTKOP, February 4 – Matt Saulez made light work of a strong IGT Tour field on Thursday as he romped to a bogey-free 64 which earned him his maiden IGT Tour title on a 15-under-par 201 total, and five shots clear, on Thursday at Services Country Club.
The 23-year-old Saulez was a shot back of Andrew Van Der Knaap's lead coming into the final round, following a strong showing on day two which yielded a five-under-par 67.
"I always believed that I can shoot very low rounds," said Saulez after his emphatic win, "It was a really tough field and a bogey-free round is always special, more so when it's in the final round and it wins you a tournament. The leaderboard was quite congested this week but my game felt good from start to finish."
With Van Der Knaap looking unsettled in the first couple of holes in the final round and Michael Kok not getting into any rhythm, Saulez could sense his opportunity and would gladly take it.
A blemish-free four-under 32 highlighted his front nine, thanks to birdies on both the par-five second and ninth holes, as well as further gains on four and six. The back nine was just as emphatic as birdies on 12 and 14 were soon followed by a brace on 17 and 18 for his first win on Tour.
"Everything was on song this week," said Saulez who calls Durban Country Club, Kingswood Golf Estate and the Gowrie Farm and Golf Estate his homes. "The driver probably stood out today because I drove the ball really well. A come-from-behind win is really nice. I didn't feel like I needed to do anything extra special because I felt like my game is in a really good shape right now.
"We had a good, strong field this week and a win like this tells you that you're on the right path and you're doing the right things. That is what we all play for; to win. This win proves to me that I can get to where I want to get to in this game."
Sunshine Tour campaigners Estiaan Conradie, Rourke Van Der Spuy and Andrew Knaap share the runners-up spot at 10-under while Conradie's brother Ruan and Heinrich Bruiners tied fifth at nine-under this week.
Latest IGT Challenge Tour News