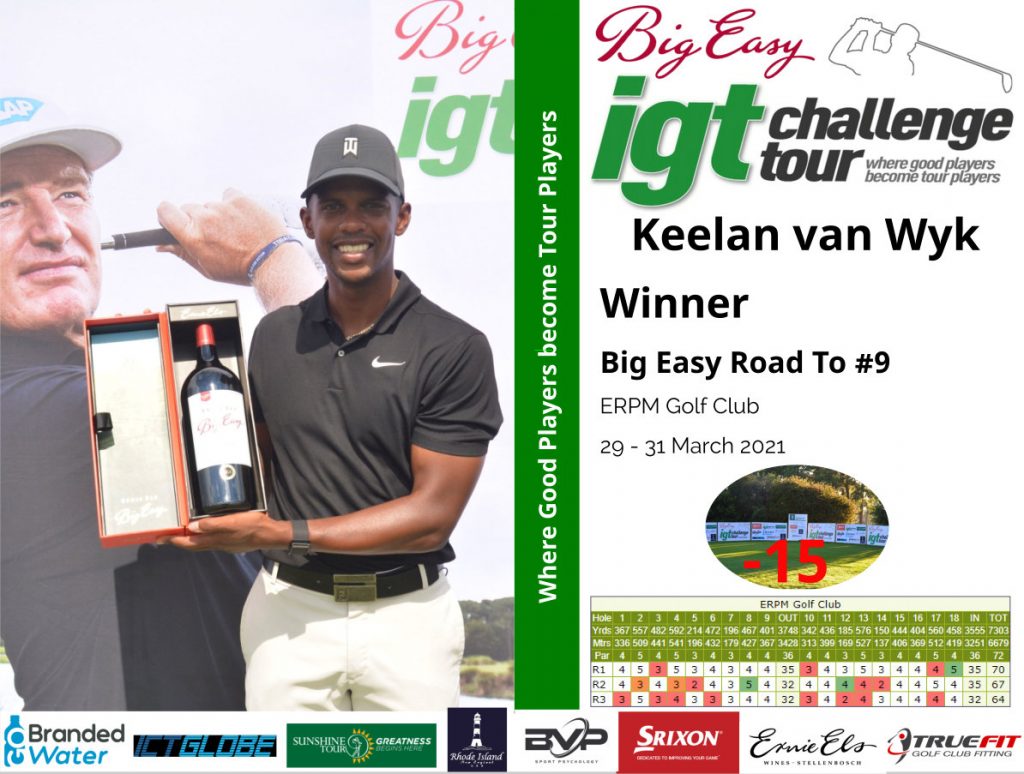 31st March 2021 | IGT Challenge Tour
Clinical Van Wyk claims second win in three starts
PRETORIA, March 31 – Keelan Van Wyk produced a clinical performance in the final round of the Big Easy Road To #9 at ERPM Golf Club and the result was a bogey-free 64 and a two-shot victory over last week's winner Ryan Van Velzen.
"I could feel that my confidence levels were up this week and that is purely due to the last win," said Van Wyk in Pretoria. "I did not attach a score to my game plan. I just committed to giving myself chances. In the end, I was able to convert 8 putts and post a low one."
Van Wyk entered the final round trailing Ryan Tipping by two shots and knew he had some work to do if he was to pull off another win. He was four-under through the first six holes and he was happy not to take any risks for the remainder of that set.
Coming home, Van Wyk produced a similar score and with Tipping falling away, it was Van Velzen who was the greatest threat.
"I was focused on keeping mistakes off the card," Van Wyk added. "I did make two mistakes and had to hit good recovery shots to save par. Other than that, I was executing the plan well. I've worked hard on my putting but more on my swing. I feel like I'm able to hit more consistent shots and my bad shots are not so erratic anymore."
Despite shooting the lowest score of the round, a solid 63 which took his total to 13-under, Van Velzen couldn't make it back-to-back victories and will settle for a runner-up position this week. Gregory McKay and Hayden Griffiths finished in a share of third at 11-under while Ian Snyman and Stellenbosch Golf Club's Erhard Lambrechts tied fifth at 10-under-par for the week.
The next event is a Big Easy IGT Tour Chase To #22 and it will be held at the historic Soweto Country Club next week.
Latest IGT Challenge Tour News