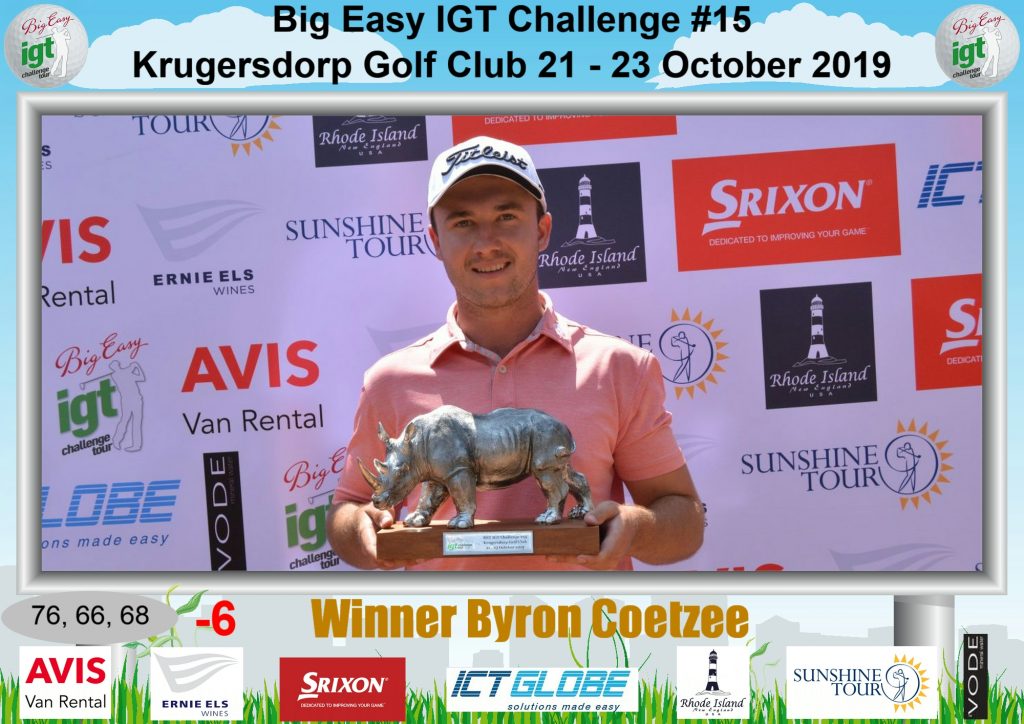 23rd October 2019 | IGT Challenge Tour
Coetzee clinches maiden Big Easy IGT title in Krugersdorp
Coetzee clinches maiden Big Easy IGT title in Krugersdorp
(PHOTO – Byron Coetzee; credit CJ du Plooy)
KRUGERSDORP, 23 October 2019 – Byron Coetzee holed a monster birdie putt on the 18th hole to overhaul fellow KwaZulu-Natal rookie Matt Saulez and lift his first professional title on the Big Easy IGT Challenge Tour on Wednesday.
In a thrilling back nine battle at Krugersdorp Golf Club, Coetzee and Saulez emerged as the frontrunners and the pair were tied for the lead on five-under playing the last hole in the 14th event.
The 20-year-old Kloof golfer watched from the 18th tee box as Saulez closed with a par for a final round 68 and the clubhouse lead.
"I knew I needed a birdie to win, but the adrenaline was pumping," the exited Coetzee recalled. "I wanted to make sure I hit the fairway, so I went with a 6-iron and hit straight down the middle. I had 118 metres to the pin and I took lob-wedge, but I didn't strike it fully and the ball finished on the edge of the green. As I stood over that 35-foot putt, I just trusted my line and pace.
"That was the longest putt I've ever made and the most incredible feeling when it dropped. I'm really over the moon with this win. My family and my coach Shaun Coetzee have been very supportive on this journey in the pro ranks and it is the best feeling in the world to pay back their support this way."
Coetzee shot 76 and Saulez 75 in the windy conditions on day one, but a six-under-par 66 in the second round boosted Coetzee to two-under and just two off the pace. Saulez was a further stroke back after carding 68 on day two.
Overnight leader Jason Smith began a backward spiral on the second hole and the trio tied for second – Leon Vorster, Desne van den Bergh and Eric Nel – treaded water as Saulez burst from the blocks with four birdies on the bounce.
Two further gains at seven and nine propelled the Durban Country Club golfer into the lead on seven-under, while Coetzee slowly closed the gap with birdies on four and seven.
"Unfortunately my tee shot on the eighth ran through the fairway and ended up in a trees. I had to play a left-handed shot out down the fairway. I hit a decent chip, but could hole the putt to save par, and I turned four shots behind Matt," he said.
While Saulez mixed three bogeys with a lone birdie on the back nine, Coetzee went four-under with a birdie on the par five 12th and the momentum shifted in his favour with his fourth gain on 15.
"I hit the best drive of the week down the middle, my second to 15 feet and holed a downhill slider for birdie," Coetzee said. "Matt dropped shots on 13 and 16, and that birdie got me a share of the lead.
"I am really going to enjoy this win because it's massive for me. I've climbed to 19th in the Road to Sunshine Tour rankings, so I'm in the top 30 and that gets me a start in the Tour Championship next season and I'm so much closer to the top six.
"I'm still about R14 000 short of the top six and an automatic card for the Sunshine Tour, but this is my third pay-day in five starts. I'm going to keep building on this form and try to close that gap over the last couple of tournament."
The runner-up finish boosted Saulez to 16th in the standings. Gideon van der Vyfer returned a 69 to take third on four-under and Reinhardt Blaauw's 69 earned him fourth on his own on three-under.
Dwayne Basson hung on to second place on the Transformation Road to Sunshine Tour Order of Merit with a tie for 21st, and remains safe in the running for a Sunshine Tour card next season.
Final Result
All competitors RSA unless otherwise specified and amateurs indicated as AMA.
210 – Byron Coetzee 76 66 68
211 – Matt Saulez 75 68 68
212 – Gideon van der Vyver 72 71 69
213 – Reinhardt Blaauw 74 70 69
214 – Keagan Thomas AMA 72 74 68, Jason Rossiter 71 74 69, Neal Woernhard (SUI) 73 71 70, Calvin Caldeira 72 70 72, Eric Nel 71 70 73
215 – Quintin Wilsnach 76 69 70, Bryce Myburgh 75 68 72, Hennie O'Kennedy 72 71 72, Zabastian de Jager 70 73 72
216 – Oswin Schlenkrich AMA 78 70 68, Jeremy Sharpe 72 72 72, Jeff Inglis (ENG) 74 69 73, Leon Vorster 71 70 75, Desne van den Bergh 71 70 75, Jason Smith 68 72 76
217 – Luan Boshoff 74 73 70
218 – Jason Froneman 73 74 71, Thato Mazibuko 75 72 71, Leon van der Walt AMA 78 69 71, Liam Labuschagne 77 69 72, Dwayne Basson 76 68 74
219 – Donovan Pearse 72 75 72
220 – Michael Kok 73 73 74, Keanu Pestana 76 70 74
221 – Henning du Plooy 76 72 73, Greg Bentley (ZIM) 75 72 74, Simon du Plooy AMA 76 69 76, Michael Pfeifer 71 73 77
222 – John McClean (NIR) 74 74 74, Xander Basson AMA 76 72 74, Jason Roets 75 72 75
223 – Marthin Scheepers 72 76 75
224 – Gary Daoust (BEL) 77 71 76, Kieron van Wyk AMA 72 73 79
Written and released by Lali Stander on behalf of the Big Easy IGT Challenge Tour.
Latest IGT Challenge Tour News