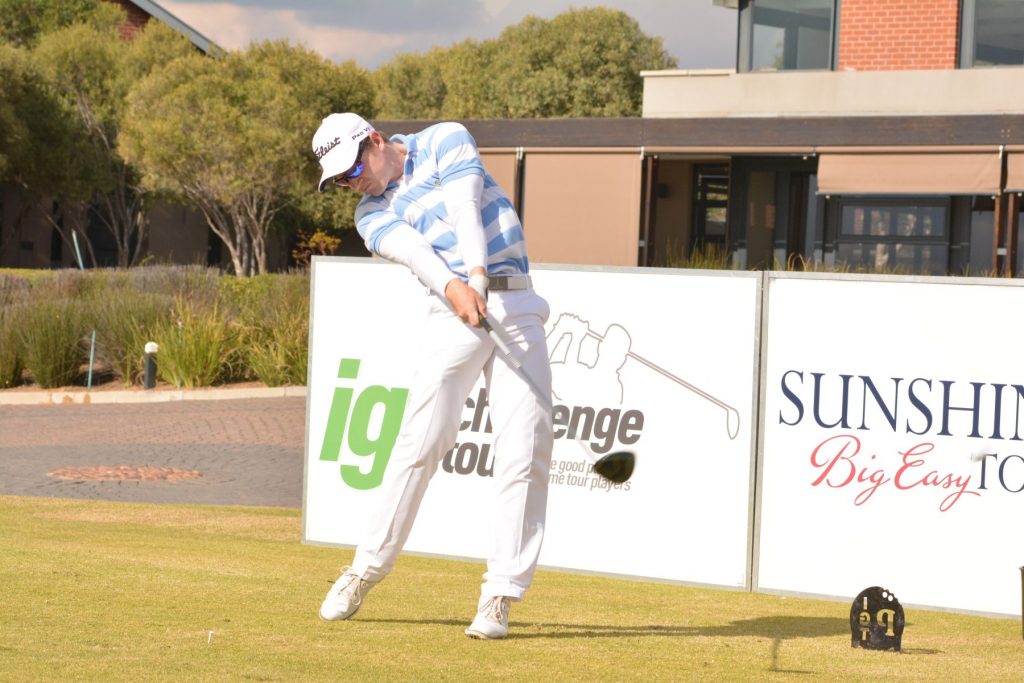 9th July 2018 | IGT Challenge Tour
Conradie inches clear at IGT Copperleaf
Conradie inches clear at IGT Copperleaf
(Estiaan Conradie; credit CJ du Plooy)
PRETORIA, 9 July 2018 – Estiaan Conradie fired his way to the summit of the IGT Challenge Tour's eighth event at The Els Club Copperleaf with a superb five-under-par 67 on Monday.
Conradie won seven times on the country's premier golf development circuit in 2016 and 2017, but he endured a testing start to his Sunshine Tour career after a lengthy bout of flu in April.
Following top eight finishes in his last two starts, the Wingate golfer is showing signs of rediscovering the form that saw him graduate the IGT Challenge Tour at the top of the Race to Q-School Rankings in March.
Conradie took advantage of all four par fives and padded his scorecard with further gains at the second and 16th holes and finished one stroke clear of fellow Sunshine Tour rookie Louis Albertse.
"It's took a while for me to regain my strength and to get my game back to a competitive level, but last week at Centurion it started to come together," said the 20-year-old.
"Today was a good all-round performance. I went off in the afternoon and conditions were a little blustery, but it wasn't a struggle. That made for a nice change."
Conradie laid up at the par five 11th, pitched a gap-wedge three feet from the hole and sank the birdie putt. He bogeyed 12 after hitting his second over the pin into the greenside bunker, but got back on course with a two-putt birdie at the par five 15th.
"I hit my tee shot four metres short of the green at 16, chipped it close and made the birdie putt," said Conradie. "At the second, I hit another really good tee shot just short of the green and two-putted for birdie to go three-under."
At the par five fourth, he laid up with a 3-wood and hit a great wedge shot from 80 metres out to eight foot for his fifth birdie.
"My last birdie came at the last par five, where I hit a good drive, solid approach and two-putted for four," said Conradie.
"The fairways were rolling nicely and the greens were pretty quick, but this is not the kind of course where you can just fire at the greens. You have to pick your birdie holes to score, because any shots off line or on the wrong side of the green can end up costing you."
Dean Martin, who is on his summer break from Wayland Baptist University, fired six birdies in seven holes around the turn on his way to a three-under.
The Dainfern amateur tied for third with seasoned Sunshine Tour winner Wynand Dingle.
Allister de Kock from the Gary Player Class of 2018/2019 mixed two birdies with a lone bogey to finish three off the pace. The Uitenhage professional shares fifth with Zimbabwe's Benjamin Follett-Smith, Breyten Meyer and amateurs Slade Pickering and Jaco van der Merwe.
Luke Brown and amateur Matthew Hands rounded out the top 10 on one under.
First Round Scores
All competitors RSA unless otherwise specified; amateurs indicated as AMA
67 – Estiaan Conradie
68 – Louis Albertse
69 – Dean Martin AMA, Wynand Dingle
70 – Allister de Kock, Benjamin Follett-Smith (ZIM), Breyten Meyer, Jaco van der Merwe AMA, Slade Pickering AMA
71 – Luke Brown, Matthew Hands AMA
72 – Adam Breen AMA, Makhetha Mazibuko, Stefan Wears-Taylor, Steven le Roux AMA, CJ Levey, Heinrich Bruiners, Keaton Slatter, Michiel Bothma, Sipho Bujela, Otto van Buynder AMA
73 – Jonathan Waschefort, Duane Keun, Thabang Simon, Derick Petersen, Altaaf Bux, Christiaan Pretorius, Toto Thimba Jnr
74 – Neville Mitchell AMA, Romano Saincic, Jason Diab, Merrick Bremner, Henning du Plooy AMA, Thriston Lawrence, Ruan Conradie, Tyran van Lieshout
75 – Angus Ellis-Cole AMA, Jaco Prinsloo, Jabulane Mabilane, Marco de Beer, Duan Nagel AMA, Bradley de Beer AMA, Keanu Pestana AMA, Phumlani Maluka, NJ Arnoldi, Alexander van Wyk AMA, Aidan Boon AMA
76 – Neezy Thubisi, Andrew Plint AMA, Conway Kunneke, Michael-James Steyn, Eric Wowor AMA, Stephan Erasmus, Tyron Taylor AMA, Leon Vorster, Ruan Korb
77 – Ruhan van Dijk, Shaun Bernstein AMA, John Dickson, Clifford Thompson AMA, Irvin Mazibuko, Albert Visser, MJ Viljoen, Musiwalo Nethunzwi, Keegan Mclachlan AMA, Caylum Boon AMA, Landon Ferguson AMA, Chandler Shaw AMA, Carlo Heunis AMA
78 – Patric Dowling AMA, Evance Vukeya, Franklin Manchest, Gareth Sargent AMA
79 – Nikki Jonker AMA, Jancarel Rossouw AMA, Stals Swart AMA, Rigardt Albertse AMA, Joshua Smedema AMA
80 – Zabastian de Jager, Christian MacGregor AMA, Ricardo Towell
81 – Tumelo Molloyi, Michael Pfeifer, Ryan Kimber, Hayden Griffiths
82 – Francois van Rensburg AMA, Christiaan Greyling, Juran Dreyer
83 – Nicholas Souranis AMA, Arthur Horne (SWZ), Hanko Bothma, Andrej Skrbinsek AMA, Nikola Uskokovic AMA
84 – Sean Rice AMA, Warric Dyers, Arvy Shongwe AMA (SWZ)
85 – Boyuan Zhang, Christopher de Beer
86 – Quintin Crause
87 – Jesse Jacobs AMA
88 – Alwyn Smith, Marnus Barnard AMA, Dylan Morton AMA
89 – Adam Baker
RTD – Dominique Jacobs
Written and released by Lali Stander on behalf of the IGT Challenge Tour.
Latest IGT Challenge Tour News