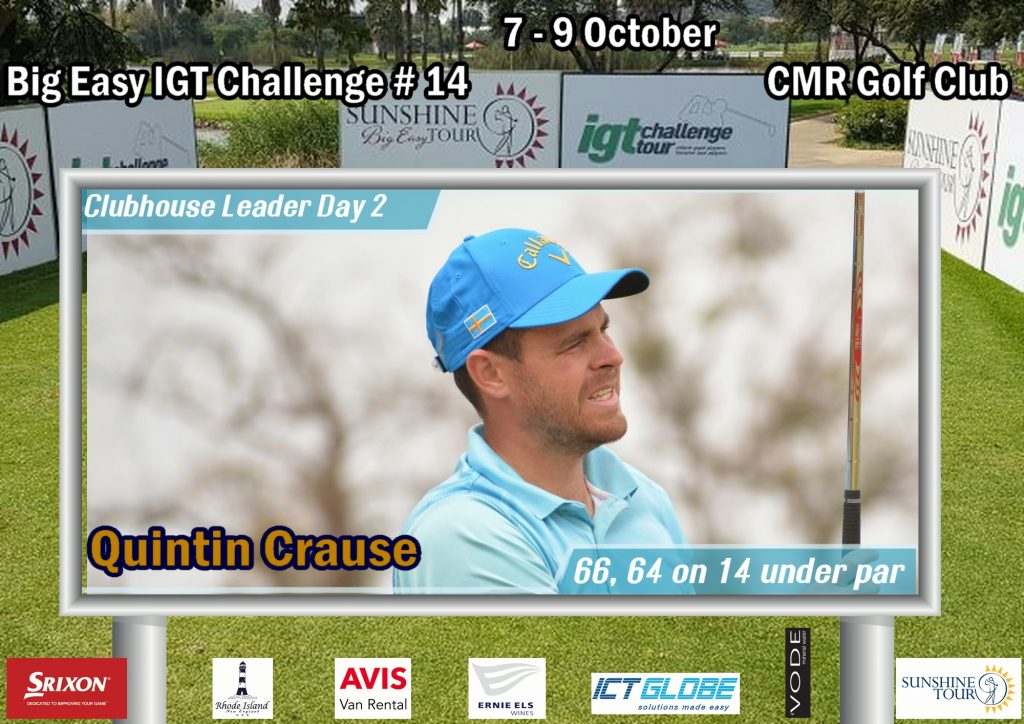 8th October 2019 | IGT Challenge Tour
Crause cruises through pain to lead Big Easy IGT CRM
Crause cruises through pain to lead Big Easy IGT CRM
(PHOTO – Quintin Crause; credit CJ du Plooy)
JOHANNESBURG, 8 October 2019 – Serengeti golfer Quintin Crause played through the pain barrier in the second round of the 14th Big Easy IGT Challenge Tour event to surge into pole position at CMR Golf Club on Tuesday.
A flawless eight-under-par 64 catapulted Crause to 14-under.
"I was in so much pain that I considered withdrawing after six holes on the first day, but I decided to stick it out and shot 66," said the 28-year-old Tzaneen native.
"Today I wore my brace and just played through the pain and now I'm leading by three shots. Go figure! The timing is brilliant, because I missed the cut in my last six starts.
"I am well out of the race for the top six automatic cards, but if I can play myself into the top 30 in the last five tournaments, I'll have at least some status on the Sunshine Tour and I'll be exempt into final stage for the Qualifying School. There is a lot on the line. It's not in the bag, but at least I've given myself a half-decent chance to put a good result together this week."
Crause will have Hennie O'Kennedy and Coert Groenewald for company in the final round.
The Boland rookie carded 68, while Groenewald grabbed a share of second with the low round of the day – a blemish-free nine-under-par 63 that featured three eagles and a trio birdies.
Texas State University graduate Xander Basson posted the third lowest score of the day and his seven-under 65 earned him a share of fourth on 10-under with Michael-James Steyn, Clayton Mansfield and Gary Player School of 2019 member Allister de Kock.
Jeff Inglis, Richard Joubert, Carlo Heunis, Gerhard du Plooy and Jason Roets are also within striking distance on nine-under, while overnight leader Michael Pfeifer is not out of the mix just yet. The George golfer will start the final round on eight-under after posting 73.
Crause nearly gave up golf a year ago after an MRI confirmed disintegration of the L1 to L5 and the S1 and S2 vertebrae.
"I considered packing it all in, but one of the specialists that I consulted suggested that I work with a biokineticist to find a way to keep on playing," said the Limpopo golfer.
"I started playing with a brace while I worked on strengthening my core and oblique muscles. It's been a frustrating year and just when I got to the point where I was playing with minimum pain, I did something that aggravated the pain on Monday.
"But just being out here is worth it for me. I can't imagine what I would do if I can't play golf and as long as there is a way for me to be competing I'll do everything I can to make it happen."
His front nine only featured two birdies, but he played the back nine in six-under.
"I made a sluggish start, but I hit great sand-wedge into 14 and boxed a three-footer for birdie to get off the mark," he said. "I birdied 15 and parred my way to the turn and then the putts started dropping. I flew the green with a 5-iron from 190 metres, but made a great up-and-down for birdie on the first to start the run. I boxed another one for birdie on two and eagled the fourth. I hit driver down the middle and pitching wedge to give and had a one foot putt for three."
Crause birdied the par five fifth and had another tap-in birdie on the par three sixth.
"I had a lot of chances on the front nine, because I was hitting nicely to the green, but I didn't strike my putts as well and missed birdie chances at 10, 12 and 13. But I did a lot of good work on the back nine. I hit a lot of good shots and made a lot of really good putts.
"I'm delighted with the two rounds. This course is a good test. You have to be focused and make the right club selection, and make sure you don't do anything stupid if you do go out of position. It's my lowest two rounds of the season and I'm really happy. Feels fantastic to put some good scores on the board again."
Second Round Scores
All competitors RSA unless otherwise specified and amateurs indicated at AMA
130 – Quintin Crause 66 64
133 – Hennie O'Kennedy 65 68, Coert Groenewald 70 63
134 – Michael-James Steyn 68 66, Allister de Kock 67 67, Clayton Mansfield 67 67, Xander Basson AMA 69 65
135 – Jeff Inglis (ENG) 67 68, Richard Joubert 68 67, Carlo Heunis 68 67, Gerard du Plooy 67 68, Jason Roets 68 67
136 – Dylan Kok 67 69, Reinhardt Blaauw 70 66, Michael Pfeifer 63 73, Gary Daoust (BEL) 67 69
137 – Leon Vorster 68 69, Albert Venter 71 66, Stephan Erasmus 72 65, Thabiso Ngcobo 68 69, Quintin Wilsnach 69 68, Gideon van der Vyver 69 68, Jeremy Sharpe 65 72
138 – Christian Basson 67 71, Keanu Pestana 69 69, Gerhard Pepler 69 69, Matthew Spacey 67 71, Byron Coetzee 70 68
139 – Henning du Plooy 70 69, Jason Smith 71 68, John McClean (NIR) 71 68, Dwayne Basson 70 69, James Pennington (SWZ) 70 69
Missed the cut:-
140 – Keaton Slatter 68 72, Jason Froneman 69 71, Jack Duthie 71 69, Matt Saulez 68 72
141 – Jason Viljoen 71 70, Jason Rossiter 70 71, Jaco van der Merwe 71 70, Zabastian de Jager 69 72
142 – Shalan Govender 71 71, Marthin Scheepers 73 69, Kyle Murphy 66 76
143 – Angus Ellis-Cole 71 72
144 – Thabang Simon 73 71, Maverick Faber (FRA) 71 73
145 – Romano Saincic 71 74, Chase Paton 74 71, Hanlo Jacobs 71 74
146 – Luan Boshoff 72 74, Dean du Plessis 71 75, Michael Kok 75 71, Eric Nel 73 73, Armand van Dyk AMA 73 73, Mike Maile 76 70
147 – Bryce Myburgh 73 74, Alwyn Smith 72 75, Morne Buys 76 71, Lincon Cele 74 73
148 – Jonathan George AMA 75 73, Clinton Duncan AMA 72 76, Tumelo Molloyi 73 75, Christian MacGregor AMA 74 74
149 – Duan Nagel 72 77, Phumlani Maluka 71 78, Jastice Mashego 74 75
150 – Divan Marais 74 76, Deon Bredenkamp 73 77, Leon van der Walt AMA 78 72
151 – Donald Makhafola AMA 74 77
154 – Regan Steyn AMA 78 76, Albert Visser 77 77
155 – Richard Spagnolo AMA 82 73
163 – Neo Mokgatle 79 84
Written and released by Lali Stander on behalf of the Big Easy IGT Challenge Tour.
Latest IGT Challenge Tour News