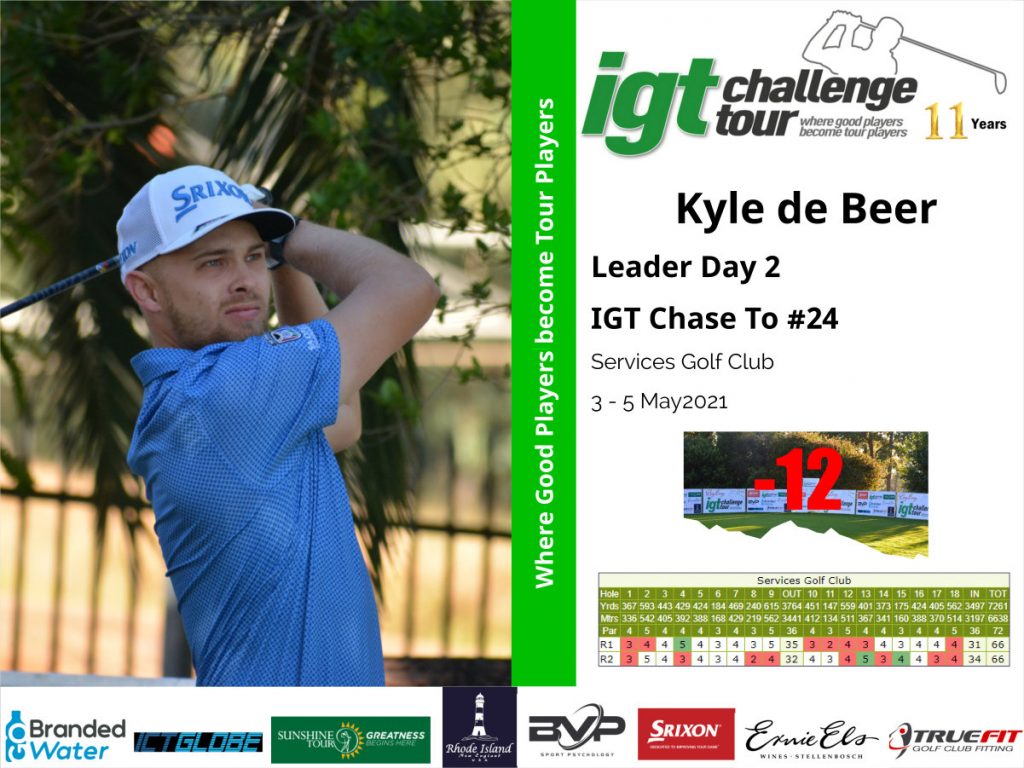 4th May 2021 | IGT Challenge Tour
De Beer, Breen pull two shots clear ahead of the final round at Services
ZWARTKOP, May 3 – Amateur Kyle De Beer carded a second round of six-under-par 66 to go to 12-under for the week and tie the lead with fellow amateur Adam Breen ahead of the final round of the Big Easy IGT Tour Chase To #24 at Services Golf Club.
It was his second 66 in succession, having opened with the same score on day one of this 54-hole event.
Coming in as the fifth-ranked amateur in the country and a member of the ever-ambitious GolfRSA squad, De Beer is all discipline this week; paying attention to every detail of his game after the first 36 holes.
"My short game, in general, has been strong this week," he said after his round. "My chipping has also been very good; I think my wedge game has been nice too and the putting, so my game has been solid overall. My driving improved a bit today and that was really good to see. I think I've been pretty solid in all aspects this week."
He avoided any sort of big number on the front stretch; navigating his way to a sparkling four-under 32 before the turn. He birdied the first, the fourth, the eighth and ninth holes as he charged for the top spot. A drop on the par-four 13th threatened his progress but he bounced back with a birdie on the next hole. He surrendered those gains too on the 15th but back-to-back birdies on 17 and 18 which catapulted him to a share of the lead and two shots clear of Michael Kok and Drikus Joubert.
"Tomorrow, I'm just going to go with the same game plan; try to execute the same shots and try to go as low as I can," added De Beer. "I think I have played pretty solid golf this week and I don't see why I should change, so it's going to be the same golf tomorrow."
Breen, while bemoaning some of the errors he made during the round, produced a fine round of golf which yielded a three-under-par 69 score. The three bogeys he made, he feels, could have been avoided and thus a lower score than what now appears on his scorecard could have been the result.
"Today was pretty difficult," said Breen, "the conditions were tricky with the wind getting up a touch and I made a few very silly errors through the course of the round. But overall, I'm pleased with the result today.
"Things are very tight and I'm looking forward to getting stuck in tomorrow. I have driven it really solid off the tee all week and have wedged it and putted it great, so I will hope to continue with that tomorrow."
The two representatives of GolfRSA will be paired with the experienced Michael Kok who has already tasted success this season. Only two shots off the pace at 10-under-par, he will want to build on the great form he has enjoyed and mount a challenge for his second win of the season.
"It is what we practice for at this level," said Breen of what is expected to be an exciting final round, "to be at the top of the leaderboard with the trophy on the line. I'm looking forward to getting going again."
Kyle McClatchie and Vaugh Van Deventer share fifth at six-under-par for the tournament while Keelan Van Wyk is solo seventh. Herman Loubser and Zabastian de Jager are tied at eight on four-under while Lincon Cele and Delano Kotze share 10th at three-under-par.
Latest IGT Challenge Tour News