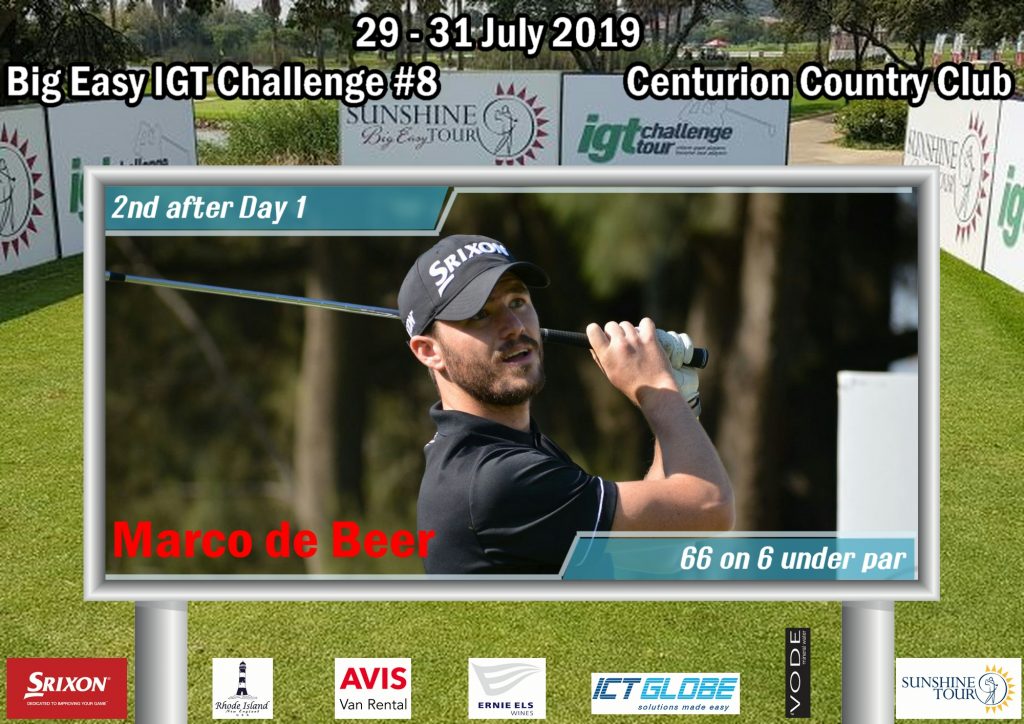 29th July 2019 | IGT Challenge Tour
De Beer in hot pursuit at Big Easy IGT in Centurion
De Beer in hot pursuit at Big Easy IGT in Centurion
(PHOTO – Marco de Beer; credit CJ du Plooy)
PRETORIA, 29 July 2019 – Desne van den Bergh grabbed the first round lead on the Big Easy IGT Challenge Tour, but the Vaal de Grace golfer will have keep a large chasing pack at bay led by Marco de Beer as he targets a maiden win at Centurion Country Club.
For a second straight week, Van den Bergh put himself in pole position with a seven-under-par 65 on Monday, but as the first round action wrapped up, no less than 14 players – including two local favourites – moved within striking distance of his target.
De Beer from Serengeti Estates is just shot adrift, with Malcolm Mitchell from Kloof, Vryburg's Leon Vorster and Reinhardt Blaauw from Centurion two shots back. Centurion's Arno Pretorius and Jason Smith with start the second round on four-under.
A further eight players finished on three-under and reigning Road to Sunshine Tour leader Matthew Spacey is also in the mix at two-under. The Dainfern golfer shares 16th with Gideon van der Vyver, Michael Kok, Portugal's Paulo Serrao, Thabiso Ngcobo and Gary Player School member Sipho Bujela.
A week ago, Van den Bergh co-led with the field in the seventh event of the season with a six-under-par 64 at Killarney Country Club, but slipped to a tie for fourth with successive rounds of 72.
"That's nothing new; I've had three or four runner-up finishes on the Big Easy, but I am a patient man," said the 29-year-old after he offset a brace of bogeys with nine birdies.
"The goal this season is greater consistency and top five finishes. I want to be in the top six at the end of the series to gain a free pass to the Sunshine Tour. I'm not consciously thinking about a win, but a trophy finish would be a great bonus, because it will boost my ranking."
While Van den Bergh's good run of form has boosted him to sixth on the Big Easy IGT Challenge Tour money list, De Beer hopes his low start will turn his mediocre season around.
The 24-year-old Wanna Be A Champion Academy player received a limited Sunshine Tour card after Q-School in March.
"I was so stoked when I qualified and made the cut in the Lombard Insurance Classic in Swaziland in May, but my results on the Big Easy IGT Challenge Tour has been well below par," he said. "I've only made two cuts in six starts and it's just been a frustrating season so far.
"I seem to start off well, but bomb out in the second round. I've put a lot of hours into my short game in the last few weeks and today, I felt for the first time that the graft paid off."
A birdie-birdie start set De Beer up for his lowest round of the season.
"I hit a 6-iron middle green and two-putt for birdie at the first and I holed a six-metre putt for birdie at the second," De Beer said. "I felt good over the putter from the get-go for the first time in weeks.
"I had a soft bogey at four, but birdied five and had two more birdies to turn four-under. On the back nine, I birdied 12, dropped 13 and finished with a pair of birdies. On 17, the pin was set right back and I hit a pitching-wedge six-feet left and on 18, I hit a 2-iron 10 metres past and two-putted.
"I missed a few fairways but only just. Nothing dramatic, and I hit my wedges great. But my putter was really hot. I had six one-putts on the front nine and only 16 putts in my round. I kept the momentum going with solid pars and I was never in any real trouble.
"Mentally, I gained a lot of confidence and I feel way stronger than I have in the last couple of weeks. Now the biggest hurdle will be to stay in a positive head-space and keep the form going to turn my season around."
First Round Scores
All competitors RSA unless otherwise specified and amateurs indicated at AMA
65 – Desne van den Bergh
66 – Marco De Beer
67 – Malcolm Mitchell, Leon Vorster, Reinhardt Blaauw
68 – Arno Pretorius, Jason Smith
69 – Keaton Slatter, Richard Joubert, Michael-James Steyn, Keagan Thomas AMA, Luke Trocado, Albert Venter, Erhard Lambrechts, Phumlani Maluka
70 – Matthew Spacey, Gideon Van Der Vyver, Michael Kok, Thabiso Ngcobo, Sipho Bujela, Paulo Serrao (POR)
71 – Michael Schutz, Caylum Boon, Angus Ellis-Cole, Jaco Van Der Merwe, Francois Van Der Walt AMA, Gareth Sargent, Theunis Bezuidenhout, James Kamte, Otto Van Buynder AMA, Quintin Wilsnach
72 – Maritz Wessels, Jeff Inglis (ENG), Hennie O'Kennedy, Clayton Mansfield, Xander Prinsloo AMA, Liam Labuschagne, Marcel Steyn Scholtz, Nicholaus Frade, Marthin Scheepers
73 – Armand Van Dyk AMA, Jack Rex Duthie, Neal Woernhard (SUI), Lwazi Gqira, Gary Daoust (BEL), Gerhard Pepler, Ruhan Van Dijk, Jason Roets, Jason Rossiter, Coert Groenewald, Keegan Mclachlan AMA
74 – Luan Boshoff, Carlo Heunis, Zabastian De Jager, Dwayne Basson, Quintin Crause, Byron Van Der Merwe
75 – John McClean (NIR), Gerard Du Plooy, Jay Dean Fourie, Jonathan Waschefort, Cameron Gurr AMA
76 – Thabang Simon, CJ Levey, Byron Coetzee, Ryan Joyce AMA, Matthew Rushton, Casey Jarvis AMA
77 – Neville Mitchell, Wesley Du Toit AMA, Mark Bright, Eric Nel, Alan Buttle AMA, Donald Makhafola AMA
78 – Tumelo Molloyi, Dennis Williams, Alex Pienaar AMA, Deon Bredenkamp
79 – Henning Du Plooy, Duan Nagel, Marnus Barnard AMA, Dean Du Plessis, Clinton Duncan AMA, Terence Archibald, Leon Visser, Albert Visser, James Cleasby AMA
80 – Christopher Constantinou AMA, Eric Wowor AMA, Basil Wright, Michael Pfeifer, Hans-Jurie Human, Jeremy Sharpe, Luca Rodrigues AMA, Mitchell Lightfoot, Divan Marais, Louis Botha, Luke Barblan AMA (SUI)
81 – Neil Swart (NAM), Jacques Viljoen AMA, Nicholas Souranis AMA
82 – Christian Basson, Kaylin Pillay AMA
83 – Neo Mokgatle, Shalan Govender, Jarryd Govender
84 – JP Du Rand AMA
88 – Matt Saulez
89 – Kyle McClean AMA
RTD – Morne V D Waltsleben AMA
Written and released by Lali Stander on behalf of the Big Easy IGT Challenge Tour.
Latest IGT Challenge Tour News