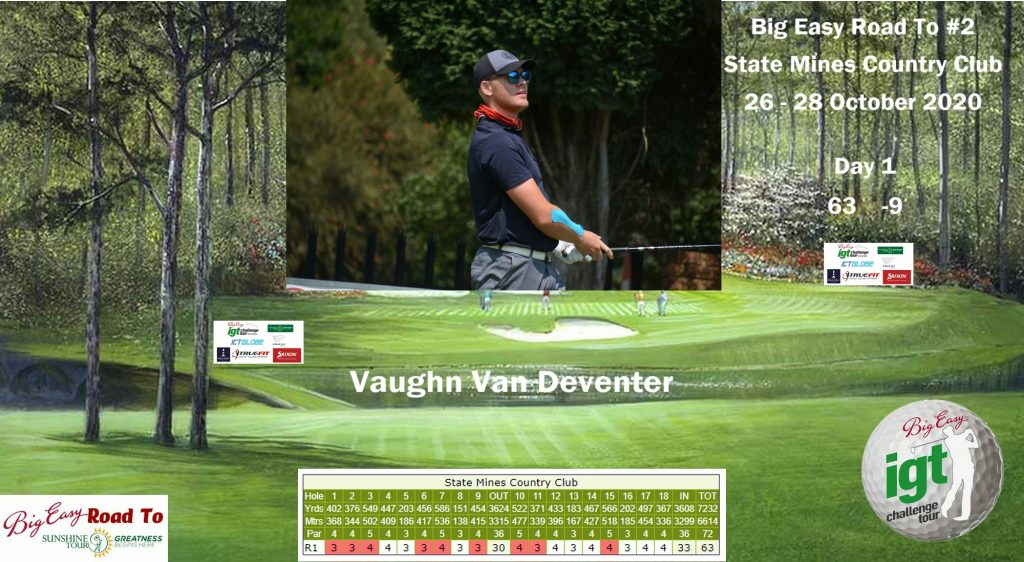 26th October 2020 | IGT Challenge Tour
Dominant Van Deventer takes control at State Mines
BRAKPAN, October 26 – The second event on this season's Big Easy Tour Road To got underway at State Mines Country Club, with multiple club champion there, Vaughn Van Deventer signing for a dominant nine-under 63 to take the first-round lead on Monday.
Following a strong runner-up finish last week in Zwartkop at Services Golf Club, Van Deventer entered the tournament at his home course in Ekurhuleni beaming confidence.
"It helps a lot to know the course well," said Van Deventer after his bogey-free round, "I felt confident coming into this week especially after finishing 2nd last week. I was hitting it quite close today and made some putts but also, I left some out there. But I'm happy with the result."
That confidence showed very early on in the round as Van Deventer opened his round with three straight birdies. Two holes later, two more birdies made it onto his card before finishing his back nine with yet another birdie to turn in 30 and blemish-free.
He didn't slow down after the turn and birdied both the 10th and 11th holes. His ninth birdie of the round would come on the par-five 15th to seal what was a phenomenal round of golf.
"I didn't have any number in my head today," he admitted, "but after I made birdie on one and two, I said to myself 'just another three birdies coming in would be a solid round', and I ended up making four coming in. I thought my strongest point today was probably my putting. I missed a lot of putts last week so I have been working quite a bit on my putting lately."
He holds a two-shot lead over the duo of Kyle McClatchie and Darin De Smidt who both carded 65s on day one.
"I'm just going to go out tomorrow and stick to the game plan and just enjoy the round," said Van Deventer.
Michael James-Steyn, Bradley Diggeden, England's Harry Konig, and amateur Drikus Joubert tie the fourth spot at six-under-par after round one.
63 – Vaughn Van Deventer (RSA)
65 – Kyle McClatchie (RSA) , Darin De Smidt (RSA)
66 – Drikus Joubert (AM) (RSA) , Bradley Diggeden (RSA) , Harry Konig (ENG) , Michael-James Steyn (RSA)
67 – Morne Buys (RSA) , Ruan Groenewald (RSA) , Leon Vorster (RSA) , Carlo Heunis (RSA) , Marco De Beer (RSA)
68 – Fritz Orren (RSA) , Dylan Kok (RSA) , Conner Mackenzie (AM) (RSA) , Gregory Mckay (RSA) , Llewellyn Booysen (RSA)
69 – Warwick Purchase (AM) (RSA) , Ryan Tipping (RSA) , Keaton Slatter (RSA) , Basil Wright (RSA) , Ryan Van Velzen (AM) (RSA) , Caylum Boon (RSA) , Neal Woernhard (SUI) , Nicholaus Frade (RSA) , Jancarel Rossouw (RSA) , Christiaan Burke (AM) (RSA) , Michael Kok (RSA)
70 – Jordan Duminy (AM) (RSA) , Nikhil Gopal (AM) (RSA) , Herman Loubser (RSA) , DK Kim (KOR) , Matthew Rushton (RSA) , Slenda Sithebe (RSA) , Mohammed Darsot (AM) (RSA) , Jonathan Waschefort (RSA) , Rigardt Albertse (RSA) , Matt Saulez (RSA) , Angus Ellis-Cole (RSA) , Keanu Pestana (RSA) , Kai-Alexander Brandkamp (RSA)
71 – Reinhardt Blaauw (RSA) , Therion Nel (RSA) , Erhard Lambrechts (RSA) , Zabastian De Jager (RSA) , Henning Du Plooy (RSA) , Danie Van Niekerk (RSA) , Gregg Gilson (AM) (RSA) , Charlie Dell (AM) (ENG)
72 – Michael Pfeifer (RSA) , Thanda Mavundla (RSA) , Lwazi Gqira (RSA) , Lloyd Herbst (AM) (RSA) , Lincon Cele (RSA) , Gerhard Pepler (RSA) , Casey Jarvis (AM) (RSA) , Kyle De Beer (AM) (RSA)
73 – Marcel Steyn Scholtz (RSA) , Paulo Serrao (POR) , Francois Blaauw (AM) (RSA) , Teddy Mathebula (RSA) , Martinus Barnard (RSA) , Jade Buitendag (RSA) , Wynand Potgieter (RSA) , Jason Froneman (RSA) , Ricky Hendler (RSA) , Christiaan Pretorius (RSA)
74 – Ryan Van Rosenveldt (RSA) , Brenden Pieters (RSA) , Leon Scheepers (RSA) , Andrej Skrbinsek (AM) (RSA) , Leon Van Der Walt (AM) (RSA) , Franklin Manchest (RSA) , Phumlani Maluka (RSA) , Warrick Moonieyan (RSA) , Christopher Bagnall (AM) (RSA) , Arno Pretorius (RSA) , Gerard Du Plooy (RSA) , Juan Diedericks (AM) (RSA) , Pierre Du Plessis (AM) (RSA)
75 – Brandon Gildenhuys (RSA)
76 – Neil Cheetham (ENG) , Duan Nagel (RSA) , Tumelo Molloyi (RSA) , Neezy Thubisi (RSA) , Jaco Van Der Merwe (RSA) , Christo Lamprecht (AM) (RSA) , Shaydon Johnson (AM) (RSA)
77 – Warrick Greentree (RSA) , Jonathan George (AM) (RSA) , Cameron Gurr (AM) (RSA)
78 – Darren Slingers (AM) (RSA)
79 – Wayne Stroebel (RSA)
80 – Pierre Joubert (AM) (RSA)
82 – Byron Van Der Merwe (RSA) , Karabo Mokoena (AM) (RSA)
Latest IGT Challenge Tour News