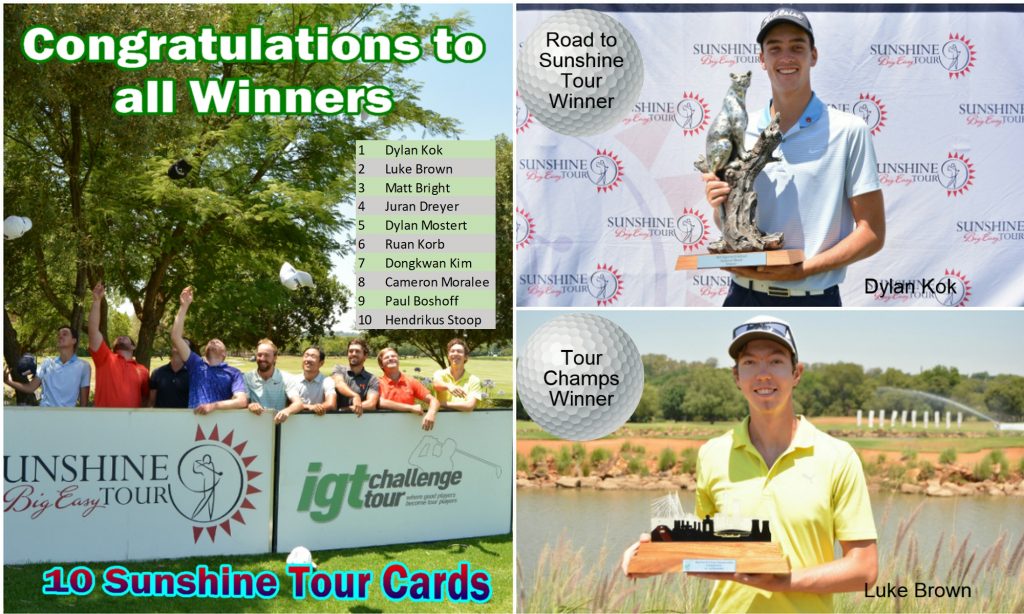 15th December 2018 | IGT Challenge Tour
Double joy for Brown and Kok in Tour Champs
Double joy for Brown and Kok in Tour Champs
(PHOTO – Big Easy IGT Tour Championship winner Luke Brown and Road to Sunshine Tour champion Dylan Kok; credit CJ du Plooy)
PRETORIA, 14 December 2018 – Luke Brown defeated Dylan Kok at the first extra hole of a sudden-death play-off to lift the Big Easy IGT Tour Championship trophy, but Kok still had plenty to celebrate after he finished atop the Road to Sunshine Tour rankings on Friday.
While Brown banked the lion share of the R200 000 purse, a pay-day of just over R20K in the season-finale of the Big Easy IGT Challenge Tour at Centurion Country Club boosted the runner-up to the number one spot in the final rankings.
"Luke and I went toe-to-toe on the back nine, then had to gun it out in a play-off, so it's almost poetic justice that we should both leave with a big prize," said the Pretoria golfer.
Brown made four birdies on the bounce down the stretch for a four-under 68 to set the clubhouse target at 13-under 203. Kok had a chance to win the outright, but had to settle for 70 after he missed a short putt for birdie at the closing hole.
The pair returned to the drivable par-four closing hole, where Kok won the toss and parked his tee shot on the green.
"The pin was tucked back left and close to the water and Dylan had about 25 foot left to the flag," said 20-year-old Brown. "He putted well all day, so I went for it. I took a 2-iron out of the bag and aimed straight at the flag."
The gutsy shot briefly flirted with the water, but found the target and finished four feet left of the hole.
"Dylan made a huge putt, but it pulled up a couple of inches short of the hole. I poured in a bunch of short ones in regulation play, so I felt really calm. I just stepped up and boxed it," said Brown.
The eagle putt came with a huge reward.
The leading 10 players on the Road to Sunshine Tour earn cards for the 2019/2020 Sunshine Tour and Brown's R32 680 winner's cheque secured him second place on the Road to Sunshine Tour.
"I'm going to be a Sunshine Tour rookie next year," grinned the delighted Brown.
"The relief is immense. I've worked really hard on my game this year with my coach Doug Wood (Wanna Be A Champion Academy). I've had some good finishes and I've been consistent, but I was 17th on the money list at the start of the week.
"The pressure to perform was immense. I just tried to keep things simple. Go out there, play shot-for-shot and try to block out the rankings, the results, everything. And somehow I got it right."
Brown and Kok both had a bumpy start, but rallied on the back nine to set up a great duel.
"Luke eagled the first, but he bogeyed three and four and turned level," said Woodhill's Kok. "I made eight at the first and got it back to one-over through nine. Hayden (Griffiths), Tristen (Strydom) and Matt (Bright) all had a turn in front, but I birdied 10, 12 and 13 to regain the lead."
Brown dropped 12, but bounced back with a birdie at 13.
"Then he went on the rampage, pouring in birdie putts from 15 to 18," Kok said. "That put the pressure back on me. I dropped a shot at 14 but I birdied 17 to draw level with him. It was an exciting finish.
"We were both so excited that we secured our cards that we didn't even realise that we still had to play off for the title. Kudos to Luke for going at the flag on 18; that was big match temperament right there and he deserved to win.
"I am absolutely stoked that I won the Race to the Sunshine Tour. It's been a fantastic journey to this point. It's great to see the Sunshine Tour and IGT Challenge Tour collaborate to offer us this kind of incentive. You really had to play well all season, because the talent out there is fantastic. The guys were seriously competitive and you could see it in the final, too."
Matt Bright, Juran Dreyer, Dylan Mostert, Ruan Korb, DK Kim, Cameron Moralee, Paul Boshoff and Hendrikus Stoop – ranked third to 10th respectively – scooped up the remaining eight cards.
Final Result
All competitors RSA unless otherwise specified.
203 – Luke Brown 65 70 68
203 – Dylan Kok 67 66 70
205 – Hayden Griffiths 68 67 70
206 – Matthew Rushton 68 68 70
208 – Ben Follett-Smith (ZIM) 66 71 71, Juran Dreyer 69 68 71
209 – Duane Keun 68 68 73, Tristen Strydom 67 67 75
210 – Louis Albertse 69 68 73, Matt Bright 69 68 73
211 – Ruan Conradie 68 71 72
212 – Stuart Smith (BOT) 75 71 66, Ruan Korb 77 67 68, Eric Nel 66 76 70, Matthew Spacey 72 67 73
213 – Conway Kunneke 71 70 72, Albert Venter 70 70 73
214 – Francois Coetzee 73 71 70, Jeff Inglis (ENG) 69 72 73, Jason Roets 68 69 77
215 – Neil Cheetham (ENG) 74 72 69, Kyle Barker 73 69 73
216 – DK Kim (KOR) 71 69 76
217 – Dylan Mostert 70 77 70
218 – Hendrikus Stoop 72 70 76
221 – Paul Boshoff 73 73 75
222 – Stefan Wears-Taylor 72 76 74
224 – Arno Pretorius 77 76 71
227 – Tertius van den Berg 77 76 74
232 – Peetie Van Der Merwe 71 76 85
Written and released by Lali Stander on behalf of the IGT Challenge Tour.
Latest IGT Challenge Tour News