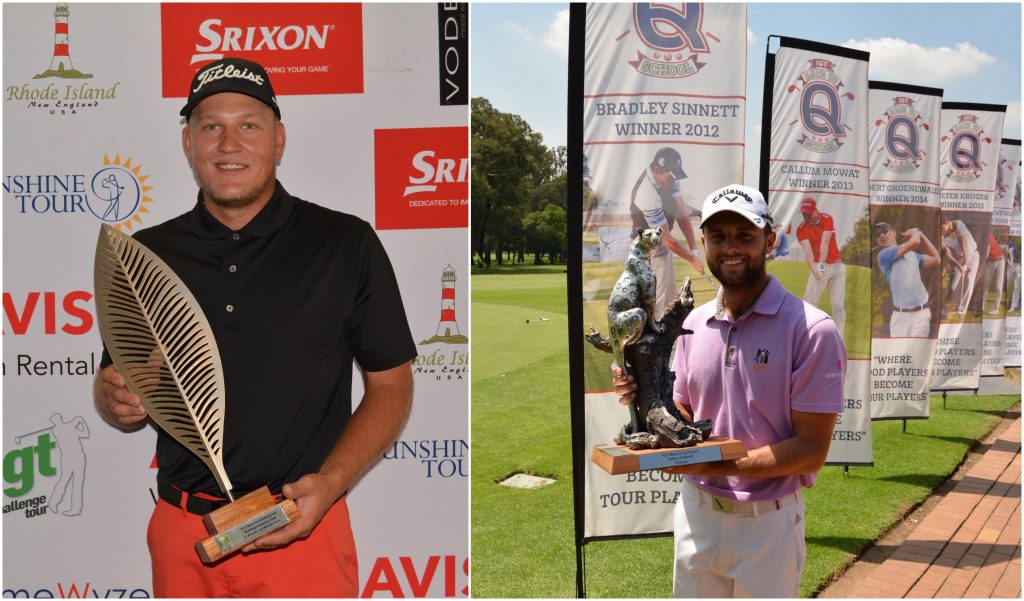 13th March 2019 | IGT Challenge Tour
Double joy for Strydom and Barker at Reading
Double joy for Strydom and Barker at Reading
ALBERTON, 13 March 2019 – Former SA number one ranked amateur Tristen Strydom put a loud exclamation mark behind his return to form with a wire-to-wire victory in the Race to Q-School series finale, while Kyle Barker scored big for the "underdogs" when he won the Final Race to Q-School Rankings at Reading Country Club on Wednesday.
Just seven days after Strydom claimed his fifth trophy with a runaway 11-stroke victory at Akasia Country Club, the Pretoria golfer put on a golfing masterclass in Alberton to win back-to-back titles on the country's premier golf development circuit.
Strydom surged to the top of the leaderboard with an opening seven-under-par 64 and kept ahead of the chasing pack with a second round 66. Taking a four shot lead into the final day, Strydom fired seven birdies for a flawless 64 to triumph by six strokes on 19 under.
"I'm seriously chuffed with my game over the last two weeks," said the 22-year-old.
"The 2018 season was hugely frustrating and I had to work really hard to come back from injuries. I'm pleased that my game is at its peak, but I believe my mental growth and maturity has been key to the way I'm playing right now."
After a birdie start, Strydom reeled in further gains at the second, third, sixth and eighth holes.
"I had a double at the first in the second round, so I was happy to redeem myself with a birdie start and set the tone for the day," he said. "I wedged it to three foot on three, had an easy two-putt birdie at the par five and hit it to six foot at six.
"I hit the eighth in two and I knew I had a nice cushion heading down the back nine. The guys behind me were all firing, so I kept my foot on the pedal and stayed patient. I made a stack of pars and birdies at 12 and 17. It felt incredibly good playing 18 and knowing I'd done enough to win.
"I owe a huge debt of gratitude to my caddy, Kyle Lundy. He carried me through the dark times last year and kept me grounded as my form returned. He has helped me to never get ahead of myself and that's probably the biggest lesson I've learned in the last 12 months."
Strydom won the First Stage Qualifier at Eagle Canyon late last year by 14 shots and he hopes his purple patch will extend to another winning performance at the Final Stage at Houghton Golf Club next week.
"The back-to-back wins have definitely boosted my confidence in my game," he said. "I feel I have prepared well, but I am going to take it shot-for-shot and hole-by-hole. Q-School is the most gruelling golf tournament you play and you need to stay in the moment."
Barker, meanwhile, needed a top three finish to win the Race to Q-School rankings and the 21-year-old Randpark golfer pulled it off when it mattered the most.
"I kept an eye on the leaderboard and with three holes to play, I knew I needed a birdie to tie for third. I nailed it at 17," said Barker, whose final round 66 earned him a share of third on 12-under.
Victory in the Race to Q-School #7 at Services a fortnight ago – his fourth professional title and third on the IGT Challenge Tour – boosted Barker to the top of the rankings and he edged out Strydom to win on 38 965 points.
"I'm dedicating this one to all the golfers out there who think they don't have what it takes to be a winner," Barker said. "I didn't achieve much as a junior and I never won a provincial or national event on the Open Amateur circuit. I think only my close friends and family believed that I could make a go of it as a pro. So I want to send a message to all the "underdogs" out there with this win.
"Hard work, determination and a lot of grinding got me here. I never stopped believing in myself, even if other people doubted me. I put in a lot of hours and sweat to get to this level in my career. My message to the young golfers is that they should take things a step at a time. Pay your dues, the rewards will come. Don't run before you can walk. Disappointment lies at the end of that race."
The pot of gold at the end of the Race to Q-School Series was 15 starts for the IGT Challenge Tour campaigners – not already exempt – to compete in the Final Stage.
Johannesburg golfer Richard Joubert topped the standings following his tie for 12th at Reading, and former GolfRSA National Squad member Clayton Mansfield from KwaZulu-Natal took second place.
Serengeti amateur Bradley Diggeden sealed his spot with a tie for third.
Swiss golfer Neil Woernhard, amateur Darin de Smidt, James Mack from England, Jonathan Waschefort, Englishman Michael Saunders, Gary Daoust from Belgium, Christof Appel, Divan Marais and amateurs Ivan Mare, Gareth Sargent, Christopher van der Merwe and Jaco van der Merwe scooped up the rest of the spots.
Final Result
All competitors RSA unless otherwise specified and amateurs indicated as AMA.
194 – Tristen Strydom 64 66 64
200 – DK Kim (KOR) 70 64 66
201 – Bradley Diggeden AMA 71 65 65, Kyle Barker 71 64 66
203 – Luke Mayo AMA 65 71 67, Neal Woernhard (SUI) 67 68 68
205 – Clayton Mansfield 71 65 69
206 – Harry Konig (ENG) 69 70 67, Leon Vorster 73 63 70
208 – Gareth Sargent AMA 71 68 69, Jason Rossiter 73 69 66
209 – Peetie van der Merwe 69 71 69, Richard Joubert 69 70 70, Eric Nel 71 71 67, Gary Daoust (BEL) 71 67 71, Darin de Smidt AMA 69 68 72
210 – Matt Bright 69 72 69, Stefan Wears-Taylor 69 70 71, Leon Visser 67 70 73
211 – Dean O'Riley 71 70 70, Maritz Wessels 70 72 69, Jaco van der Merwe AMA 73 70 68, Liam Labuschagne AMA 71 72 68
212 – Jason Roets 72 68 72, Ruhan van Dijk 68 71 73, Christopher van der Merwe AMA 69 70 73, Hayden Griffiths 67 76 69, Divan Marais 68 68 76, Albert Venter 73 71 68
213 – Neal Herman 70 69 74, Ryan Joyce AMA 70 71 72, Zabastian de Jager 72 70 71, Ryan O'Neill (ENG) 66 73 74, Paulo Serrao (POR) 74 69 70, David Toplis 70 73 70, Dylan Mostert 72 72 69
214 – Michael Saunders (ENG) 73 68 73, James Mack (ENG) 73 70 71, Hanlo Jacobs 72 72 70, Marco de Beer 72 72 70
215 – Oliver Tubb (CAN) 75 71 69
216 – Henning du Plooy AMA 70 70 76, Michael-James Steyn 71 68 77, Cody White (CAN) 78 67 71
217 – Jack Duthie 72 72 73
218 – Paul Rodrigues AMA 73 71 74, Ivan Mare AMA 72 74 72
219 – WM Coetzee AMA 69 72 78
220 – Arno Pretorius 68 78 74
221 – Tristan Topka AMA 70 73 78
PHOTOS – Race to Q-School #9 winner Tristen Strydom and Race to Q-School Order of Merit champion Kyle Barker; credit CJ du Plooy.
Written and released by Lali Stander on behalf of the IGT Challenge Tour.
Latest IGT Challenge Tour News