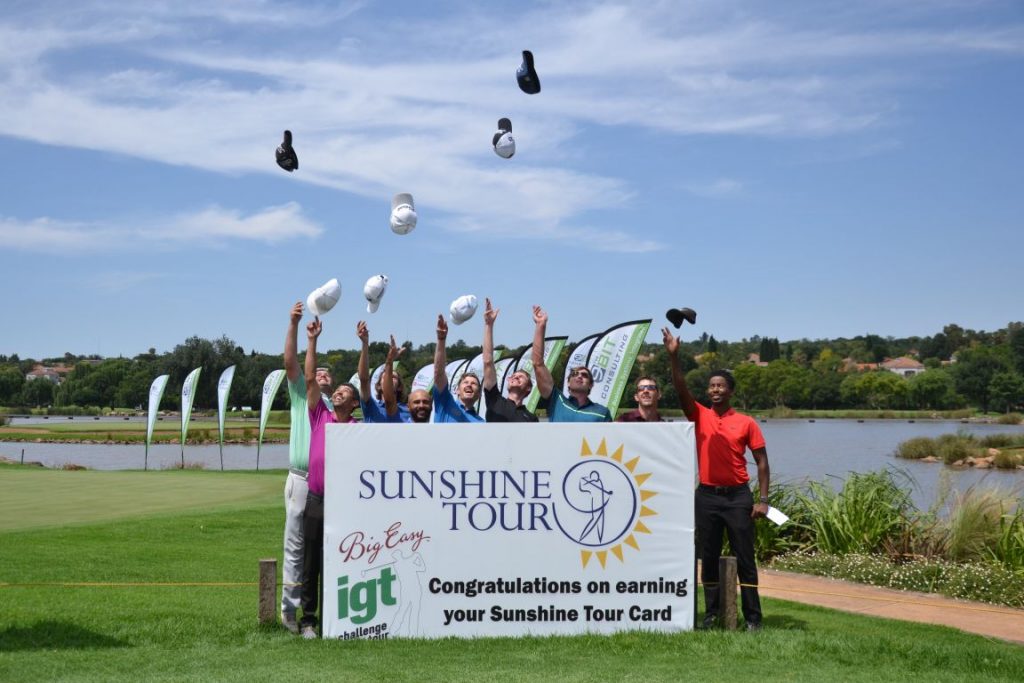 29th November 2019 | IGT Challenge Tour
Drama and delight at Tour Championship final
Drama and delight at Tour Championship final
PRETORIA, 29 November 2019 – Malcolm Mitchell and Theunis Bezuidenhout walked away with the biggest spoils in the Big Easy IGT Tour Championship, while Boland rookie Hennie O'Kennedy caused a major upset in an enthralling finale at Centurion Country Club on Friday.
With 2020/2021 Sunshine Tour season cards up for grabs for the top six ranked players on the final Road to Sunshine Tour, the tension on the first tee was palpable.
"I think Theunis and I were the only two players not feeling the pressure at the start of the final round," said Mitchell.
The former GolfRSA Protea and National Squad member moved into the number one spot on the Order of Merit with his first win at Akasia Country Club in July. Two more turns in the winner's circle and a runner-up finish in the penultimate event at Soweto Country Club cemented his dominance and Mitchell secured the Order of Merit title with a tie for ninth on nine-under 209.
"I don't even have words to describe how happy I am at this moment, not having that dreaded Q-School hanging over my head. It's great to know I can let my hair down over the festive season and then go out there and start the next stage of my career on the Sunshine Tour.
"There is a lot to be said for the Big Easy IGT Challenge Tour in terms of learning how to compete, how to win and how to build consistency and confidence. I gained a huge amount of experience and it was reflected in my performances.
"I played 16 of the 19 events on the Big Easy IGT Challenge Tour and had 12 top 10s and also had top 10s in my two starts on the Sunshine Tour. I feel confident to take my game to the next level."
Bezuidenhout and O'Kennedy also had reason to celebrate – a maiden professional title for the Mooinooi golfer, while O'Kennedy came racing through the pack to claim one of the coveted Sunshine Tours.
Bezuidenhout began the final round three shots behind overnight leader Reinhardt Blaauw and O'Kennedy was a further stroke adrift at the start of the round.
As Blaauw battled a balky putter, big-hitting O'Kennedy set the clubhouse target with a flawless eight-under-par 64 and Bezuidenhout joined him in pole position with a six-under-par 66. Blaauw's flat-stick let him down once more on the final hole and a final round 69 meant a three-way sudden-death play-off on the par four 18th.
O'Kennedy lost to birdies on the first extra hole and Bezuidenhout edged out Blaauw with a birdie on the second trip down the closing hole.
The second season Sunshine Tour pro was delighted with his maiden victory.
"I entered this week to build some confidence for the New Year and I'm pleased as punch with the result," said Bezuidenhout, who banked a tidy Christmas bonus worth R32 680.
"The money is nice, but the result this week means way more to me. It feels absolutely brilliant to win to get that first pro win under the belt. I tried not to get distracted by what was happening with the guys competing for the Sunshine Tour cards.
"I just kept my focus on my own game, and I'm so pleased with the result. I only had two bogeys in 54 holes and my ball striking is as good as it's ever been. I didn't work with a coach for four years, but a few months ago, I got back with my old coach, Emile Steinmann, and I'm so happy to have my game back on track. I'm seriously pleased with the result."
Blaauw was left to rue his cold putter after finishing 13th in the final standings, but O'Kennedy was popping champagne after a share of second propelled him to fourth.
"I thought I would have a chance if I finished in the top five, but my back was against the wall with after that first round 71," said O'Kennedy, who claimed his maiden win at CMR Golf Club in October and came into the final event ranked ninth.
"That 66 in the second round gave me a chance, but I knew I needed to produce another low one today. I had two chip-in birdies and the putter was hot. I was a little disappointed to lose in the play-off, but the goal all season was a top six finish. That's what I've done.
"Q-School is the most brutal week of the year and it's a massive relief to know I don't have to go back. I also proved to myself that I can produce the shots when the stakes are down. I'll take a lot of confidence from that. They say there isn't a perfect round, but this felt as perfect as it gets."
Mitchell topped the final money list on R74 097.
Irene golfer Jason Smith and Matthew Spacey from Dainfern – both two-time winners this season – claimed the second and third Sunshine Tour cards with their respective earnings of R57 706 and R53 543.
Former Sunshine Tour campaigner Desne van den Bergh from Vaal de Grace finished fifth on R49 558 and Houghton golfer Coert Groenewald secured the sixth and final card on R49 219.
The Transformation Road to Sunshine Tour wrapped up after the penultimate event at Soweto Country Club a fortnight ago.
Kuils River professional Dwayne Basson earned R24 048 in 15 starts to finish in the top spot, while Gary Player School of 2019 member Allister de Kock took second on R21 964. Centurion's Thabiso Ncqobo secured the third and final card on R17 536.
Final Result
All competitors RSA unless otherwise specified.
201 Theunis Bezuidenhout 65 70 66 (play-off win on the second hole)
201 Hennie O'Kennedy 71 66 64; Reinhardt Blaauw 69 63 69
203 Quintin Wilsnach 71 67 65; Dwayne Basson 70 67 66
205 Gideon van der Vyver 71 71 63; Hendrikus Stoop 68 67 70
206 Byron Coetzee 68 70 68
207 Marthin Scheepers 72 66 69; Malcolm Mitchell 71 62 74
209 Matt Saulez 71 69 69; Clayton Mansfield 67 71 71
210 Eric Nel 69 69 72
211 Desne van den Bergh 69 71 71
212 Thabiso Ngcobo 71 69 72; Allister de Kock 71 69 72
213 Jason Froneman 72 72 69; Jason Rossiter 71 72 70; Matthew Spacey 70 68 75
214 Luan Boshoff 71 74 69; Albert Venter 75 66 73
215 Jeff Inglis (ENG) 71 72 72; Jason Roets 73 70 72; Neal Woernhard (SUI) 72 69 74
216 Leon Vorster 77 72 67; Jason Smith 68 73 75
219 Richard Joubert 73 73 73
220 Michael-James Steyn 73 71 76
221 Karl Ochse 72 74 75
223 Coert Groenewald 76 73 74
PHOTO – The Big Easy IGT Challenge Tour graduates celebrate their passage to the 2020/2021 Sunshine Tour after the Tour Championship at Centurion Country Club; credit CJ du Plooy.
Latest IGT Challenge Tour News