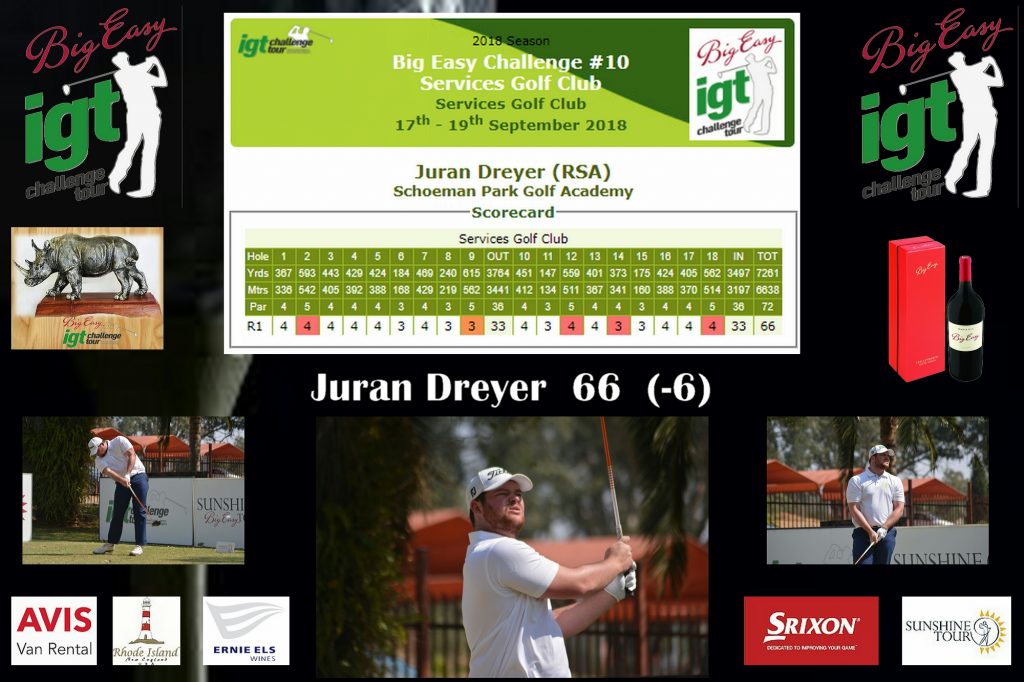 17th September 2018 | IGT Challenge Tour
Dreyer drives to Big Easy IGT lead at Services
Dreyer drives to Big Easy IGT lead at Services
(PHOTO – Juran Dreyer; credit CJ du Plooy)
PRETORIA, 17 September 2018 – Free State golfer Juran Dreyer swept the opposition aside with a flawless six-under-par 66 to take the first round lead in the Big Easy IGT Challenge Tour #10 at Services Golf Club on Monday.
The big-hitting Bloemfontein golfer leads by two from Francois Coetzee, Stuart Smith from Botswana and Road to Sunshine Tour leader Dylan Mostert.
Gary Player School of 2017/2018 member Teboho Sefatsa finished birdie-birdie to finish a further shot adrift in joint fifth with Matthew Spacey, Pieter Moolman, Pretoria rookie Dylan Kok and English veteran Neil Cheetham.
As soon as Dreyer signed his scorecard, the 23-year-old from Bloemfontein pulled out his cell-phone.
However, instead of checking out the opposition at Services, the tournament leader went straight to the live scoring from the South African Inter-Provincial Tournament.
"I hope the guys will happy for me," Dreyer sighed when he realised defending champions Central Gauteng mowed down his former provincial team in their opener at Oubaai Golf Club.
"I was going to be assistant manager this year, but I had to withdraw when the date clashed with the Big Easy IGT. We fought so hard for promotion last year, but it was always going to be tough playing Central on day one.
"Dean (Burmeester) popped in at Oubaai to address the teams at the opening ceremony. He gave the team some words of encouragement and now I'm leading. I hope that between us, we inspire the guys to come out guns blazing tomorrow."
Dreyer tried for a Sunshine Tour card at Q-School in March, but missed out at Final Stage.
"I decided to join the pro ranks to put myself under a different kind of pressure so I could build experience," he said. "I don't regret the decision. It has matured me as a golfer.
"I've had three top 11s, but I had to miss a couple of tournaments in June and July. I just didn't have the finance in place. I used the time to fine-tune my game with my coach Corne Viljoen at Schoeman Park, came up and took third in the Big Easy IGT Challenge #7 at Randpark.
"I've never played at Services, but I liked what I saw in the practice round on Sunday. I'm long off the tee and my short game is very dependable, so this course suits my game."
Dreyer birdied three of the par fives and eagled the fourth and pencilled in another birdie at the par four 14th on his card in a bogey-free production.
"I went with a three-wood off the tee at the ninth instead of driver and had 194 flag," he said. "The wind was swirling, so I committed to a 7-iron and hit a full shot in. I hit it to 10 foot and boxed the putt. My ball striking was good and when I missed fairways, it was just a foot or two.
"At Q-School I struck it really well, but my putter went ice cold. So I changed to a Scotty Cameron Newport 2 a few weeks ago. This putter and I are on the same wavelength. There's room for improvement, but to go around in 26 putts today is a huge improvement for me.
"It's a loaded leaderboard and it's going to get interesting over the next two rounds, but I feel like I'm doing things right. All I want is to be up there challenging for the title in the final round."
First Round Scores
All competitors RSA unless otherwise specified; amateurs indicated as AMA
66 – Juran Dreyer
68 – Francois Coetzee, Stuart Smith (BOT), Dylan Mostert
69 – Neil Cheetham (ENG), Matthew Spacey, Pieter Moolman, Dylan Kok, Teboho Sefatsa
70 – Andrew Carlsson, Jason Rossiter, Damon Stephenson (AUS)
71 – Jonathan Waschefort, Stephan Erasmus, Bradley Diggeden AMA, Arno Pretorius, Duane Keun, Thabang Simon, Bryce Myburgh, Matt Bright
72 – Cameron Gurr AMA, DK Kim (KOR), Paul Boshoff, Romano Saincic, Gerard du Plooy, Divan de Villiers, John McClean (NIR), Leon Visser, Peetie van der Merwe, Makhetha Mazibuko, Shaun van Tonder
73 – Gianni Pera AMA, Tokkie van den Berg, Wayne Stroebel, David Rebelo, Irvin Mazibuko, Tumelo Molloyi, Jack Duthie, Brett Liddle, Thabiso Ngcobo, CJ Levey, Cameron Moralee
74 – Albert Visser, Terry Smith, Jeff Inglis (ENG), CJ du Plessis, Almero Theron, Mohodi Motloung, Andrew Burmester, Matthew Rushton, Conway Kunneke, Jabulane Mabilane, Jay Fourie, Fritz Orren
75 – Rossouw Loubser, Michael Kok, Gareth Sargent AMA, Dayne Moore (ZAM), Alpheus Kelapile
76 – Marnus Barnard AMA, Divan Marais, Quintin Crause, Eric Nel, Kyle Barker, Tristan Topka AMA, Keaton Slatter, Marco de Beer, Ruan Groenewald, Maritz Wessels
77 – Marcus Smal AMA, Leon Vorster, Stefan Wears-Taylor, Keanu Pestana AMA, Louis Botha, Patrick Thompson, Hayden Griffiths, Jason Roets
78 – Alwyn Smit, Lance Ellerbeck AMA, Andrew Williamson AMA, Zabastian de Jager, Richard Joubert, Hanish Nagrani (ZIM), Hendrikus Stoop, Jason Diab, WM Coetzee AMA
79 – Michael-James Steyn, Ruan Korb, Warric Dyers, Stephan du Toit, Nicklas van Wyk AMA
80 – Tjaart van Wyk AMA, Nqobani Ndabambi (ZIM), Gary Daoust (BEL), Christiaan Pretorius
81 – Neo Mokgatle AMA, Michael Dreyer, Mitchell Lightfoot
82 – Morne van der Waltsleben AMA, Christopher de Beer
83 – Gerhard Botha AMA
84 – Marcel Scholtz AMA
85 – Dean du Plessis AMA
RTD – Jaco van der Merwe AMA, Ricardo Towell
Ends
Written and released by Lali Stander on behalf of the IGT Challenge Tour.
Latest IGT Challenge Tour News