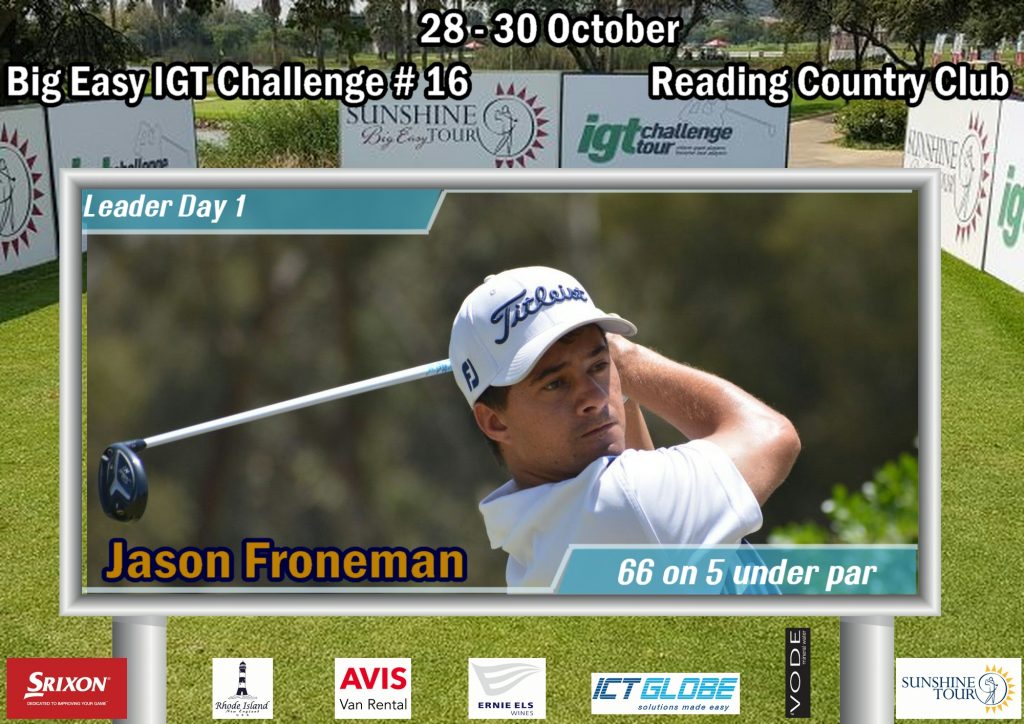 28th October 2019 | IGT Challenge Tour
Duo shares Big Easy IGT lead at Reading
Duo shares Big Easy IGT lead at Reading
(PHOTOS – Jason Froneman and Clayton Mansfield; credit CJ du Plooy)
ALBERTON, 28 October 2019 – Jason Froneman and KwaZulu-Natal rookie Clayton Mansfield laid down an early marker in the Big Easy IGT Challenge Tour's 16th event to share the first round lead at Reading Country Club.
Mansfield fired a five-under-par 66 to lead the morning field, but Froneman made it a two-way tie with a blemish-free round in the late afternoon.
The pair leads by one shot clear of Gideon van der Vyfer, Angus Ellis-Cole and Thabiso Ngcobo, who currently sits in fifth on the Road to Sunshine Tour Transformation Order of Merit, with a further 12 players within three shots of the clubhouse target.
Matt Saulez, last week's runner-up in the 15th event at Krugersdorp Golf Club, is back in the running after carding three-under 68. The Durban Country Club golfer shares sixth with Jason Smith, Marthin Scheepers, Jason Roets and Michael Schutz.
A week after he claimed his first title in the paid ranks, Byron Coetzee is also in the mix.
The Kloof rookie is tied for 11th on two-under with Thabang Simon, Dwayne Basson, Zabastian de Jager, Michael-James Steyn, Jason Viljoen and Paul Rodrigues.
Froneman lost his Sunshine Tour card at the end of his third season, and his campaign to regain his playing privileges on the Big Easy IGT Challenge Tour with a has not gone to plan. After 10 starts, he is ranked 22nd – well outside the top six on the Road to Sunshine Tour who will gain cards. With only three events left before the Tour Championship, the 23-year-old Kempton Park golfer produced his lowest round of the season in Alberton.
"I approached the round with a level head and focussed on staying patient and keeping the ball in play," Froneman said. "The course was playing tough with the wind up, but I really managed my game well and I love the greens.
"I put myself in good positions off the tees to birdie all three par fives and I managed to birdie two par fours – the 10th and 14th. On 14, hit a great tee shot down the middle close to the green and I relied on my short game to up-and-down for birdie. My best birdie of the day came on 10. I hit another good drive, hit sand-wedge in and holed a tricky putt.
"I made a lot of good par saves to keep my card clean, including a really good sand save on 11 to keep the round going. I really managed my game well and I need to keep it going for two more good rounds."
Mansfield was equally pleased to make a strong start after missing the cut last week.
"Time is starting to run out, so missing the cut in Krugersdorp was not ideal," said Mansfield, who ranks 15th in the Road to Sunshine Tour.
"I made a good up-and-down for par on 11 and holed a 25-footer for eagle on 12 that set up my day. The conditions were perfect over the first seven or so holes before the wind got up. I made a bunch of good pars and then bagged a couple of birdies.
"I hit 2-iron off the tee on the first, sand-wedge in and holed a 15-footer for birdie on the first. My tee-shot finished just short of the green on the second, and I chipped it to 10 feet and holed for another birdie. On the fourth, I made a great up-and-down for birdie after almost holing my second.
"I hit my approach in the greenside bunker and my chip hit the flag. Made the birdie putt and on the fifth, I hit gap-wedge to eight feet and made it to go six-under. I had a soft drop on the eighth when I missed my par-putt on the high side. It was disappointing, but it didn't rattle me.
"My form has not been great lately, but coming down the stretch, I made three really good par saves that gave me a lot of confidence. It's nice to put together a good round again and I look forward to hopefully contending on the last day."
First Round Scores
All competitors RSA unless otherwise specified and amateurs indicated as AMA.
66 – Clayton Mansfield, Jason Froneman
67 – Gideon van der Vyver, Thabiso Ngcobo, Angus Ellis-Cole
68 – Matt Saulez, Jason Roets, Marthin Scheepers, Jason Smith, Michael Schutz
69 – Zabastian de Jager, Thabang Simon, Jason Viljoen, Byron Coetzee, Dwayne Basson, Michael-James Steyn, Paul Rodrigues
70 – Coert Groenewald, Thato Mazibuko, Matthew Spacey, Quintin Wilsnach, Divan Marais, CJ Levey, Franco Putter, Jason Rossiter, Greg Bentley (ZIM), Reinhardt Blaauw, Jeff Inglis (ENG), Leon Vorster
71 – Nico du Buisson, Alpheus Kelapile, Luan Boshoff, Francois Blaauw AMA, Jonathan George AMA, Ernst Louw AMA
72 – Albert Visser, Albert Venter, Basil Wright, Morne Buys, Gareth Sargent, Eric Nel, Carlo Heunis, Fritz Orren, Conner Mackenzie AMA, Romano Saincic, Tyler Johnston AMA, Jack Rex Duthie
73 – Gary Daoust (BEL), Marcel Steyn Scholtz, Marco de Beer, Jaco van der Merwe
74 – Mike Maile, Henning du Plooy, Gerard du Plooy, Michael Pfeifer, Stephan Erasmus
75 – Lincon Cele, Shalan Govender, Keaton Slatter, Paulo Serrao (POR), Hennie O'Kennedy
76 – Clinton Duncan AMA, Quintin Crause, Cameron Gurr AMA
77 – Bryce Myburgh, Neal Woernhard (SUI), Desne van den Bergh
78 – Dean du Plessis, Keegan van Jaarsveld, Byron van der Merwe
80 – Alwyn Smith, John McClean (NIR)
81 – Keanu Pestana
82 – Louis Botha, Christian Basson
85 – Wynand Potgieter
86 – Michael Kok, Roedolf Klopper AMA, Songezo Sonamzi
88 – Donald Makhafola AMA
RTD – Duan Nagel
Written and released by Lali Stander on behalf of the Big Easy IGT Challenge Tour.
Latest IGT Challenge Tour News