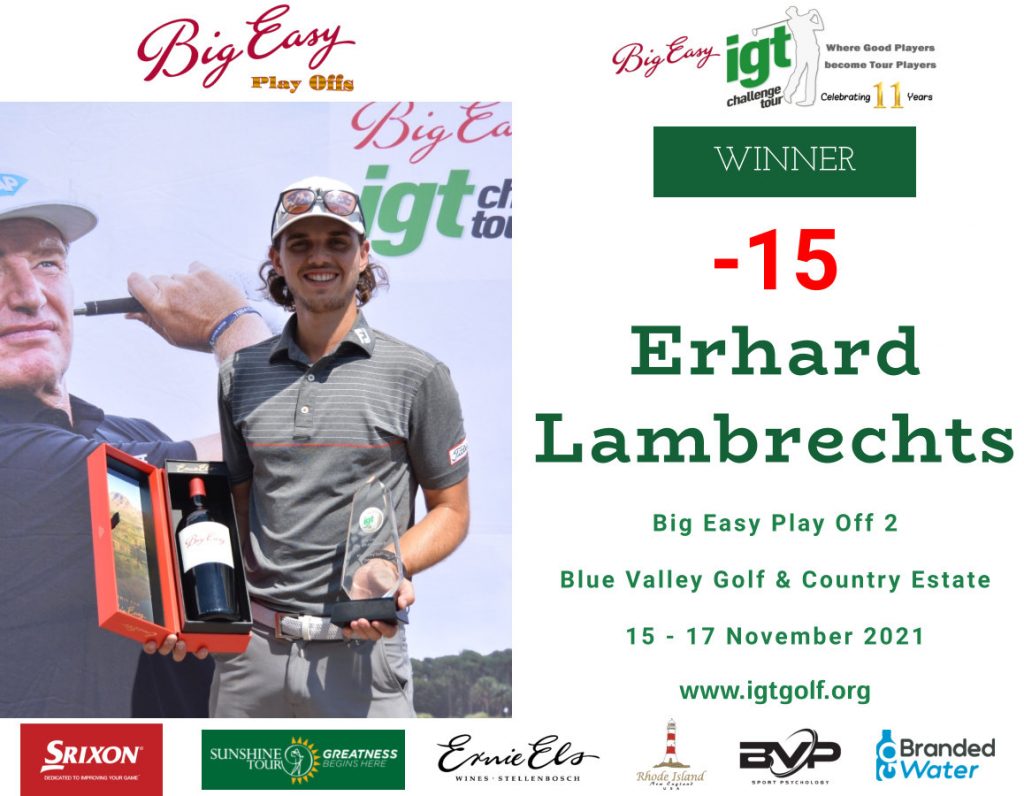 19th November 2021 | IGT Challenge Tour
Eagle on 18 gives Lambrechts the win at Blue Valley
Erhard Lambrechts made an eagle on the final hole on Wednesday to close out a victory in the Big Easy IGT Tour's Road to the Sunshine Tour Play Off #2 at Blue Valley Golf and Country Estate.
Lambrechts closed with a five-under-par 67 to reach 15-under-par for the 54-hole tournament, giving him a two-stroke margin over runner-up Vaughn Groenewald who closed with a two-under-par 70. A gaping four shots further back were James Kamte and Franklin Manchest on nine-under after rounds of 71 and 76 respectively.
"I made things difficult for myself at the end there," said Lambrechts, who made a bogey on the 17th, while Van Deventer made birdie in a two-shot swing which saw the pair level going into the final hole. "It was a three-putt bogey on 17, and that came in a week where I started off making everything I looked at in the first round.
"I had started striking the ball better after the first round to go with my putting, and I hit a good drive down the 18th, and hit my approach to about 15 feet. Vaughn also was on for two, and had a look at eagle, but he put his first putt about four feet past. That meant I knew I had to make mine if I wanted to avoid a play-off, and I managed to sink it."
Groenewald missed his return putt for birdie, but, at that stage, it was academic and affected only the margin by which Lambrechts won.
The victory saw him climb into second place on the Road to the Sunshine Tour Order of Merit with just the final play-off event scheduled for December 8 at Centurion Country Club. The top six players on the Order of Merit will earn their Sunshine Tour cards, and with the points up for grabs in that final event being boosted exponentially higher, none of the current top six can be entirely sure of retaining their places.
"I'm fairly sure I should win my card," said Lambrechts, "but with something like 30,000 points for the winner in the last tournament, I am pleased that my game is in such good shape and that I withstood the pressure in the final round today."
Ian Snyman still leads the Order of Merit, and Kyle McClatchie is down to third. McClatchie closed with a two-under 70 to go to five-under for the tournament and a share of 12th, and Snyman fought his way to a one-over 73, a total of four-under and a share of 16th.
Latest IGT Challenge Tour News