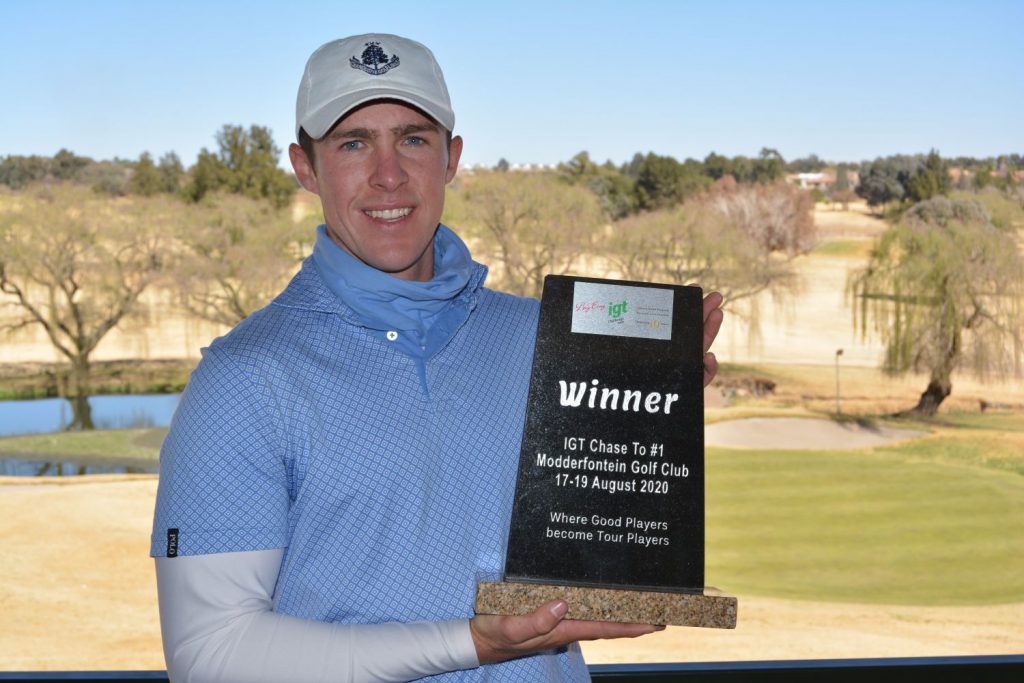 19th August 2020 | IGT Challenge Tour
Ellis-Cole goes wire-to-wire for maiden IGT win
MODDERFONTEIN, August 19 – Angus Ellis-Cole's final-round one-over-par 73 was enough to earn him a wire-to-wire maiden Big Easy IGT Tour victory after golf's return to action following a six-month break due to the coronavirus pandemic that has struck the world.
Having shot an eventful five-under 67 on day one of golf's return, Ellis-Cole consolidated his lead with a level-par second round as the rest of the field struggled to make up ground following his spectacular opening round. He followed that up with a third-round 73 to win with five-shots on four-under-par.
"It was definitely not easy," said Ellis-Cole after his win at Modderfontein, "leading from the outset, I felt like I should just take it in baby steps and try to stay in the moment, which proved quite difficult at times. But I'm really chuffed with the results.
"This is my first win as a pro, my first win on the IGT Tour, so I'm just really happy to have gotten that done. Hopefully, it's one of the first steps I take when it comes to taking my career forward."
His round was characterised by a front nine which consisted of a birdie, a bogey and seven pars, and while he did his best to avoid big numbers on the card, and especially with the rest of the field not looking like a real threat at times, his struggles on the homeward stretch were over-shadowed by the five-shot margin he'd kept between himself and the field from day one.
"The biggest challenge with leading from the outset was making sure you don't get too far ahead of yourself too early," he said of what it took to hold on to a five-shot lead for each of the three rounds at Modderfontein, "it becomes a little bit of a challenge, especially when you're leading to stay in the moment and stay with each shot. That was what I fought with mostly in the final round. But I am very happy with the results."
Taking the second spot was budding amateur, Casey Jarvis, who at one-over-par, was the closest challenge for Ellis-Cole while the duo of Kyle McClatchie and Ryan Van Velzen, an amateur himself took up the third spot at three-over-par.
Results
212 – Angus Ellis-Cole (RSA) 67 72 73
217 – Casey Jarvis (AM) (RSA) 73 72 72
219 – Ryan Van Velzen (AM) (RSA) 77 71 71, Kyle McClatchie (RSA) 70 75 74
220 – Brandon Gildenhuys (RSA) 76 73 71, Yurav Premlall (AM) (RSA) 77 71 72
221 – Ryan Tipping (RSA) 74 70 77
222 – Danie Van Niekerk (RSA) 75 73 74, Jason Gilliver (AM) (RSA) 74 73 75, Michael-James Steyn (RSA) 77 70 75, Carlo Heunis (RSA) 78 73 71, Jason Froneman (RSA) 75 70 77
224 – Christiaan Burke (AM) (RSA) 75 74 75, Jancarel Rossouw (RSA) 73 74 77
225 – Casandra Hall (RSA) 73 76 76, Jade Buitendag (RSA) 77 74 74, Vaughn Van Deventer (RSA) 72 79 74, Matt Saulez (RSA) 73 73 79, Wayne Stroebel (RSA) 81 71 73, Leon Vorster (RSA) 78 74 73
226 – Liam Van Deventer (AM) (RSA) 74 75 77, Simon Du Plooy (AM) (RSA) 75 73 78, Herman Loubser (RSA) 74 74 78, Keelan Van Wyk (RSA) 75 76 75, Cameron Gurr (AM) (RSA) 72 80 74
Latest IGT Challenge Tour News